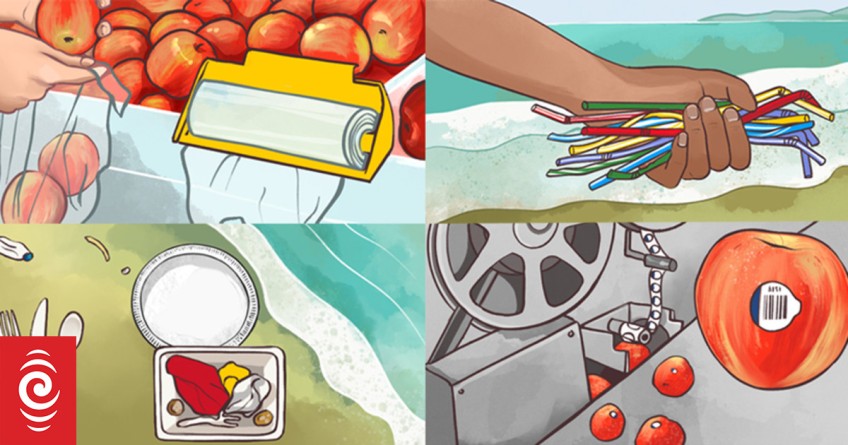 Grocers, retailers get ready to implement changes for plastics ban
Jun 30, 2023
---
New Zealand will wave goodbye to another lot of single-use plastics on Saturday.
Plastic produce bags and stickers, plates, bowls, cutlery and straws were all being taken off the shelves, and businesses may be fined up to $100,000 if they do not comply.
It is the second round of a national plastics phase out, which targets single-use and hard to recycle items.
This phase was expected to stop 150 million produce bags from ending up in landfills annually.
In 2021, the government estimated the average New Zealander threw away 60 kilograms of plastic waste every year.
The first round saw polystyrene food and drink containers, cotton buds and drink stirrers banned last October.
Stacey, Party Warehouse's shop manager, said their plastic plates, bowls and cutlery were quite popular, though the tide was turning.
"People are pretty responsible and responsive to changes...there's been a recent increase in sugarcane [cutlery and plate ranges]," she said.
"We're also a hire company, so we offer the hiring of crockery items and cutlery as well. We're just heading our customers in that direction."
But Stacey said she would not be surprised if a temporary black market for plastic items sprung up.
"The price difference is quite a bit between the sugarcane [paper pulp range] and the old plastic stuff. If you're looking at a pack of say 50, the price difference is about $7."
She expected prices to come down as the sustainable products became the main seller.
Foodstuff's sustainable packaging manager Debra Goulding said the banning of produce bags would have the biggest impact on supermarkets.
"We're encouraging people to bring their own bags but the one thing we don't want people to do is pay for the weight of that bag when they buy their produce," she said.
"Customers are encouraged to take it out of the bag and weigh it before putting it back in the bag... It takes a few extra seconds but a couple of grams of weight here and there can add up."
It had taken Foodstuffs about 18 months to prepare for the ban - training staff, changing stock and making signage, Goulding said.
However, people were still able to get plastic straws for disability or health reasons.
Disability Support Network chief executive Peter Reynolds said paper straws were easily crushed, and metal alternatives could cause injury for people with limited motor skills.
"It's the sort of research that needs to be done by, for example, the food research unit at Massey University, having a look and saying 'well here's some other options we've been able to discover'," he said.
"We do see these things popping up all the time and New Zealand is a very innovative place, so hopefully other options will emerge in time."
Associate Environment Minister Rachel Brooking said there were funds available for research into plastic alternatives.
"I do not know of any specific research into bendable, non-plastic straws that would be suitable for disabled people," she said.
"But certainly there is a plastics innovation fund and a waste minimisation fund that would potentially fund projects like that."
Fruit and vegetable stickers would also begin to transition to become home compostable from 1 July, but Goulding said it was going to be hard to know if suppliers were compliant.
"Any average person is absolutely not going to know the difference when you look at it. You're not going to know if it's biodegradable plastic. Not even our produce department experts are going to be able to tell the difference," she said.
"The onus is really on the growers, the packers and fruit distributors."
Brooking said an education first approach would be taken to the plastics phase out programme.
Officials would work with producers directly to help them get the right stickers and compostable glue, she said.
"Since 2019, when we first phased out plastic supermarket carrier bags, it's estimated between then and now, there's a billion bags that haven't gone to landfill.
"That's one billion bags that aren't floating in our streets and into the ocean. We really want to keep significantly reducing our plastic waste," Brooking said.
The final stage of the phase out, which covers all remaining PVC and polystyrene food and drink packaging, will be introduced in 2025.
More information about the phase out programme can be found, on the Ministry for Environment's website.
Main image (Ministry for Environment): The second round of the national plastics phase out will kick in on July 1 banning plastic produce bags and stickers, plates, bowls, cutlery and straws (with some exemptions).


---