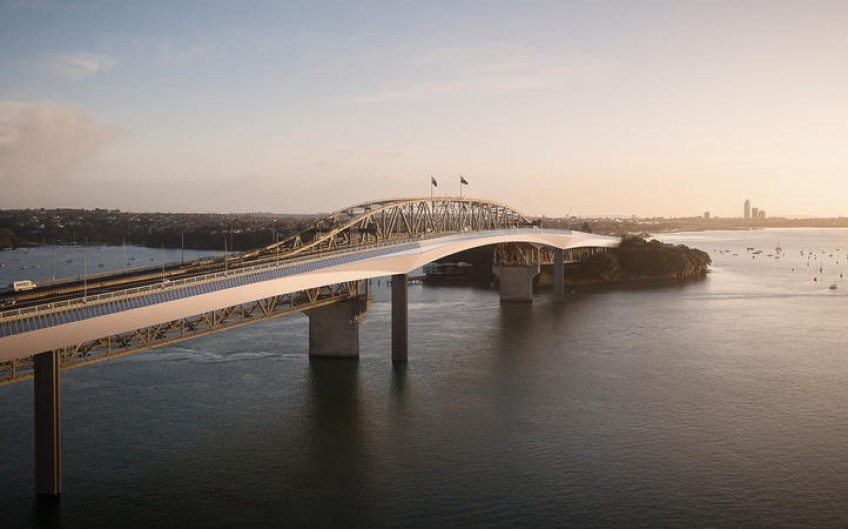 Govt scraps plans for Waitematā Harbour cycle bridge
Oct 02, 2021
---
The government has scrapped plans to build dedicated cycle and pedestrian bridge over Auckland's Waitematā Harbour.
Transport Minister Michael Wood had admitted the project didn't get the public support it needed to go ahead, and the $785 million earmarked for the project will now be spent on other initiatives.
"The government is committed to providing better access to walking and cycling and reducing greenhouse emissions through our transport investments, but this particular project won't be part of that mix," he said.
"It didn't get the public support needed for a project of its scale and we acknowledge that."
Work will continue to provide pedestrians and cyclists with other ways to get across the harbour, via public transport.
Wood has ruled out permanently dedicating a lane on the existing harbour bridge for walking and cycling.
But Wood backs a temporary trial of this over the quieter summer months, subject to safety considerations being met.
In June, the minister said the now-scrapped Northern Pathway was the missing link in the city's walking and cycling network.
Adding lanes on to the existing bridge, as was proposed in the original SkyPath design, has been deemed to be not structurally viable.
The cancellation of the project means the government can bring forward the eastern busway project, as well as a cycleway to connect Glen Innes and Panmure.
Auckland mayor Phil Goff said Aucklanders would welcome the reallocation of funding to other infrastructure projects in the city, which are considered to be a higher priority.
He said the eastern busway is critical in bringing rapid public transit to the eastern suburbs.
Goff also supports looking at other ways to connect the North Shore and the city for cyclists, such as using dedicated ferries or buses.
"This will be a quicker and more cost-effective way in the short term of facilitating cycling between the shore and the city," he said.
National said the decision to scrap the cycle bridge and prioritise the eastern busway was an "overdue win" for people in east Auckland.
Botany MP Christopher Luxon said it would be a "humbling" day for the Transport Minister.
"It's obvious the cycle bridge has only been dumped because the government realised it was overwhelmingly hated by New Zealanders," Luxon said.
Act's transport spokesperson Simon Court said it was good the government had listened to Aucklanders who did not support the cycle bridge project.


---