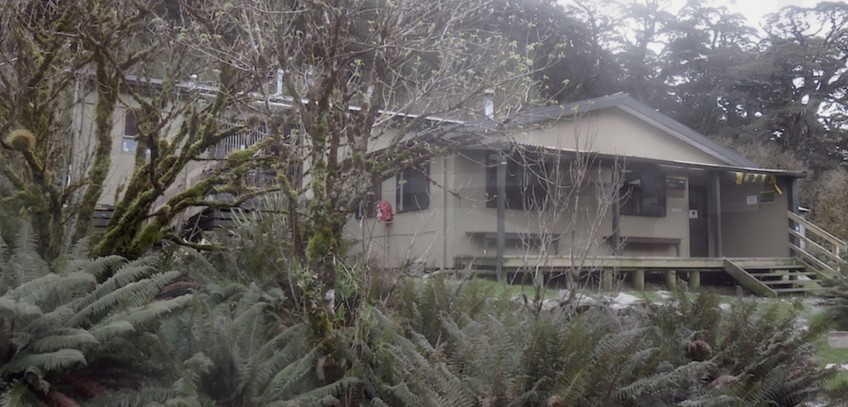 Fiordland flooding: Trapped tourists rescued from Howden Hut on the Routeburn Track
Feb 04, 2020
---
Dozens of people in a hut on the Routeburn Track in Fiordland that was hit by a landslide have been rescued.
The slip hit the Howden Hut at 1.30am, damaging the building and leaving two of the 31 people inside with minor injuries.
A state of emergency was declared in the area yesterday afternoon as flooding and slips trapped tourists on tracks, roads and at Martins Bay and Big Bay, stranded others in accommodation at Milford Sound, and closed State Highway 94, the only road into Milford Sound.
MetService forecaster Lewis Ferris said one metre of rain had fallen in 60 hours in Milford Sound, and 600mm of that fell in the 24 hours to about 7am today.
"Those are numbers some of our most experienced forecasters haven't seen before," Ferris said.
"So 1000mm in an entire event has been seen before, but to get that in two-and-a-half days has been quite a lot."
Helicopters went in to Howden Hut this morning and flew out the 31 tourists from the damaged hut.
Southland Mayor Gary Tong told Nine to Noon helicopters were also going to Martins Bay and would conduct sweeps over nearby areas, where he estimated 50 people to be stuck on tracks.
"There could be free independent travellers in there, just walking those tracks and have got themselves a bit stuck, so we are looking for all signs of people being in those areas."
Boats were also considered as an evacuation option but proved too risky because Milford Sounds was clogged up by logs, he said.
Earlier, Emergency Management Southland controller Angus McKay said a doctor in Howden Hut had looked after "a couple of people" who had been injured.
The priority was to get them out, along with trampers on other parts of the Routeburn or Hollyford tracks.
"We're just waiting for that all important break in the weather so that we can get the helicopters in," McKay said.
A helicopter was sent in yesterday but had to turn back in the heavy rain.
The track is extensively damaged and flooded around the hut so walking out was not an option for anyone on the Routeburn or Hollyford track, McKay said.
About 70 people were airlifted out of the section of Milford Road that is blocked on the Te Anau side of the Homer Tunnel, and from some of the walking track huts, yesterday afternoon.
One of those evacuated from the Milford Road corridor yesterday said the flooding in the area was unprecedented.
Landscape photographer Will Patino spent Sunday night at Gunns Camp near the Hollyford Track in Fiordland.
He awoke yesterday morning to find his hut surrounded by water and the Hollyford River swollen and tried to make his way out.
"The river was up on the road and it must have been 10 feet higher than it would normally be. It was horrifying and I knew from that point 'no, you can't go forward anymore because if you get stuck here, that's it, it's just going to lift you into the river'."
Patino said he managed to get to high ground and after being stranded for several hours, he was evacuated by helicopter back to Te Anau.
The 195 tourists in lodges in the Milford Sound area, where 200 hotel and lodge staff are also stranded, may be stuck there for another day.
"They're warm and accommodated and being fed so they're not really our top priority, it's really the people out on the eastern side of the Homer Tunnel who we need to get down from these huts and lodges," McKay said. Rivers were rising quickly and more landslides were likely after the one metre of rain so it was "really important" people were evacuated as soon as possible.
The Cleddau River caused flooding in the sound and Milford Road was likely to stay closed for some days because of slips and flooding damage, Emergency Management Southland said.
As well as the closure of State Highway 94 from Milford to Te Anau, other state highways in the lower South Island are affected by flooding.
Southland Mayor Gary Tong said the creeks and nearby rivers had blown out the road at SH94.
"It will be fair to say the road in and out of Milford has been damaged to the extreme ... so once the weather settles down again I'm sure that the working crews will get in there and assess that damage, and fix what they can as quick as they can.
"We're in fairly extreme weather conditions and right up in the mountains, it's a pretty tough environment up here."
State Highway 6, the main road in to Queenstown from the south, is closed due to flooding, SH90 at McNab is closed to light vehicles at the SH1 intersection, SH6 at Devils Staircase to Kingston, Haast Pass and at Athol are all open but affected by flooding and SH93 at Clinton has surface flooding.
Local roads were closed by flooding in Clutha District where 120mm of rain fell in a 36-hour period. At least eight roads were closed the district council asked drivers to remain vigilant for damage or more closures] and drive to the conditions.
There was flooding in Gore and other parts of Southland this morning, but it would not be bad as the flooding in Wanaka and Queenstown before Christmas, MetService's Lewis Ferris said.
"Throughout today, rain will start to ease on the West Coast and it will start to ease in the likes of the southern lakes and central Otago as well as Southland."
Ferris said slips would be the biggest effect of the Milford Sound area downpours. "The one in the Routeburn, I imagine that's not the only one."
MetService issued a red warning for Westland south of Hokitika and Fiordland north of George Sound. A red warning means the effects would be significant and immediate action is needed to protect people and property.

---