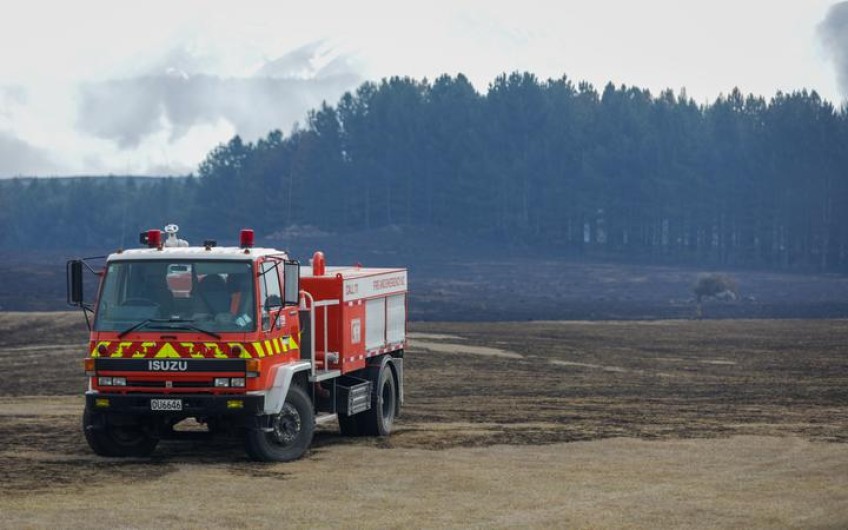 Fears dozens of houses destroyed in large fire in the Mackenzie Basin
Oct 04, 2020
---
A Lake Ohau Village resident says the village now resembles a war zone with about 30 houses and many cars destroyed by a wildfire that has blitzed the Mackenzie Country area.
Fire and Emergency says it is burning through pine forest and grass in the Mackenzie Basin, and it's being fanned by strong westerly winds.
It has 16 crews there fighting it.
There are currently 16 fire crews on scene fighting the fire including a Command Unit from Timaru.⚠️The Village has been evacuated.Helicopters are on standby to get up in the air at daylight.
— Fire and Emergency New Zealand (@FireEmergencyNZ) October 3, 2020
David Stone says the small village had about 50 houses, many of which he believes have been burnt down, including his own.
He told RNZ that earlier this morning he had been standing near Lake Ohau watching a helicopter fight the fire right on the road, and three helicopters working over the village.
"We've been told it's [his house] gone. Near me is a couple who've lived here 27 years and their place two along from us, I think it's gone too.
"Sort of looking over the smoke that's coming down towards Twizel, it's very prominent to my left, it's been moving around - it's peculiar.
"There's a number of lifestyle blocks between the village and where the fire is currently. And probably they've suffered, as well."
Stone said three helicopters are putting water on the blaze over the village, and the fire has gone down the lake.
"There's been extraordinarily strong winds here - Ohau means place of wind, and it's certainly lived up to it."
Stone said cars have also been burnt out and the area resembles a war zone.
The fire is said to now be racing south towards Ohau Downs.
Stone said the fire was now being fuelled by dry tussock grasses as it burned through the Canterbury merino farmland.
The Waitaki Emergency Operations Centre has been activated; controller Peter Muldrew says about 90 people evacuated from the village have registered at the welfare centre set up in Twizel.
Waitaki district mayor Gary Kircher said the village's residents are in a state of shock.
"It would be very understandable for them to be in that state of disbelief. I think it really hit home when I got an email with some photos from one of teh homeowners with the subject line of end of an era for us."
He said it's suspected the fire was caused by powerlines arcing in the wind.
The police say Lake Ohau Road, off State Highway 8 in the Waitaki district, is currently closed because of the fire.
The police are asking motorists to avoid the area while emergency services are at the scene.
Senior Sergeant Paul Robertson says several agencies are now supporting the evacuees, especially those who have lost their homes.
"We've got Civil Defence on board and my understanding is that we'll be contacting Victim Support as well. At this stage we believe we've lost some houses to the fire."
Police have been evacuating all the residents of Lake Ohau Village, as well as campsites and other properties in the vicinity.
"The police and fire [Fire and Emergency] are currently searching through the village to make sure everyone's accounted for."
Robertson says residents were initially evacuated to the nearby Ohau Lodge.
However, Civil Defence says they are now being directed to the Twizel Events Centre.
Meanwhile, a large forest fire has also broken out in the settlement of Livingstone, about 30km northwest of Oamaru.
Fire and Emergency say they were alerted at 3.15am to the pine forest blaze on MacKenzie Road.
A number of homes have been evacuated.
Sixteen crews, including a command team from Dunedin, are trying to bring the fire under control.
They are being assisted by eight helicopters with monsoon buckets.
Fire and Emergency says the blaze is being fanned by strong winds.
Firefighters battled a huge blaze in the region last month.


---