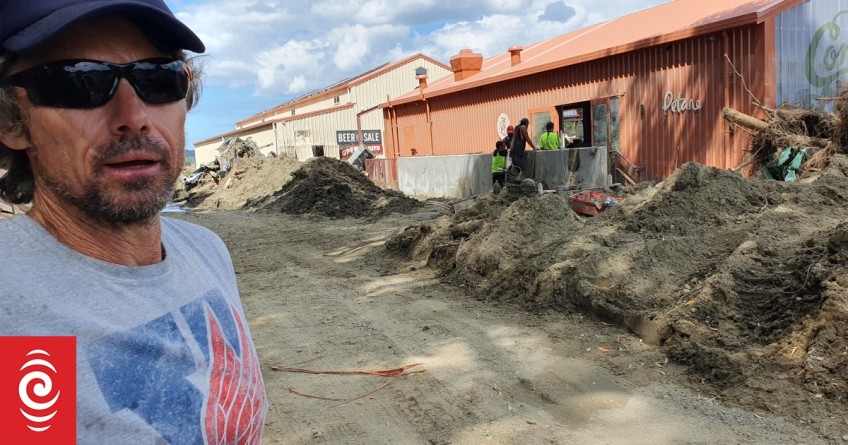 Esk Valley winery digs out 12,000 bottles of wine from silt
Feb 23, 2023
---
Tales of resilience and recovery, spirit and sweat continue to emerge from the slip-scarred valleys of Hawke's Bay.
There's the one about the Rissington boat, and another about a brewery/winery by the Esk River.
Winemaker Philip Barber has just saved 12,000 bottles of wine at Petane Wines.
It was done through sheer shovelling willpower from the likes of Calvin Thomas of Whirinaki.
A lot of digging?
"Oh yep, since Monday, yep. Heaps of digging, bro'," Thomas said.
He takes a wild guess the number of wheelbarrows he personally has shifted was triple the age of the reporter.
The wine was stuck in a coolstore behind a three metre-high load of silt jammed inside a shed where Philip Barber makes wine, and his brother Chris makes beer for Zeelandt Brewery.
Calvin got stuck in.
His boss Dave McLean, a stranger to the Barbers, had no forestry contracting work due to flood damage at Pan Pac, so turned up to help, with his crew - and with a good idea.
They cut two holes the size of two adults in the steel and plywood sides of the shed. Then they dug. And dug.
Past the silt, to the wine.
"We had to shovel it from the outside till we could get in," McLean said.
"And then they had all these bins full of wine, right through here, we took hundreds of bottles out ... Sunday, Monday, it took us two days."
The bottles have gone for testing, and hopefully auction, to recoup costs - the wine wasn't insured.
But Chris Barber's Zeelandt brewery beer in the four half-buried vats is a write-off because the power cut out.
Next door in the restaurant, more sweating people and more shovelling; a bloke from Glengarry reaches high to show how high the silt reached.
Kristina Salmons is cleaning behind the bar, with its 14 or so taps for Chris Barber's brews.
The restaurant had only been going 14 months, and Salmons only moved back recently.
"I planned to come here as a customer but I never got here," she said.
Philip Barber reckoned there was every chance she would get her chance, despite the absolute ravagement of his vines.
"If Christopher wants to bring the restaurant back we'll do a nice little one-hectare organic chardonnay block, maybe a little bit of pinot gris, one hectare.
"So two-hectare vineyard instead of five, and the rest can just be, I dunno, lucerne.
"Then have a nice little setting. You won't have any houses here probably, probably won't want to live here anymore."
They would live close by, but his wife Sarah had told him "no way", not down by the river. "I mean, I would..."
He had seen some incredible things in the last few days; his story, of reuniting with Chris when he thought he had drowned, has sparked many interviews and been caught in a powerful Stuff video.
He had also experienced many kindnesses.
The last very, very welcome word of the day, to knock off, comes from Philip Barber, who shouts out the insurance assessor is coming.
"We might not do any more demo, unfortunately - thanks though."


---