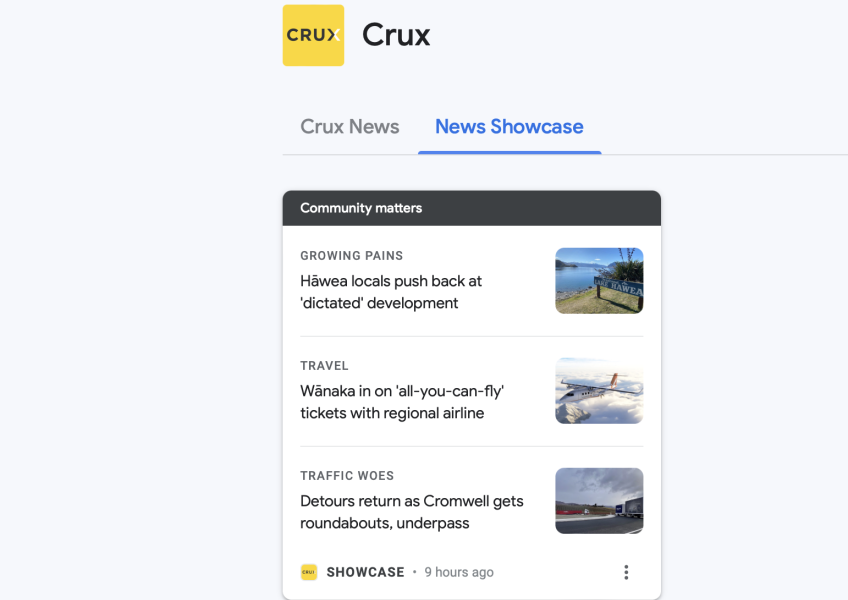 Crux joins Google News Showcase launch
Aug 24, 2022
---
A group of leading New Zealand media outlets have reached an agreement with technology heavyweight Google about supplying news.
Google is launching its News Showcase in New Zealand today. RNZ, NZME, Crux, Pacific Media Network, Scoop and Newsroom are the debut partners and contributors.
The Showcase has been rolled out around the world as Google's response to long-running complaints that it had profited from running media content without payment.
Crux readers can access Google News Showcase here and then follow Crux for regular access to our local coverage, along with other news outlets that each reader can select. It is also possible in Showcase to specifiy your local town such as Queenstown, Wānaka or Cromwell.
Google's New Zealand country director Caroline Rainsford said the licensing scheme showed its backing for digital transformation and journalism.
"It's really reconfirming what's been a long-standing commitment to invest in the New Zealand news ecosystem.
"We see a very important shared responsibility to ensure the long-term sustainability of public interest journalism in New Zealand," Rainsford said.
She declined to give any details on any financial and commercial aspects of the agreement, and did not concede that pressure from the government was a factor in it reaching an agreement with the media outlets.
"We have had ongoing, positive and constructive engagement with both the prior and current minister."
Crux Managing Editor Peter Newport says that his organisation is proud to be part of the international Google journalism project.
NZME, which publishes a range of papers including the New Zealand Herald, and also owns Newstalk ZB and other radio networks, and the specialist online business publisher, BusinessDesk, struck a deal with Google in June after it broke away from a broad industry coalition seeking to reach a deal.
Notably the agreement does not include Stuff, publisher of the Dominion Post and The Press and a host of other metropolitan and regional titles, which has stayed with the News Publishers' Association-led group.
Rainsford said talks with the industry group were continuing.
Google would also pay for the participating news organisations to give readers access to some of their paywalled content.
"This feature means readers will have the opportunity to read more of a publisher's articles than they would otherwise be able to, encouraging them to learn more about the publication - and potentially subscribe."
The participating news outlets will control what stories are put up on the platform, but Rainsford said Google's normal content standards and systems would also apply.
RNZ interim chief content officer Megan Whelan said the agreement would spread the public broadcaster's reach.
"This new agreement is another way to make sure trusted public media content is available to more people via Google News."
Business Desk credited its Google links in allowing it to quadruple the number of journalists employed.
Google also plans to roll out a range of other initiatives including journalist training, advice on digital news business fundamentals, election policy and misinformation tracking.
Additional reporting: Crux


---