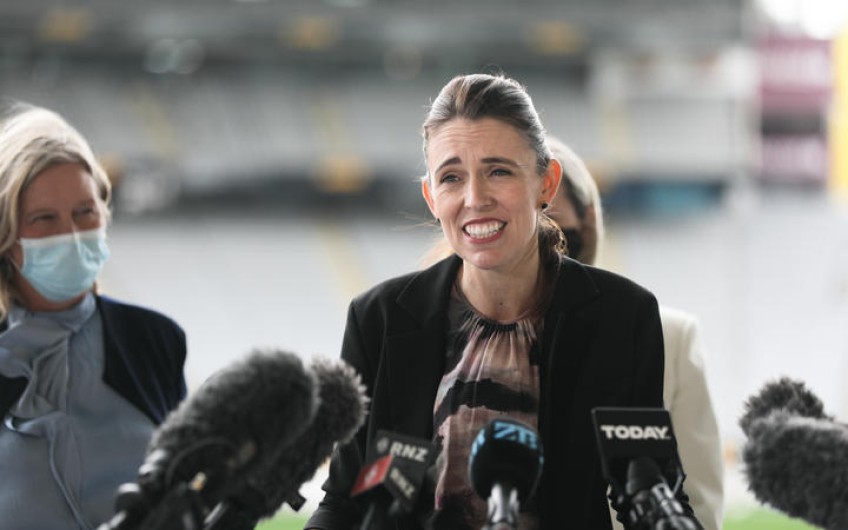 Covid traffic lights change may be regional - PM
Mar 24, 2022
---
Shifting from red to orange in the traffic light system could be done regionally, depending largely on hospitalisations, Prime Minister Jacinda Ardern has confirmed.
Ardern this morning spoke to media at Eden Park, touring the facility to see how preparations for the return of outdoor crowds are coming along.
She announced the changes yesterday, including an end to scanning and vaccine pass requirements, the removal of some vaccine mandates, and an easing of some gathering limits.
From this weekend there will be be no outdoor gathering limits, but indoor limits under red are set at 200.
Scanning, vaccine passes and mandate changes: What you need to know
The government copped criticism over the moves from other political parties with National particularly targeting the traffic light system, saying it was based on the soon-to-be-defunct passes and a simple set of rules would be more straightforward.
Ardern today said the traffic light system had the capacity for regions to be at different levels without worrying about enforcing a hard border.
"So we will consider whether some regions are ready to move sooner than others but the first point that we'll consider that will be in the first week of April."
She said hospitalisations would be a "big factor" in any such decisions.
Cabinet is expected to consider changes to the traffic light settings on 4 April, which Auckland's Heart of the City business group said was too slow.
Hospitality businesses have also raised concerns over the "seated and separated" rules, which would limit the capacity of venues even further.
There had been costs from Covid-19 restrictions right from the beginning, Ardern said, and while no one would want to see continued anxiety caused by that the restrictions being retained were kept for good reason.
She also addressed questions about some of the mandates.
"Over the last several months when people have referred to the mandates, often they have been ones that have been put in place in workplaces rather than ones that government themselves have driven," she said.
Some businesses imposed mandates based on government risk assessment advice which they could apply to specific roles. Ardern said employers may need to go through that process again and some had already done so, but the government would continue to play a role in providing advice and guidance.
Businesses would not need to act on that advice immediately, however.
"It's not that instantly any business needs to switch off the way they've been mandating ... the public health advice is key," Ardern said.
"That's the primary consideration, we have to make sure there's a strong rationale for their use and then legal advice often sits behind that."
She said the legal advice to the government was often based on the justification from a public health perspective, so it often supported the public health advice provided to the government.
"Each workplace will have its own specific circumstances so it's not for me to make those judgements as to whether or not those workplaces are the places where they'll continue or not but we'll continue to make sure we're just updating the advice," she said.


---