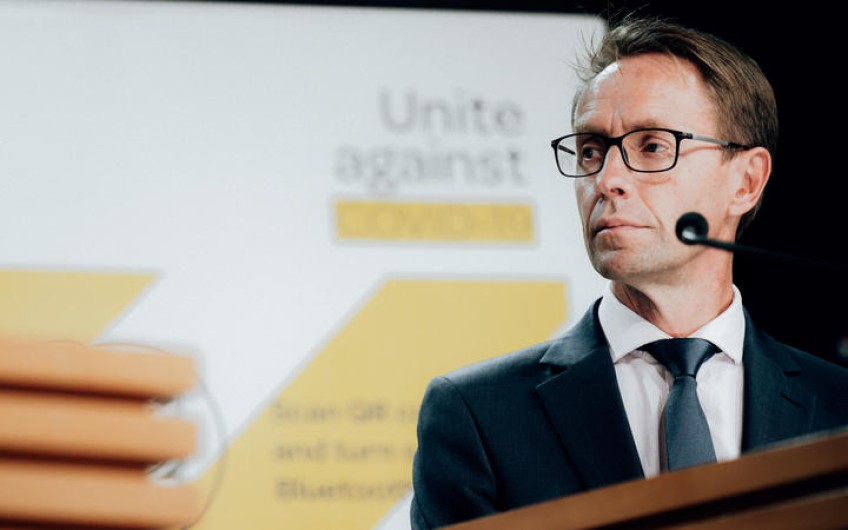 Covid-19: Bloomfield 'would have hoped' latest cases were vaccinated by now
Apr 12, 2021
---
Director-General of Health Dr Ashley Bloomfield says he would have hoped the latest MIQ workers to have tested positive for Covid-19 had been vaccinated by now.
A third worker at the Grand Millennium managed isolation facility has tested positive for Covid-19.
The person was a colleague of the security guard, known as Case B, who returned a positive test last week. The pair worked a shift together over the Easter break.
Both workers are genomically linked to Case A - a cleaner from the facility who tested positive in March.
Dr Ashley Bloomfield told Morning Report he is awaiting information on the vaccination status of the latest case but he "would have hoped that they would have been vaccinated by now".
He said 80 percent of workers at the security company where both Case B and C are employed had been vaccinated.
"There was a clear expectation that people working in the frontline at the border do get vaccinated or there has to be other options looked at for them."
On three cases coming from the same managed isolation facility, Dr Bloomfield said: "There's an issue."
"Last week when we got this case on Thursday we immediately got our MBIE teams and health teams together to work out what else is going on potentially in this hotel and we've convened the technical advisory group to give further advice there."
No further returnees are being hosted at the Grand Millennium Hotel, he said.
Case A, the cleaner who tested positive on 21 March is genomically linked to a returnee from March. Case B tested positive on 8 April.
There is a long gap of time between Case A and B testing positive Dr Bloomfield said, and his team is investigating whether there was someone who was an intermediary between the two.
"That's all being looked at through CCTV footage and just whether both the cleaner (Case A) and the security guard (Case B) were in the same place at the same time."
It seems unlikely there would be an unknown part this, Dr Bloomfield said.
"We're looking at all of those things."
Epidemiologist professor Michael Baker told Morning Report he's concerned staff are getting infected in this environment.
"As we all know, these staff should be vaccinated," he said.
"We've prioritised this group very highly and that's the correct thing to do ... now we really should be seeing 100 percent coverage in frontline workers."
About one in five people who have Covid-19 transmit the virus to many other people, he said.
"The problem is a small number of cases infect a large number of people and that's the superspreading events we hear about."
But the extent of people who are vaccinated and pass the virus on to others is still a big unknown, he said.
On a missing link between Case A and B, Baker said it wouldn't be unusual.
"This scenario has been seen many times."
National's Covid-19 Response spokesperson Chris Bishop said all border workers who aren't vaccinated should be removed from the front line immediately.
Prime Minister Jacinda Ardern has confirmed that workers will have until the end of April to get the jab before being moved from the frontline.
"We're the second slowest in the OECD for getting the vaccinations out - just two in 100 people have been vaccinated in New Zealand. Australia's been described as a shambles but they've done double per capita what we've done," Bishop told Morning Report.
"We've got several hundred thousand doses in the country. I think a lot of people would say we should be getting those jabs into people's arms as quickly as possible, now."
He said National had been asking the government for a schedule on how many vaccinations will be carried out each week or month, but there were only retrospective announcements on how many had been completed.
There are fifteen total close contacts of Case B still isolating. They will have two tests during their 14-day isolation stay.
There are four new locations of interest connected to the cases, all in Mount Roskill.
India travel suspension
A two-week ban on all travellers arriving from India began yesterday.
The temporary ban means travellers who have been in India in the past two weeks cannot enter the country.
Dr Ashley Bloomfield said all options to remedy the situation are being looked at - one is for travellers to stay in a safe location after their pre-departure Covid-19 test and before their flight.
"We're working on MFAT very closely to get some other options on the table."
In India the pandemic is getting more intense, and likely won't change for several weeks, Michael Baker said.
All of the practical options need to be considered before travel could be resumed, he said.
Quarantine and testing are the best options, he said, and how these work in this context is what needs to be worked out.
"It is challenging but we know it can be done."


---