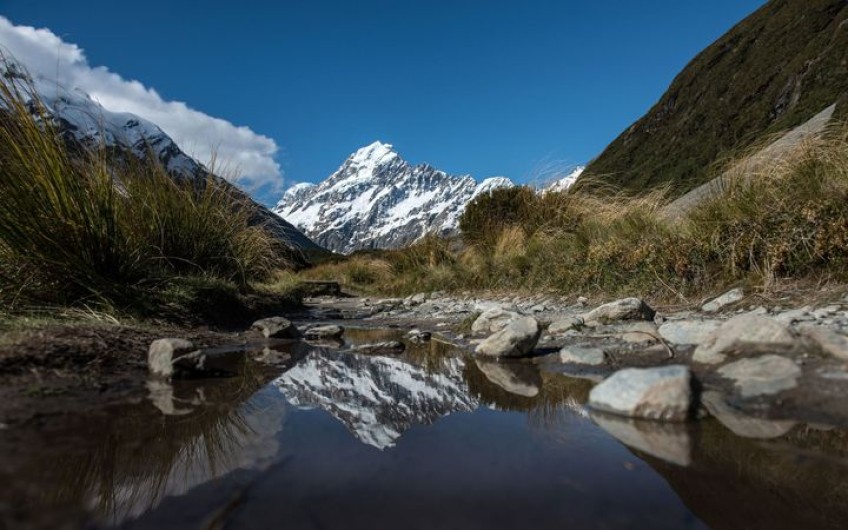 Couple stuck in Mt Cook National Park rescued
Jan 10, 2019
---
Rescuers say the couple who were airlifted to safety in Aoraki/Mt Cook National Park this afternoon were well prepared for their trip.
The Australian couple sent out an alert using a Personal Location Beacon at Ball Pass yesterday after they became exhausted during bad weather.
Rescue Coordination Centre NZ received an alert from Ball Pass about 2pm, notifying Department of Conservation (DOC) staff.
DOC alpine search and rescue team supervisor, Andrew Tindall, said the couple made good decisions in difficult conditions.
"They were well prepared, which was excellent. They had good equipment, good food, well prepped for the trip, they had a locator beacon which they activated at the right time, they made sensible decision. They did everything well, which was great considering how bad it was on site," Mr Tindall said.
He was one of four rescuers who were sent to help the couple, who are in their 60s.
Winds reaching up to 80km/h with light sideways rain prevented an earlier rescue, he said.
Instead rescuers were dropped via helicopter 400m below the couple and hiked up.
"They were a little bit distressed about their situation, they were not in a great location right at the top of the Ball Pass," Mr Tindall said.
Two rescuers set up a camp in a more sheltered area 150m below while Mr Tindall helped to support the couple.
"We put big rocks and all that on their tent, but their tent got blown away during the night that was left on-site."
Winds reached up to 120km/h, damaging the rescuer's tents, he said.
In the morning, they helped the couple move down the mountain, using ropes, to try and catch a break from the wind to allow a helicopter rescue.
It was a race against the weather as conditions were not expected to improve.
"We got lucky that we got a nice little fine period," Mr Tindall said.
The couple and rescuers were returned back to Aoraki/Mt Cook Village in good spirits, he said.
The team was fortunate to have an experienced helicopter pilot helping them, he said.
"There's a lot of trust with them between the teams."
It was the fourth rescue undertaken by the DOC alpine team this week.
But Mr Tindall said that was fairly normal for this time of the year.
He recommended anyone planning to tramp in the national park carefully research their trip and make sure they have the right equipment, experience and knowledge to keep themselves safe.
"Carrying the right safety beacon ... makes our jobs so much easier. The response time is so much faster."

---