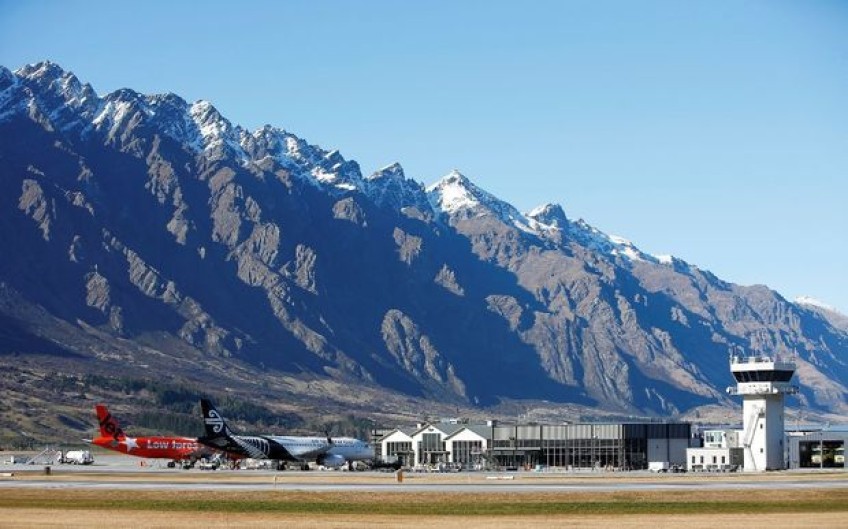 Concern after Queenstown airport report delayed
Sep 20, 2018
---
The public response to Queenstown Airport's proposal to double flight capacity in the tourist centre is expected to be known sometime next month.
Consultation on the airport's proposal to double flights to and from Queenstown closed a month ago.
More than 1500 responses were received, but what they have to say is still unknown as the airport was not yet in a position to release them.
However, the plan did lead to a groundswell of vocal opposition from locals, especially those living in the affected area.
The airport is almost at capacity and its proposal would alleviate those concerns, allowing twice the number of flights in and out, which in the long-term could equate to one flight every 4 minutes and more than 5 million passengers going through the airport.
But many felt that was putting the cart before the horse, and conversations about tourism growth and how the wider Otago-Southland region could cope with it needed to be had first.
"I am very concerned about the airport in Queenstown becoming a hub for the entire south," Queenstown Lakes councillor and Frankton resident Alexa Forbes said.
"I don't believe that is a good proposition for an airport that is in a very geographically constrained basin."
The airport's proposal had prompted a conversation among the community and it was time for that conversation to be had throughout the south, she said.
"We have a really strong airport in Invercargill, which could be further developed and I think they want that.
"But actually how would I know whether they want that - we haven't had that discussion."
She was keen to see the submissions to place a metric on how the affected locals felt about the increased noise of more flights, and how the wider community felt about the massive growth of visitor numbers.
However, she would like to see changes to the airport's capacity put on hold until wider discussions about growth take place with other districts in Otago and Southland.
One of those districts would be Central Otago, where Mayor Tim Cadogan was caught on the hop by Air New Zealand's submission to expand services at other airports in central Otago.
Colloquially, many in the area refer to central Otago not as the defined district but the wider area also encompassing parts of Queenstown Lakes and, for some, even parts of the Clutha district.
"We simply haven't had any contact [from Air New Zealand on its proposal] and maybe they are doing some blue sky thinking," Mr Cadogan said.
"But they haven't come and talked to us, even at the very, very basic level so it does lead me to question where are they talking? Are they talking Alexandra? Are they talking Cromwell? Are they talking Kingston? We simply don't know."
With the airport yet to release submissions on its proposal, some have leaked out leading to speculation, excitement and concern in some quarters.
Mr Cadogan said if Central Otago district was in Air New Zealand's sights he would welcome the opportunity.
"It absolutely is an exciting possibility for the district," he said.
"Alexandra's airport has been getting upgraded for quite a long time by the Central Otago District Council. There is room up there to land ATRs I understand... in terms of our place in the world it would certainly be a conversation worth having."
The airport initially said it expected to release the submissions within weeks, but the sheer volume and the need for due process meant they were still not available.
An airport spokesperson said it expected to release them to the public next month.
Consultation concerns
For former Queenstown Lakes councillor Kirsty Sharpe, who worried about the transparency of the process even before consultation closed, it raised concerns.
"We would like to see the submissions and I think they owe that to us because we are the community and the community owns three-quarters of the airport," she said.
"They know the importance of the issue and it's a pity that they can't speed up their processes."
Frankton Community Association chairman Glyn Lewers said he believed he knew what the submissions would say.
"I'd say I'd be pretty confident about the sentiment they got from the community. If it's anything to go by what I've heard it'll be pretty negative towards their proposal."
He had received emails, calls and approaches from those concerned about the expansion of the airport's capacity.
It would be disappointing for the airport to proceed as proposed if the sentiment was as overwhelmingly negative as he expected, Mr Lewers said.
The airport would take account of the public sentiment in its final proposal, which would go before the council.

---