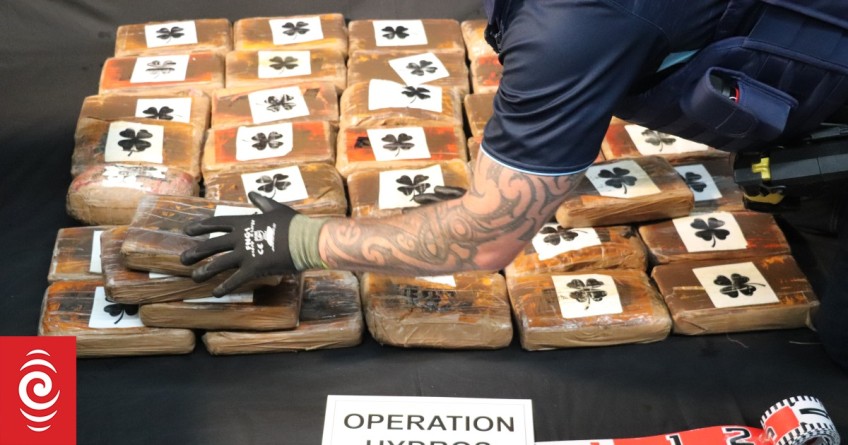 Cocaine bust: Half a billion dollars worth of drugs seized in Pacific Ocean
Feb 08, 2023
---
The discovery of 81 bales of cocaine will land a "major financial blow" to illegal drug market, New Zealand's Police Commissioner says.
New Zealand authorities have intercepted more than three tonnes of cocaine from a vessel in the Pacific Ocean.
A media conference is being held at Police National Headquarters detailing the bust.
Operation Hydros - a joint mission by police, Customs and the Defence Force - seized 81 bales of the drug, totalling 3.2 tonnes, with an estimated street value of half a billion dollars.
The shipment is destined for destruction, having since made the six-day journey back to New Zealand aboard the Royal New Zealand Navy vessel HMNZS Manawanui.
Police Commissioner Andrew Coster said given the large size of the shipment it would have likely been destined for the Australian market.
"There is no doubt this discovery lands a major financial blow right from the South American producers through to the distributors of this product," Coster said.
"This is one of the single biggest seizures of illegal drugs by authorities in this country. While this disrupts the syndicate's operations, we remain vigilant given the lengths we know these groups will go to circumvent coming to law enforcement's attention."
Operation Hydros started in December 2022, as part of the police's ongoing work with international partner agencies to identify and monitor suspicious vessels' movements, he said.
"I am incredibly proud of what our National Organised Crime Group has achieved in working with other New Zealand agencies, including New Zealand Customs Service and the New Zealand Defence Force. The significance of this recovery and its impact cannot be underestimated."
While no arrests have been made at this stage, enquiries were continuing internationally.
New Zealand Customs Service acting comptroller Bill Perry said his agency was pleased to have "helped prevent such a large amount of cocaine causing harm in communities here in New Zealand, Australia and elsewhere in the wider Pacific region".
"The sheer scale of this seizure is estimated to have taken more than half a billion dollars' worth of cocaine out of circulation.
"It is a huge illustration of what lengths organised crime will go to with their global drug trafficking operations and shows that we are not exempt from major organised criminal drug smuggling efforts in this part of the world," he said.
New Zealand Defence Force joint forces commander Rear Admiral Jim Gilmour said they had "the right people and the right capabilities to provide the support required".
"We were very pleased with the result and are happy to be a part of this successful operation and are proud to play our part in protecting New Zealand."
Main image (Supplied/NZ Police): 3.2 tonnes of cocaine was seized in Operation Hydros.

---