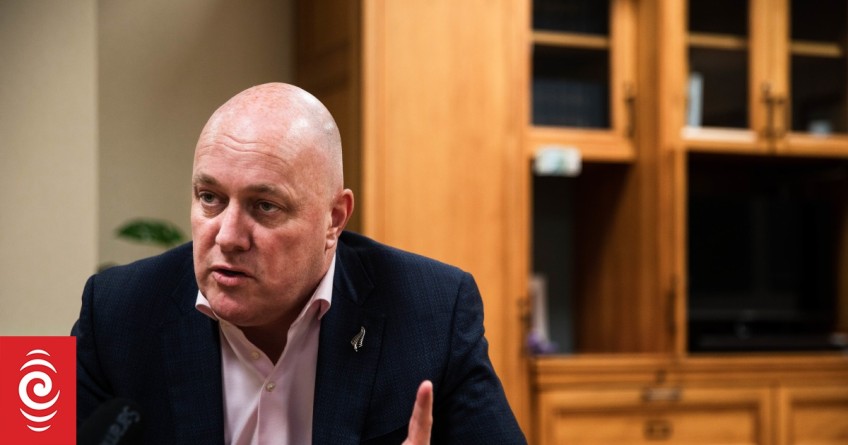 Health comms staff 'a good place to start' in public service cuts: Luxon
Mar 08, 2023
---
Christopher Luxon has singled out health communications staff as perhaps the first to go in a proposed cull of the public service workforce if National forms the next government.
He is also unhappy with public service chief executives, who he describes as the sector's "biggest problem".
Luxon wants to cut government spending by scrapping some of the 14,000 new roles that have been created in the core public service since 2017 and slashing $400 million from spending on consultants and contractors, the bill for whom has risen to $1.7 billion a year.
"We know that there's a need, often, for external reviews. We appreciate there's a need for specific consultants to do some tasks," he told RNZ's Morning Report today.
"But what's happened here is that we've actually hired 14,000 more public servants and then on top of that, we've had a blowout of the consultants and contractor budget from $1.2 billion to $1.7 billion. And it's gone up every year over the last five to six years. And really what it speaks to is look, at the end we're not getting good outcomes."
The core public service workforce increased from 47,570 in 2016/17 to 62,853 in 2021. It has since fallen to 60,381, the Public Service Commission citing reforms to the health system, the end of "fixed-term staff associated with time-limited projects [such as Covid-19]", other organisational changes and the tight labour market.
In that same time, the New Zealand workforce has increased by 250,000 roles.
In 2017/18, just shy of $900 million was spent on contractors and consultants.
Until recently, Luxon had been quiet on what roles specifically he wanted gone, but on Wednesday he took aim at the Ministry of Health.
"Here's a good place to start, right? We've got the Ministry of Health. We've got 200 people on a communications team inside the Ministry of Health that's grown to 200 people. That is a hang of a lot of communications consultants."
"And at the same time, they then go off and hire separate PR firms to continue to perfect and communicate their messages. Honestly, if you cannot get an outcome delivered with... 200 comms people, something's going horribly wrong."
However, the Ministry of Health in June last year employed just 30 public relations or communications staff, half of them permanent.
In the House on Tuesday, Prime Minister Chris Hipkins agreed the public service had been relying "too much" on consultants and contractors, but said much of the recent rise in spending was "one-off and justified in the circumstances".
"Around a third of that expenditure, for example, is related to IT expenditure which … is a consultant-led industry. A significant proportion of it related to Covid-19 - related expenses such as the roll-out of the vaccines, which the member and his party argued that we didn't do fast enough."
Hipkins also cited "significant growth … in building and construction" and the overhaul of the health sector needing "the right people doing the right work".
The Public Service Commission's 2022 report said the share of operational spending that year on consultants and contractors - $1.2 billion - was 14.6 percent, up only slightly from 2017's 13.4 percent.
"The bulk of the increase was driven by Covid-19 [the national vaccination programme], government priorities [health system reform and changes to Three Waters and the Resource Management Act], plus some one-off IT improvement projects, upgrading online access to government services and migrating legacy systems to cloud-based, which are more secure, resilient and cost efficient in the long-term," it said.
CEOs in the firing line
Luxon said chief executives are the "biggest problem" the public service has.
"The CEOs of these organisations are not clear on the outcomes and the core purpose of what they're there to do and what they're trying to achieve - then no one else is clear. So people do a whole bunch of other random stuff that doesn't necessarily educate children better or deliver better health outcomes.
"So you start with the outcomes and you hold people and the CEOs accountable for delivery. They either do them or they don't. And whatever organisation structure they need to deliver that is what they need to do. But you don't start with a number of people and then work your way forward. You start from the other way."
He would not commit to a specific number when it came to workforce cuts, except to say the public service would be "smaller" than it is now. The last National-led government ended its run with a core public service about the same size as when it began - losing some staff in the years following the financial crisis, and hiring a few more towards the end.
"I do want it stronger, but it doesn't mean I need more people. I want better delivery out of a public service," said Luxon, adding that permanent staff could pick up work currently being farmed out to consultants and contractors.
"You know, people are not clear on the two or three things that they're there to achieve and to deliver for the New Zealand people. You know, we've got - how do you have 200 people on a Ministry of Health communications team? Honestly, how is that possible?"
As for whether a reduced public service would be able to carry out its current workload, Luxon said not all the work was worth doing.
"There might be a whole bunch of work that just needs to stop because it's just not important. It's not the must-do stuff that we must be doing."
'Old myths'
The Public Service Association said in response Luxon was just repeating "old myths" about its staff and the work they do.
"Public service workers got New Zealand through Covid, they're working hard again to support communities devastated by flooding and Cyclone Gabrielle," national secretary Kerry Davies said in a statement.
"These types of statements have a real impact on the morale of people working in the public service and their families.
"We do agree with Luxon on one point - he cites the need to use fewer consultants and 'build that capability in-house', but how is that possible when National plans to cut the public service? His numbers just don't add up."
Davies said New Zealand has a public service "proportionally the same size as the UK and Australia" and "spends a lower percentage of GDP on public services" than both.
Main image (RNZ/Samuel Rillstone): Christopher Luxon.


---