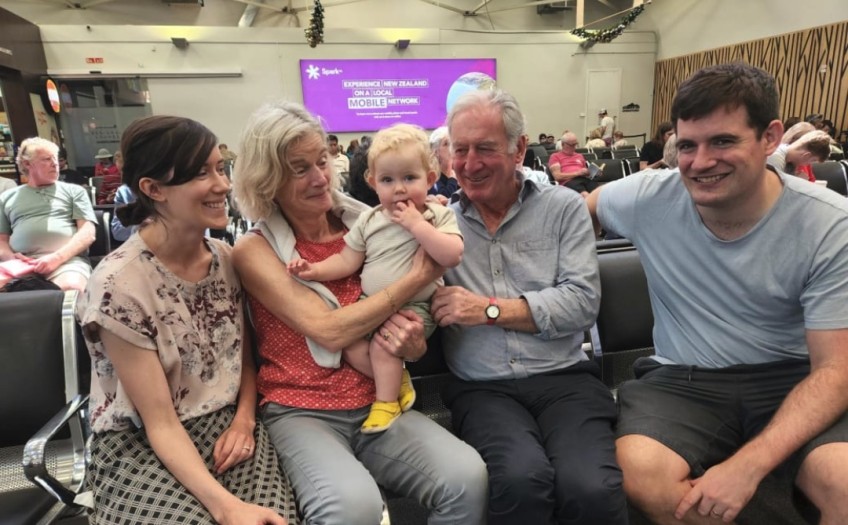 Christmas rush returns to airports as families reconnect
Dec 23, 2022
---
Airports around the country are buzzing with activity on one of the busiest travel days of the Christmas period.
There will be 50,000 people flying in and out of the country via Auckland Airport on Friday and Saturday, compared with just over 2700 on the same two days last year.
At Wellington Airport, 247 flights were scheduled on Friday - about 27 percent more than an average day.
Christchurch Airport was expecting 30,000 domestic and international passengers.
Auckland Airport
Sarah Moon and her 11-year-old son Jackson were travelling to spend Christmas with their whānau in Kaikohe.
This was a special trip, Moon said, as they will be connecting with the land where her father was raised. Sadly, he died 40 years ago.
Christine, from Auckland, was taking her children to spend Christmas with her sister in Christchurch. She had not spent Christmas with her sister for 30 years, but decided to make the trip this year.
"My mum passed away a couple of years ago, and I've kind of been missing her, and she's the oldest female sibling in our family, so I really want to spend Christmas with my family rather than my husband's family this year."
Stella Durant was picking up her two children after being apart for three years.
Stella came to work in New Zealand from the Philippines in 2019, and has not been able to visit her kids due to border closures. Now, she has managed to get visas for her kids to study in New Zealand.
"When they got their visa we were like, jumping for joy - we really miss them so much."
Rapone, also a migrant worker from Fiji, will be surprising his family in Suva this year for Christmas. He used to go back every year, but has not been back for four years due to Covid-19.
With a large flower bouquet, university student Leo said he could not wait to see his girlfriend after 450 days apart. She was arriving here from the UK.
Patricia and Angus flew here from Scotland to meet their family, including their one-year-old granddaughter Kaitlin.
The family was flying down to Nelson, then Abel Tasman, and meeting other family in Queenstown.
Wellington Airport
Patrina said things had changed since she last flew and it was making her first trip in six years a little scary.
She said she left a couple of extra hours for check-in to take the anxiety out of getting on board on time.
"I think if you just leave yourself plenty of time then you've got a better chance of no panic, no stress," she said.
Christchurch Airport
In Christchurch, people were giving themselves enough time to pose for photos by six large Christmas trees.
University student Olivia was heading home to Cambridge to be with her family for Christmas.
"I'll be up there for five weeks, so it'll be the longest I've seen them in a very long time, which is really nice. My friends are all going to be up there as well.
"My family has had Covid recently, so this is delayed for me going up, so it's nice I get to go up there now."
Christchurch woman Jo said she and her husband could not wait to head to Fiji for Christmas.
"We haven't had a holiday overseas since 2019 because of Covid, so we're really excited about going away for the holidays and having a nice, tropical relaxing time.
"I think a lot of people have been at home or been away from their family for a really long time, so it's really nice to get everybody back together and have the holidays together."
No hurry, no worries
Travel Agents' Association president Brent Thomas said it was the biggest travel season since the pandemic began - with airport staff and facilities under pressure.
"Like many industries, airlines and airports have been hit by Covid, they don't have the same staff numbers they previously had. It's highly recommended people allow themselves some extra time to get to the airport and get through security."
Travellers were also watching the skies, with MetService forecasting thunderstorms in Wellington, Hawke's Bay and inland parts of the country. Fortunately, meteorologist Lewis Ferris said any thunderstorms were likely to be localised and short-lived.
"These thunderstorms are relatively small and they should be moving away pretty quickly, so any of those delays shouldn't keep you from getting where you need to get this Christmas."
Main Image: Photo: RNZ / Lucy Xia


---