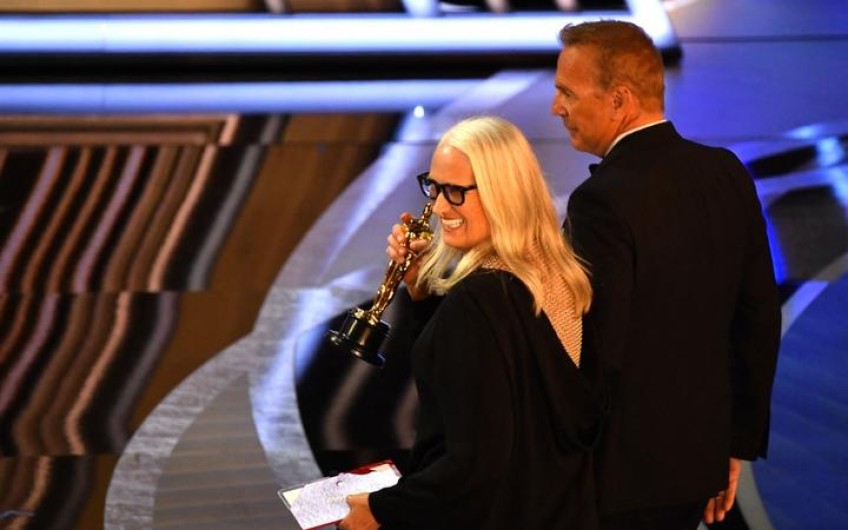 Campion wins Best Director, CODA wins Best Picture
Mar 28, 2022
---
Jane Campion has won Best Director for The Power of the Dog while Best Actor nominee Will Smith caused shock by slapping presenter Chris Rock for an insensitive joke about Jada Pinkett Smith's hair loss.
New Zealand's Dame Jane Campion won Best Director, but The Power of the Dog failed to win other big awards. Will Smith took Best Actor for King Richard while Jessica Chastain won for The Eyes of Tammy Faye.
But the moment everyone will be talking about is when Best Actor nominee Will Smith slapped presenter Chris Rock on stage for an insensitive joke about Jada Pinkett Smith's hair loss.
Smith marched on stage and slapped Rock after he made a joke about Pinkett shaving her head. She suffers from alopecia. The ceremony cut to black briefly, stunning an otherwise predictable ceremony so far.
Top winners also included Troy Kotsur for CODA, the first deaf man to win an Oscar, and Ariana DeBose for West Side Story, the first queer woman of colour.
Dune has led the way with six Oscars in total, in technical categories.
Several New Zealand ties are to be found in the Oscar for Short Film (Live Action) The Long Goodbye by Riz Ahmed and Aneil Karia, with executive producers Sally Campbell, Tim Nash and Seth Wilson at production company Somesuch.
The 94th Academy Awards returned to the all-out razzle-dazzle extravaganza we're used to, after smaller muted ceremonies in the past two years due to the pandemic.
This year pre-parties and red carpet entrances are back on stars' itineraries, before the ceremony kicks off at 1pm New Zealand time at the 3400-person capacity Dolby Theatre, in Hollywood, Los Angeles.
While The Power of the Dog was tipped as the best horse in the race for the Best Picture award, underdog contender CODA has been charming audiences and offered a real threat despite sitting on only three nominations - all of which it won.
Main image Getty Images/RNZ: Jane Campion accepts the Directing award for The Power of the Dog onstage during the 94th Annual Academy Awards at Dolby Theatre on March 27, 2022 in Hollywood, California.

---