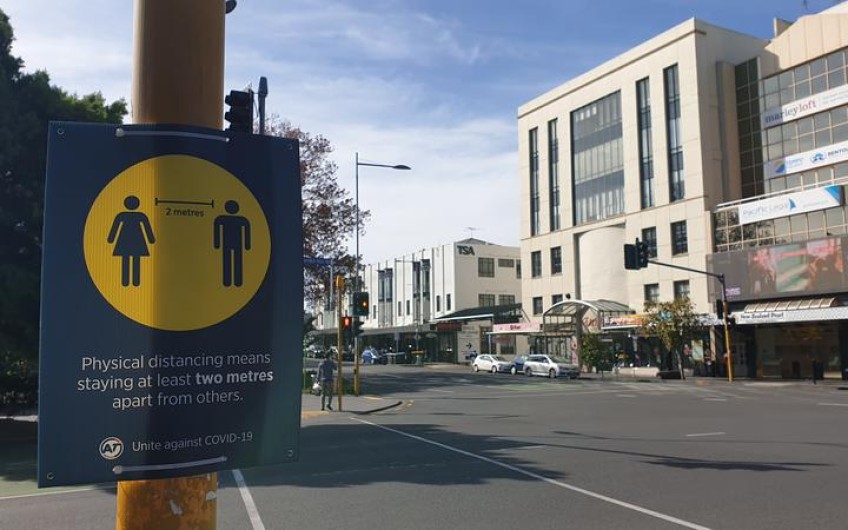 Cabinet weighs the evidence for New Zealand's shift to level 2
May 11, 2020
---
New Zealanders have a nervous wait today as the government makes the call this afternoon whether to move to level 2, or stay in level 3 lockdown a while longer.
The move to "A Safer Normal" is a big jump, and the government says a safe transition that locks in the gains will be its priority and it hasn't ruled out moving to level 2 in stages.
But National says for the sake of people's livelihoods, we must move to level 2 immediately.
Health Minister David Clark didn't give much away when speaking to reporters yesterday.
"I won't be getting ahead of Cabinet decisions, that is something I want to preserve for my conversation with Cabinet. I do feel good about the progress we're making though."
Clark said Cabinet members will look at the most up-to-date evidence, as well as advice from the director-general of health.
He said they will consider all aspects of the country's Covid-19 response.
"Our border controls, our contact tracing, our testing, the public understanding and buy-in to our social distancing regimes, how workplaces are responding, the feedback we're getting from businesses ... all of those things will be taken into account, as well as overseas experience," he said.
Clark said Cabinet needs to be assured that any move is done safely so that the hard fought gains remain "locked in".
"New Zealanders have made a lot of sacrifices through this period and we want to make sure that we are valuing those, and we don't want to find ourselves in a situation where we have to rush back to a more secure lockdown.
"We want to open up our economy, we want to be as free as we can be and we need to make that decision in a staged, careful, and thoughtful way," he said.
It won't just be the number of new cases officials will be assessing, but what those cases tell us.
And that seems to be encouraging - with a week of just a handful of cases - all coming from known sources.
'I haven't seen a health system improve that fast ever' - specialist
Contact tracing is another area officials need to be assured is up to scratch.
When the independent infectious disease specialist Dr Ayesha Verrall made a rapid review of contact tracing she found the system came up short, and made a raft of urgent recommendations.
She said while there is still work to do, she is confident that the system is now ready for the country to move to level 2.
"The contact tracing system has improved so much over the last two months, I haven't seen a health system improve that fast ever, and I have confidence that it's suitable for moving to level 2," she said.
When level 2 comes in domestic travel can resume, retail stores can open, as well as restaurants and bars to fewer than 100 people at a time and with suitable social distancing.
On Friday, Finance Minister Grant Robertson acknowledged it is a big jump between levels, and spoke about the prospect of a "phased-in" approach.
"We know that it's mass gatherings where we've seen transmission of the virus previously and so naturally that's one of the areas where we want to move carefully and cautiously, but that final decision about whether or not we do phase in level 2, or whether we move in one go, that will be made by Cabinet on Monday," he said.
Dr Verrall said that as long as strict social distancing rules and contact tracing procedures are followed, gatherings of under 100 people will be acceptable.
"At the moment it appears that there are very, very few cases and all the cases we are finding are linked to already existing clusters.
"It appears at the moment, the chance of having an unknown case at your wedding is low, so that's why it's acceptable to have larger gatherings.
"So I think the question is really can we adhere to the rules that have been set out and really that's down to the owners and operators of those venues and the public complying with the rules," Verrall said.
Don't wait for 'perfection' - National
National's Finance spokesperson Paul Goldsmith said there is no justification for a 'level 2.5' and the government needed to reopen the economy straight away.
"We've yet to see what the arguments are that the prime minister would put forward, but you know, we heard last week that she was a perfectionist, but you know, our worry is that if we extend our severe lockdown waiting for perfection we'll compound the huge damage being done, both in terms of jobs, but also in terms of general wellbeing," he said.
"This week is Budget week and we'll see that the country is in an enormous economic hole, and so there's only two relative questions - are we making it worse than we need to? And secondly, how are we going to get out of it?
"And if we were overly conservative coming out of the lockdown we would certainly be making it worse than it needs to be," Goldsmith said.
Prime Minister Jacinda Ardern will make the much anticipated announcement alongside Director-General of Health Dr Ashley Bloomfield at 4pm.


---