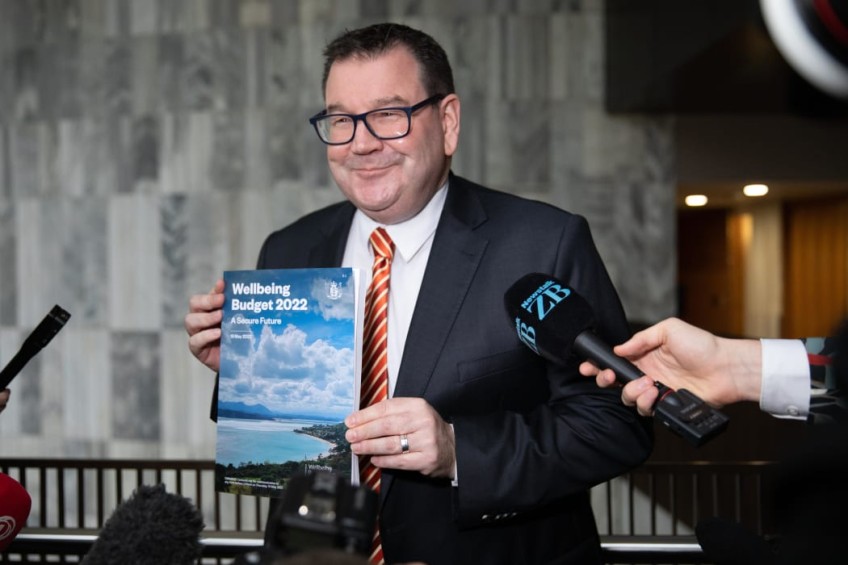 Budget pressure amid skyrocketing prices and spending commitments
May 19, 2022
---
RNZ's political editor Jane Patterson on the context of today's Budget.
Power Play - It's time for the Budget - one of the hardest Finance Minister Grant Robertson has had to put together.
Sandwiched between the expectations of New Zealanders looking on with disbelief at skyrocketing prices and Labour's big spending policy commitments, his challenge is to balance those short term pressures against longer term investment.
The grinding effect of the pandemic is taking its toll on the New Zealand economy, hitting households and businesses hard. Workforce availability, shutdowns in China and Russia's invasion of Ukraine are causing even more chaos. While unemployment is at record lows, that makes skills shortages more severe and any upward pressure on wage rates is quickly swallowed up by inflation. Interest rates have been hiked up by the Reserve Bank, with further rises on the way; that will keep bumping up the cost of paying for the mortgage, coupled with higher prices for basics like fuel, food and accommodation.
Lurking behind all that is the constant threat of new and even more disruptive Covid variants, and the high economic risk that carries.
A sharp correction to house prices has also been red-flagged; clear signs they're on a downward slide reverse a comfortable trend of many years for homeowners, but perhaps provide a glimmer of hope for those still locked out of the market. Accommodation is a big part of everyday costs and, as an ongoing political vulnerability, could be an area of focus.
Buffeted by global events, the Labour majority government is already locked into two big spending areas: climate change, most of which was revealed on Monday, and the cost of the new structure replacing District Health Boards - Health NZ and the Māori Health Authority.
But surely there will be a cost of living sweetener in there today; when asked about possible relief in the Budget senior ministers cite recent increases to benefit rates and the minimum wage, along with direct cash schemes like the Winter Energy Payment for households, and the wage subsidy for business.
However, the political pressure is intensifying, with National breathing down Labour's neck. With its popularity waning and election year coming up fast, the government will be well aware people look to it for relief and for someone to blame, regardless of any circumstances out of its control.
It acted recently to blunt high fuel prices with a temporary, 25 cent cut to the excise tax, and halving the cost of most public transport. There's still about $100 million left over for transport out of the climate fund - look out for that and public transport to feature today.
There are real political points of difference already in this Budget; most notably the plan to centralise the health sector - National is directly opposed to both the fundamental idea and the price tag.
National has had a laser focus on the cost of living; sensing a shift in the public mood, it's channelling the frustration and alarm of many families who had been comfortable enough but are now really feeling the pinch. Leader Chris Luxon says his party will judge the Budget on three criteria: is it going to deliver for the squeezed middle, is there value for money and will there be improved outcomes?
A question for National is, aside from its tax cut programme, what specific measures would it take to shore up the economy, and people's bank balances?
But the man in charge for now, Grant Robertson, has been tempering expectations; he's already flagged a return to surplus a year later than planned, and warns the economic outlook will be less positive than in December which gives "an indication of just how quickly things are moving in the global economy".
"The IMF [International Monetary Fund] reduced the global economic forecasts that they made in January, from about four and a half percent to about three and a half percent in April, so you can see that there's a lot of fluidity," he said.
There's ongoing uncertainty around how long the inflationary pressures will persist; Robertson says he's advised the supply shocks will start to ease by the end of the year, but adds "everybody in this post Covid era is very wary of those kinds of predictions".
Despite the many challenges, he's promising to present a fundamentally "strong set of books".
Along with the ability to ratchet up debt to higher levels, Robertson has given himself a $6 billion dollars operating spending allowance this year, for investment in "major programmes, including the health reforms".
All will be revealed - including what's in it for individual households and businesses - at 2pm.
Main image (RNZ/Angus Dreaver): Finance Minister Grant Robertson with the Wellbeing Budget 2022.


---