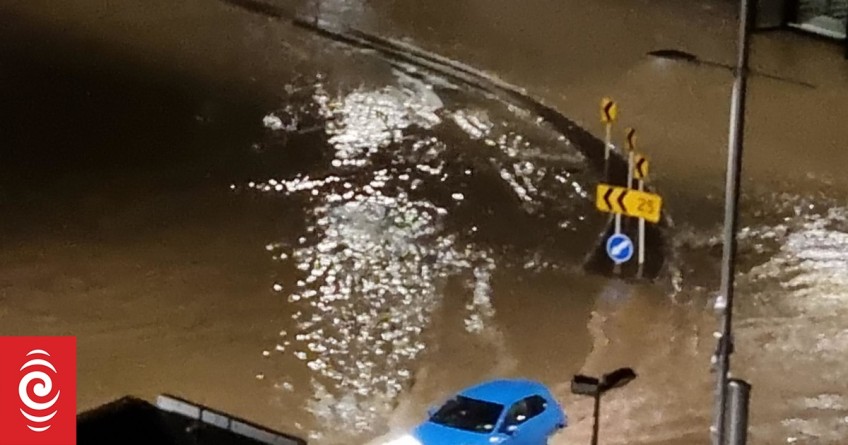 Auckland flooding: What you need to know
Jan 28, 2023
---
Auckland Emergency Management says staff are out assessing flooding with reports of people being rescued from their roofs and MetService has issued its highest level heavy rain warning for the city.
Auckland mayor Wayne Brown has declared a state of emergency in the Auckland region which comes into force immediately and will expire in seven days.
"This declaration reflects the extent of damage, displacement and disruption caused by this evening's severe weather event and enables emergency services and response agencies to draw on resources, and enact additional powers, to assist affected Aucklanders," Brown said in a statement.
Weather warnings
MetService has issued a red level heavy rain warning for Auckland about and south of Cape Rodney until 3am on Saturday with up to 120mm of rain forecast in addition to the 150-200mm that had already fallen.
The rain was likely to cause significant flooding and dangerous river conditions, MetService said.
Slips and flooding were likely to disrupt travel and make some roads impassable possibly isolating communities, it said.
MetService reported 238mm of rain had fallen across central Auckland on Friday.
MetService has put a severe thunderstorm warning in place for Rodney, Gulf, Auckland City, Waikato, Waitakere, Franklin and Albany.
The line of thunderstorms were moving east and were expected to lie from Omaha to Auckland to Bombay at 9.22pm and from Outer Hauraki Gulf to Auckland to Mangatawhiri at 9.52pm, MetService said.
MetService said the thunderstorms were expected to be accompanied by torrential rain which could cause flooding and make driving conditions extremely hazardous.
Aucklanders should only call 111 if life is in danger
Aucklanders are being urged to only call 111 if life is in danger tonight as Fire and Emergency deals with an increasing number of calls.
Fire crews are dealing with an estimated 1500 calls for assistance but many relate to flooded property. They are prioritising calls where people are in danger and need to be rescued.
Counties Manukau District Manager Brad Mosby said that when people phone with non-urgent requests for help with flooding, it stops people who urgently need help from getting through.
Residents in flood-prone areas urged to plan to evacuate
An emergency accommodation centre has been set up at St Leonard's Primary School at 15 St Leonards Road in the west Auckland suburb of Kelston to house people evacuated from floodwaters.
Auckland Emergency Management said staff were out assessing flooding, including reports of people being rescued from the roofs of their houses.
Duty Controller Andrew Clark said people should stay at home and shelter if it was safe to do so.
The severe weather was set to continue until the early hours of Saturday morning, he said.
He advised people to check on friends, neighbours and family members, but not to put themselves in danger in order to do so.
Clark urged anyone who did need to evacuate to stay with family and friends in the first instance if they were able.
"If you do need to evacuate, please take essential items, like medicines, with you," he said in a statement.
Fire and Emergency said Commander Brad Mosby of the FENZ Counties-Manukau said the worst hit areas appear to be Swanson and Henderson Valley.
Power outages
Power company Vector said that today's flooding has impacted the electricity network causing widespread outages, particularly in West Auckland.
Emergency services requested that Vector shut down power in some of the worst hit areas and homes and businesses would remain without power until the flooding subsided and it was safe to restore power, it said in a statement.
Flooding had made it difficult for crews to reach some areas where there were outages, but it was hoped they would be able to do so by morning, Vector said.
Vector urged everyone to take extreme care, avoid floodwaters and stay well clear of fallen power lines or damaged electrical equipment and to treat them as live at all times.
Anyone using medical equipment that relied on electricity should let their power company know if they were without power, or call 111 if there was an immediate health threat, Vector said.
Concert cancellations
The Elton John concert scheduled for Mt Smart stadium on Friday night was cancelled, but there were already around 11,000 people at the stadium when the announcement was made.
Frontier Touring publicist Maria Robinson earlier said a decision was yet to be made as to whether Saturday night's concert would go ahead.
Auckland Emergency Management earlier advised concert goers may need to consider staying elsewhere tonight and they should check their route was passable before returning home.
The three-day international buskers festival in Auckland cancelled all shows for Friday due to the bad weather.
Organisers of Monday's Laneway Festival said they were monitoring the conditions but expected it to go ahead.
The fate of Fat Boy Slim's concert on Sunday is unknown.
Roading
Motorists are being advised to stay off the roads in the Auckland region if possible and not to drive through flood waters.
Police are warning drivers to take care when travelling through water-logged roads.
Auckland Transport tweeted a list of roads that were closed on Friday night.
There is currently widespread disruption across our public transport and roading network as a result of today's severe rain and flooding. Please stay at home if you can, and if you do need to travel please take care.
— Auckland Transport (@AklTransport) January 27, 2023 Auckland Airport international terminal closed due to flooding
Auckland Airport has closed its international terminal check-in area to visitors due to flooding inside the building.
It asked travellers to get in touch with their airline or their airline travel app for the latest information and any impact on travel plans.
Warning against swimming at Auckland beaches
All Auckland beaches are now rated high or very high risk for swimming as flood waters overwhelmed wastewater systems.
Auckland's SafeSwim website said every beach was now at red or black alert, the highest rating.
At black level, residents are advised baldly - Do not swim.


---