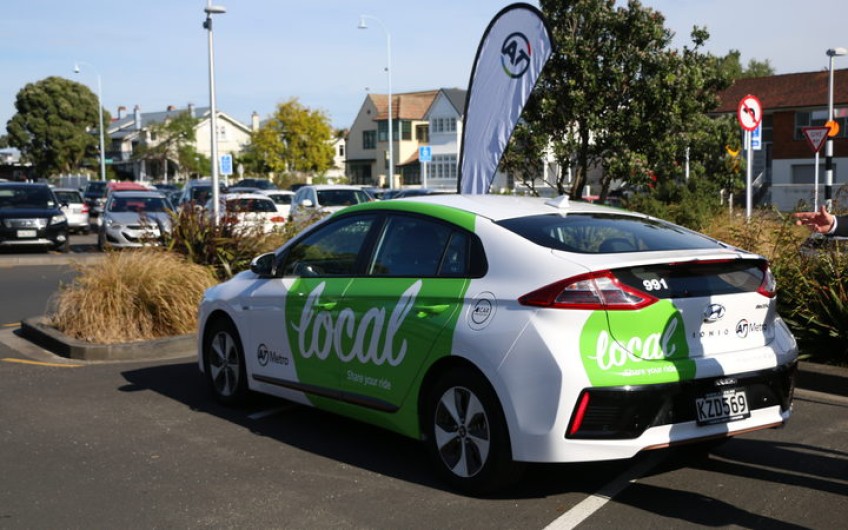 Affluent suburb to receive publicly-funded ride-sharing service
Dec 03, 2018
---
Residents in an affluent Auckland suburb will now have a publicly-funded uber-style service to get them to and from their ferry terminal.
Auckland Transport is trialling its new all-electric ride-share service over the next year in Devonport - the first of its kind in the country and the second in the world.
Those living within a 3km radius of Devonport's ferry terminal can order the driver at a cost of $2.50 per ride.
The suburb has just one main road out to the city - Lake Rd - and it is infamous for clogging up at peak hour.
The other option is the ferry, but the carpark fills up early. This is part of the reason this suburb has been chosen for the ride-sharing trial.
Auckland Transport has bought three cars and three vans with wheelchair access for the project - all are electric.
Spokesperson Kevin Leith expected around 100 people to use it twice a day.
"From those that we tested it with, it resonated really well."
He said a small group would start using it but as word got out over summer, more people will adopt it.
Users download an app and request a driver - much in the same way as you would with Uber or Zoomy.
You can track how far away the driver is, contact the driver direct and name your destination.
If you want, you can order it at the time you need, or book it weeks in advance.
Mr Leith's colleague Mark Lambert said the service was designed to be as convenient as possible.
"That's why people take the car, because it's convenient, personal and it meets their needs."
It meets the commuter's time requirements and needs, rather than having to work around public transport timing, he said.
"This is trying to put the customer central."
Devonport local and North Shore ward councillor Chris Darby agrees the service will be welcomed.
"This offers one of those tailored transport solutions that offers that last leg home."
He said it has all the convenience that people are starting to demand.
Local resident Clara said she normally tries to walk to the ferry, but if it's raining or she's running late "that plan goes out the window".
"I do drive down to the ferry and it's sad because I don't live that far away.
"There's a whole lot of 24 hour carparks but those are taken up by about 7am, so it's a bit of risky game."
A rideshare scheme could take off in the area, if people were willing to knock their driving habits on the head, she said.
Another local, who wished to remain anonymous, moved from London to Devonport five weeks ago and had struggled with the area's transport options.
She would absolutely use the service to avoid having to park her car and risk fines.
"If you've got a door-to-door service, why not use it?"
The project will cost $1 million in total of ratepayers' money. That includes the cost of the fleet and driver salaries.
It runs Monday to Friday from just after 5.30am until 9.20pm and in the weekend from 8.30am until just after 6pm.
But Devonport-Takapuna Local Board member Mike Sheehy questioned why that much money was being spent on an exclusive few.
"The whole thinking behind it is quite good, until you start asking questions about 'does it pay for itself?' and they say it doesn't."
He said each ride would be subsidised by $14, which would add up to around $19,000 a week.
"It's just ludicrous."
Mr Sheehy said it would make more sense to reduce bus and ferry fares.
Mike Sheehy said the service excludes children under 18, doesn't go late enough and was only available to those with a smart phone.
Auckland Transport said those restrictions could change as the trial evolved, depending on what customers wanted.
It said Devonport was the perfect place to run the trial, with limited options for travel.
"It has nothing to do with the socio-economic status of the area," it said.
"We want more people to use the ferry and for fewer people to drive, and if we can remove a barrier to public transport use, then it's worth doing."
If the trial is successful, it will be rolled out in other parts of Auckland.
Main Image: Devonport's ride-sharing service is heavily subsidised. Photo: RNZ / Eva Corlett


---