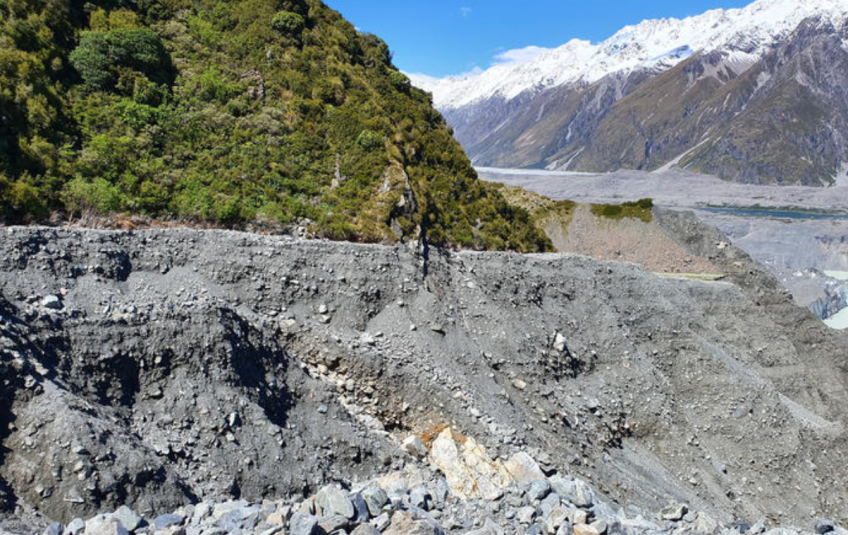 Access to huts damaged in torrential rain in Aoraki/Mt Cook area
Dec 15, 2019
---
The Department of Conservation is assessing if foot access to the Tasman Glacier and Ball Hut can be restored, after a metre of damaging rain in eight days.
Torrential rain scoured out the loose moraine at Husky Flat, where a 300m wide gulf has obliterated the track.
DOC's operations manager for Aoraki/Mt Cook Sally Jones said access to the outdoors in New Zealand's dynamic environment had been brought into sharp focus by last week's rain storm.
Access to the Hooker Valley was also severely damaged by the equivalent of three months' average rain in a week in the alpine region. The downstream effect created the Rangitata flooding in south Canterbury.
Jones said a DOC ranger and two local guides walked up the Tasman Valley route towards Ball Hut and confirmed the scale of the damage, which now ruled out foot access to Ball Hut and the eastern approach to Ball Pass crossing.
The crossing was an unmarked route, requiring users to have excellent route-finding ability in steep alpine terrain, be experienced in snow travel and in the use of crampons and ice axes.
Jones said recent damage also meant climbers would not be able to access the upper Tasman and Plateau/Grand Plateau areas on foot.
She said aerial footage above the Hooker Valley indicated that foot access was no longer possible up the Hooker towards the western approach to the Ball Pass crossing, and climber access to the upper Hooker valley was gone.
Jones said it was not yet clear if the situation would be permanent.
"It may not be but the important thing to remember is this wasn't a track, it was a route - a back country route.
"DOC didn't maintain a track there, but as the climate changes so does the use and the sort of experience required to be able to access some of the areas in our back country."
She said the effects of climate change would trigger the need for different planning for the organisation, and the expectations of users would also need to change.
Jones said DOC would be working with its partners and stakeholders to ensure all local concerns were heard.
"With the loss of these routes, it is possible climbers and other back-country users may be tempted to find alternative routes - especially if constrained by time or darkness."
Jones said the unstable terrain would put people at considerable risk of falling, or getting stuck.
The damage to these back-country routes would have long term implications for some guiding operations, she said.
The impact on DOC's South Canterbury huts and tracks was being assessed as the weather improves.


---