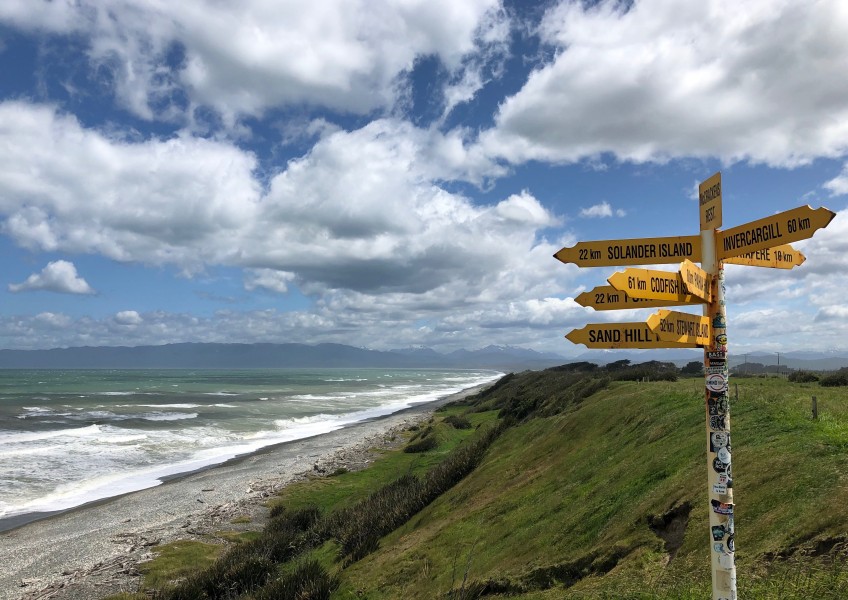 Get outta town… and down to Southland
---
Queenstown and Wanaka (and Cromwell, you too) are beautiful, but to be frank, an absolute madhouse come mid-summer. Looking for a break? Dodge the van lifers (or 'road maggots' as a rafting guide was once overheard calling them) and head for the sea.
Southland is quirky, wild and full of wind-hardened, wacky locals who are fairly indifferent to passers-through. It's magic. Head in the direction of Kingston, then follow your nose to the ocean.
Rakiura
If you've got a craving for wilderness, Stewart Island will give you a hefty dose from the moment you get on the ferry in Bluff. It's only an hour across the notorious Foveaux Strait, but it's a bumpy ride on a good day, so save lunch till the other side. Thick with native bush and the sound of birdsong, you'll feel like you've stepped back in time. If you're into hiking (and mud), the two night Rakiura circuit is beautiful - challenging enough to feel like you've earnt your freeze-dried mac and cheese, but mellow enough that you won't be cursing whoever had the idea to do it in the first place. Book ahead for your bunk at the huts.
The best part? Finish your walk by sauntering back into Oban (the tiny township), where you can head straight for the pub. The beers are $5, it's packed with a blend of locals and travellers, and, if you're there on a Sunday, Quiz Night is not to be missed. Toddle across to the Kai Kart, the best place to eat Blue Cod, snuggled into a scoop of chips and wrapped up in newspaper, with a healthy dollop of tomato sauce.
Colac Bay
As well as being a breeding ground for Great White Sharks, Colac is home to some seriously fun waves. Still keen? It's actually a great spot for beginners, with a long beach break, but make sure you bring your wetty, it's bloody freezing. Honestly, though, cold and sharks aside, it's a good time. There's a campsite to the far right side of the beach, and the pub is the perfect spot for fish and chips, a round of pool and some excellent people watching.
Riverton
About 15 minutes back towards Invers from Colac Bay is Riverton, a wee town with plenty of character. Stop at The Crib, a 70's style cafe where the larger-than-life owner, Cazna serves up delicious coffee and great post-surf feeds. Her Southland Sushi, aka cheese rolls, are top notch, and while Southland probably isn't the first place I'd look for vegan options, she's got plenty of dietary-inclusive goodies in her cabinet. Hang around and check out the second hand bookshop, it's full of gems.
Lake Manapouri's Wee Bookshop
While we're on the subject of books...this one's technically in Fiordland, but it's worth doing a loop and driving home this way. It is, as its name suggests, a wee bookshop. Don't be fooled by the size, though, it's packed with juicy finds, from old maps and hiking guides to awesome coffee table books.
The Catlins
Where native bush crashes into the sea, the Catlins is an unspoilt oasis, with (more) great surf and heaps of places to camp. Pounawea, Papatowai and Kaka Point are all worth parking up at.
So there you have it, though this list is certainly not all-inclusive. Get curious, ask around and explore this enchanting corner of the country - then tell us what you find!


---