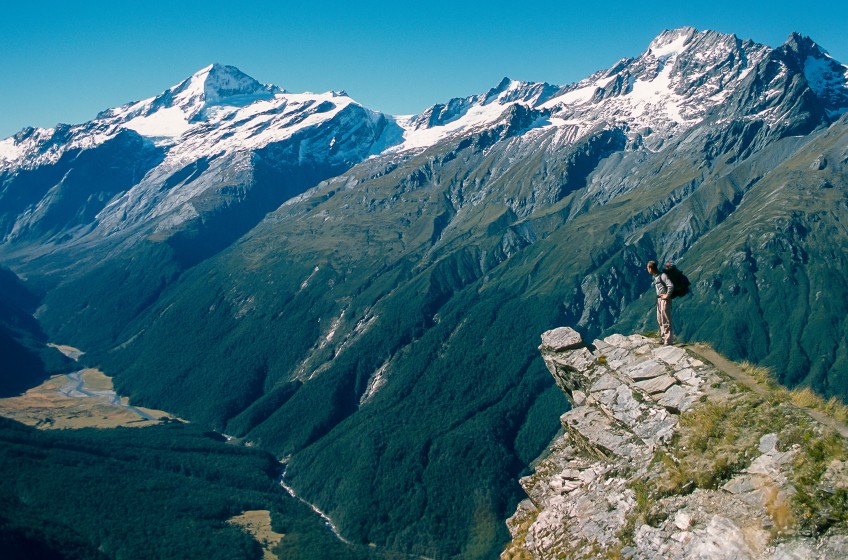 Our favourite hikes around Wanaka
---
When it comes to hiking, there's probably no other place in the world where you're quite as spoilt for choice as Wanaka. That's great, but as any millennial can tell you, too many options cause confusion and the inability to actually pick something. If only someone would collate the best walks for when you've got a beautiful day to spend outside in Wanaka. Well, we've done it, enjoy.
Rob Roy Glacier Track
This one is everything you need in a day hike. The drive out there (about an hour into the stunning, Jurassic Park-esque Matukituki valley) will have you hyped by the time you even get to the carpark. It's a steady but mellow incline up to the viewpoint, and with plenty of time to picnic and gawk at the glacier, should take about three to three and a half hours roundtrip. Make sure you go on a clear day, as there are incredible views of waterfalls on the way up, and of course the glacier.
Brewster Hut
This one is for those who're keen to get up at sparrow's fart and make a full day of it - that's if you want to do it in one day. If you've got the time, Brewster Hut is an amazing place to stay the night (and watch the sunrise). You start by driving out towards the west coast, where the bush gets thick and the air filled with birdsong. After a river crossing (check the weather before you go), the track takes you steadily up through magical Beech forest. It's definitely a thigh burner, but it's worth it for the moment the trees clear and you can see mountain tops in every direction. It's a solid seven-hour return, so make sure you take plenty of water and snacks, and you don't mind the company.
Grandview
As the name suggests, peaking this one well get you a fine vista indeed. It starts out by Lake Hawea, so a close drive, and is mainly tussock. That means you get views the whole way up, which is about a five-hour return - it's definitely uphill but nothing like Brewster. Pack a picnic and take some time at the top to soak it all in, but it's exposed and can be pretty windy so make sure you've got sun protection and a wind layer packed!
Rocky Mountain
Another well-named spot, it is indeed a rocky mountain. But there's more to it - this one will take you through gorgeous native bush before rewarding you with views of Lake Wanaka from the summit. You could even smash this one out in a half day if you're short on time, it's about a 3.5-hour return.


---