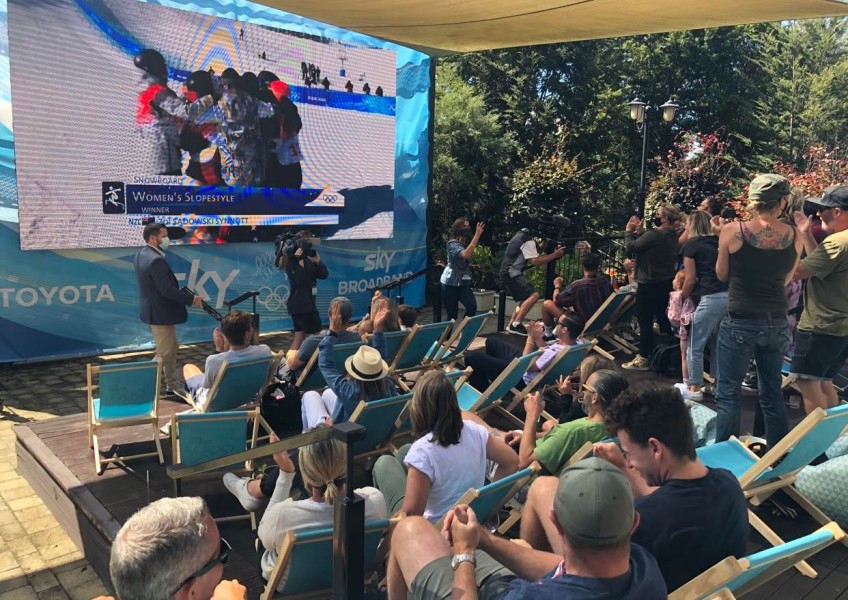 Zoi Wins Gold!
---
Zoi Sadowski-Synnott has jumped to gold at the women's snowboard slopestyle in Beijing, securing New Zealand its first gold medal at the Winter Olympic Games.
The win's even sweeter for the Wānaka 20 year old as she's only recently back on the big stage after a nine-month lay-off due to a leg injury (a fractured tibial plateau).
Video: Zoi's winning final run and medal ceremony.
Ms Sadowski-Synott entered the final as the top qualifier, jumping straight into gold-medal contention with a solid first drop scoring 84.51.
But a dismal second run for Ms Sadowski-Synot, scoring a low 28.15, provided opportunity for Julia Marino of the United States to leapfrog the Kiwi to first place.
Ms Sadowski-Synott dropped into her third and final run of the day secure in silver-medal spot.
But she saved her best til last with a near-flawless final run score of 92.88 seeing her snatch gold from Ms Marino.
Video: Wānaka locals celebrate Zoi's win this afternoon.
Ms Sadowski-Synott qualified strongly yesterday, the Games' first day of competition, landing two solid runs that saw her qualify top of the 12 boarders to make the final.
Among them, two-time slopestyle Olympic gold medalist Jamie Anderson, of the United States, who failed to secure a podium place in today's final.
In an interview this week with USA Today, the American boarder said the younger Kiwi is a talented competitor.
"Zoi is an amazing strong snowboarder all over.
"It's been super fun to watch her grow up; and it's been a little back and forth between us. I love it and I need that little fire under my ass to keep me working hard and keep me on my toes.
"For a long time in my career it was pretty easy to win; I didn't have to do too much. I didn't really have anyone pushing me. And now I am very much pushed by everyone."
Ms Sadowski-Synott was in top form after winning gold two weeks ago at the X-Games in Colorado (Ms Anderson received silver).
Four years ago in South Korea, Ms Sadowski-Synott, then 16, jumped to bronze in the big air final for New Zealand's second medal at the Winter Olympics.
She'll be back in action in Beijing in the coming days in the Big Air - an event with one jump with points awarded for the best trick from three attempts – where she's also a medal contender.
Today's event, slopestyle, sees snowboarders complete a downhill course featuring obstacles like jumps and rails. Points are scored for amplitude, originality and quality of tricks.


---