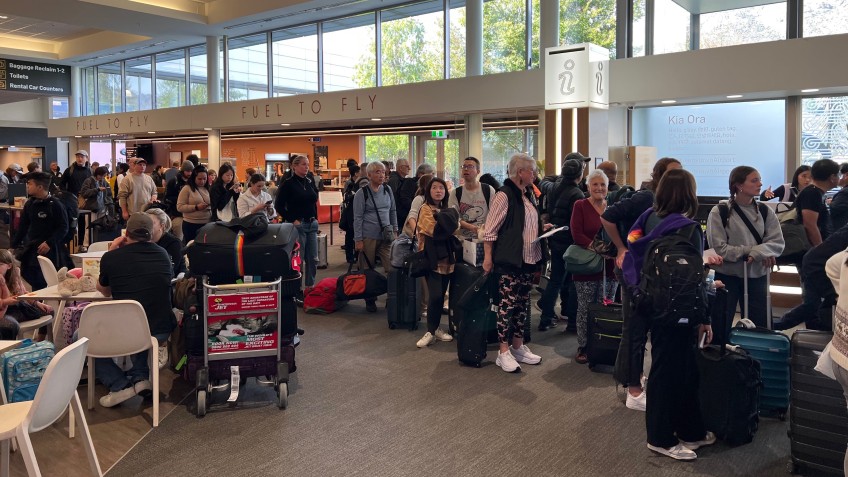 Wild winds disrupt holiday plans of thousands
---
It has been a day of disruptions for school holiday traffic as the South Island has been buffeted by strong winds, with warnings in place into this evening.
Twenty-four flights in and out of Queenstown Airport have been either cancelled or diverted since this morning, while a main tourist highway was closed after a campervan was blown over.
Queenstown Airport chief operating officer Todd Grace says, "We've had strong winds and wet weather in Queenstown today...It's obviously inconvenient when travel is disrupted, and we appreciate people's understanding".
An Air New Zealand spokesperson says it is "monitoring the conditions closely but are anticipating further disruptions with high winds forecast in areas across the South Island and lower North Island".
They say customers who have had their travel plans disrupted will be re-accommodated on the next available service - but it is expected to be a backlog of impacted school holidays travellers.
This morning there were long queues at Queenstown Airport as impacted passengers sought to rearrange travel plans.
Some spoken to by Crux anticipated it could be days of waiting for alternative flights due to the number of people affected.
Meanwhile NZME is reporting passengers on a Jetstar flight from Auckland to Queenstown this morning were "screaming and throwing up" as a landing attempt was aborted, according to one passenger.
They said the turbulence was so severe it felt like a "rollercoaster ride".
The flight returned to Auckland.
There have been reports across the South Island of wind gusts strong enough to down trees and powerlines, and uplift structures not secured to the ground.
State Highway 80 into Aoraki/Mt Cook was closed earlier today after a campervan was blown over by the wind, blocking both highway lanes. Waka Kotahi says the road has now re-opened but motorists are advised to take care as strong wind warnings remain in place.
Much of the South Island remains under an orange wind warning this evening, with thunderstorms and lightning making their way north up the West Coast.
According to NIWA there has been more than 6500 lightning strikes over the South Island and the sea since midnight.
Main image: Queues grow this morning at Queenstown Airport, where by this afternoon 24 flights had either been cancelled or diverted.


---