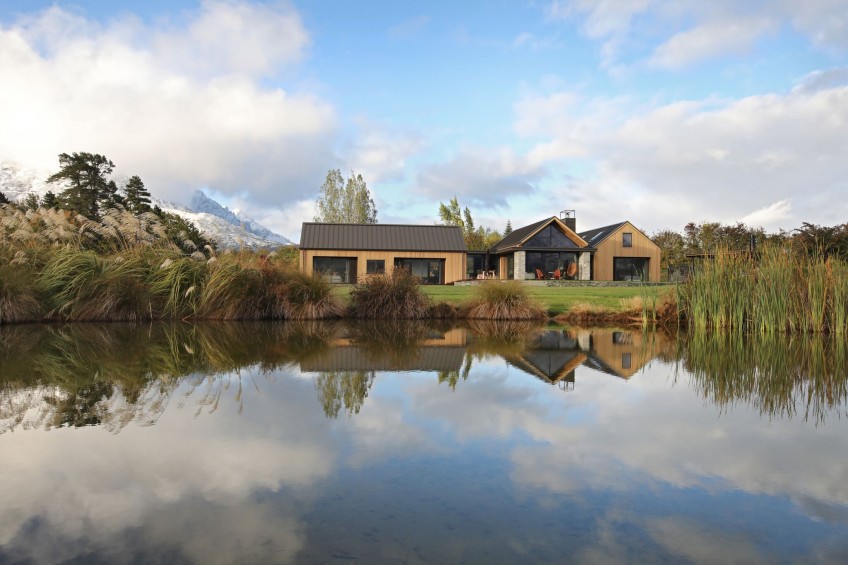 Why do we still build the wrong houses?
by Kerrie Waterworth - Oct 27, 2018
---
The key message from the UN Intergovernmental Panel on Climate Change (IPCC) released earlier this month was that we have to take urgent action if we are to avoid catastrophic environmental breakdown.
Unprecedented changes will need to be made within twelve years if global warming is to be kept to a maximum increase of 1.5C.
New Zealand may have a clean green image internationally but the latest inventory of greenhouse gas emissions shows that our emissions are rising. 
In the manufacturing and construction sector alone emissions have risen 43 percent from 1990, and made up 19 percent of all CO2 emissions in 2015.
The Queenstown Lakes District has the highest residential growth rate in the country. So, it was perhaps a good sign that one of the most popular sessions in the inaugural One Summit festival of sustainability in Queenstown and Wanaka this week was "Better Building Tiny Talks" which looked at how and why we should be building sustainable, energy efficient and better houses.
Pro Clima NZ Ltd National sales manager, Simon Gibbon, one of the speakers at the Wanaka Building Better talk at Lavender Farm on Thursday night, recommends the number one priority to reduce greenhouse emissions is to improve the NZ building code. "There is an expectation by home owners that if their house is built to the NZ building code it will be nice, warm and cosy but the reality is they are not."
He says there is nothing in the NZ building code "to cater to the need to build to an energy efficient standard" whereas in other countries such as Germany part of the building code standard requires a certain amount of insulation, air tightness, ventilation, and better quality window joinery.  "Here the building code standard is very, very low."
The 100% German owned company, Pro Clima NZ Ltd, manufactures building membranes, tapes and adhesives for external weather tighteners and an internal air tightness membrane which can control the ventilation, heating and cooling inside the building.
Gibbon says most (energy efficient) products are easily available and there are more and more distributors and manufacturers coming into the market, which is starting to bring costs down.
The biggest challenge around building energy efficiency houses is the mass market is wary of it, he says.
"They don't know what costs they will incur to build these types of houses. I can speak from experience as I have just built a very, very energy efficient home in Canterbury and I built it to a very similar cost to what it would cost to build an entry level group house. Although most of that was driven by managing a lot of the build and the costs myself, there is no reason why you cannot build an energy efficient house cost effectively."
Dowling Construction and Development Marketing Coordinator and NZ Green Building Council Homestar Assessor, Annabelle Numaguchi, another Building Better Tiny Talks speaker, believes some of the impetus to build better homes is coming from professionals who have had "a personal journey" much like herself. 
Numaguchi and her family came from Utah in the United States and although she found the winter climate of Queenstown comparable, the housing standards were not. Numaguch set about building an energy-efficient home which led her to switch careers from teaching to marketing in the Construction Industry. 
"Many home owners don't realise building a house to the NZ code is just the minimum or the worst house you are legally allowed to build. They don't think about whether the minimum building is adequate for our climate especially if you are in Central Otago, where it is not."
Numaguchi says one of the best ways to bring about a switch to building energy efficient homes is to raise consumer expectation and educate the public.
"An example of that would be double glazed windows where for a long time single glaze was accepted because that was what we were familiar with. But since double glazing has been mandated people have got used to it, and now would never choose single glazing even if they could."
Another Wanaka Better Building Tiny Talks speaker, Dowling Construction and Development Limited (DCD Ltd) owner and operator Dennis Dowling, builds only energy efficient homes. Originally from southern California before moving to Queenstown via Auckland, Dowling ran one of the largest leaky building repair companies for four years and "learnt a huge amount about the influence of building science and its behaviour and performance of buildings, and the liability associated with that". 
He says the impetus for change to the NZ building code has to come from both the consumer and the government.
"It's best to be government led if you want to affect significant change and I think the greatest example of that is the Ministry of Education. They have rewritten the way they build buildings now to ensure that they minimise their risk, and that came from what they learned from the leaky building saga. Because of the vast amount of property the Ministry owns, they can create their own standard. However, the consumer is going to have to lead the charge to create a better performing home. That charge can be led in one of two ways, either spend your money and buy what works well and force the minimum standard to be improved, or alternatively pressure government sufficiently that they change their mind about what's important and amend the code."
Dowling says building energy efficient homes costs more but how much more depends on your budget. "The market we build in is typically not competing against 'group building' but individual homes. So, you are looking at people who want a bespoke or architecturally designed property, and when you are talking about that you are really talking about making design decisions that influence the way the home performs and it is quite a small cost increase.  However, if you are talking about an entry level home the cost can be quite significant especially when most people are building to the limit of what they feel comfortable with. If you are building an entry level home and you want to make it thermally efficient that might mean that you can't build for another year or 18 months, or you have to find a way to get some extra money."
Dowling says change will come but it takes time and a fundamental shift in behaviour and thinking.
 "When you are looking at how to change something on a really foundational level the fabric of society has to change. The reason we decided to stay on the path of building thermally efficient homes was because we felt there was a valid reason to do it, there was an emotive reason to do it, and we believed if we kept saying the right things people would eventually begin to believe it was the right thing to do and change their behaviour.  What we have found is once you have lived in a thermally efficient home it is such an improvement in your lifestyle that you will never got back to a standard house."
Isaac Davidson attended the Wanaka Better Building Tiny Talk. He owns a small building company and says he got into building energy efficient homes by accident.
"I built an air tight house for some local architects in town. I was very reserved and pessimistic about it and kept in touch with the family and the feedback was great. Since then we've built about eight of them, ironically none of the families has sold them. I like to build homes for people and not profit. All the houses we have built, the people live in them and don't just want to sell for a quick dollar."
Davidson agrees that the change to the NZ building code is likely to be consumer driven. "I am getting more and more enquiries from people about thermally efficient homes, they want to listen to my knowledge and feedback."
Davidson says it definitely costs more to build an energy efficient home than a standard home but power bills are significantly cheaper and greenhouse emissions are reduced.  "If we've got a subdivision of 1600 new homes to build, you have to ask is it cheaper to build them to low specifications or build a new power plant, because that is where we are going. You spend 20% more to build each house to an energy efficient standard, or you can spend billions of dollars to build another power station".
The festival continues until Sunday.
Main Image: DCD built thermally-efficient home that won Masterbuilders House of the Year, Gold Award, 2018

---