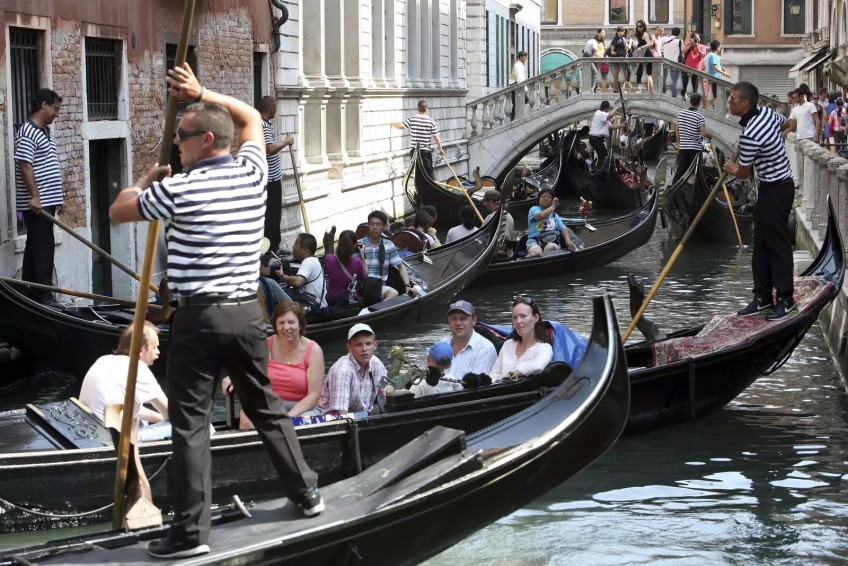 What is overtourism and how can we overcome it?
by Jospeh Martin Cheer and Marina Novelli - Oct 31, 2023
---
The term 'overtourism' has re-emerged as tourism recovery has surged around the globe. But already in 2019, angst over excessive tourism growth was so high that the UN World Tourism Organisation called for "such growth to be managed responsibly so as to best seize the opportunities tourism can generate for communities around the world".
While the pandemic was expected to usher in a new normal where responsible and sustainable travel would emerge, this shift was evidently short-lived, as demand surged in 2022 and 2023 after travel restrictions eased.
This has been witnessed over the recent Northern Hemisphere summer season, during which popular destinations heaved under the pressure of pent-up post-pandemic demand, with grassroots communities articulating over-tourism concerns.
Concerns over excess tourism have not only been seen in popular cities but also on the islands of Hawaii and Greece, beaches in Spain, national parks in the United States and Africa, and places off the beaten track like Japan's less explored regions.
The term overtourism was employed by Freya Petersen in 2001, who lamented the excesses of tourism development and governance deficits in the city of Pompei. Her sentiments are increasingly familiar among tourists in other top tourism destinations more than 20 years later.
Governments at all levels must be decisive and firm about policy responsesthat control the nature of tourist demand and not merely give in to profits that flow from tourist expenditure and investment.
Overtourism is often oversimplified as being a problem of too many tourists. While that may well be an underlying symptom of excess, it fails to acknowledge the myriad factors at play.
In its simplest iteration, overtourism results from tourist demand exceeding the carrying capacity of host communities in a destination. Too often, the tourism supply chain stimulates demand, giving little thought to the capacity of destinations and the ripple effects on the well-being of local communities.
Overtourism is arguably a social phenomenon too. In China and India, two of the most populated countries where space is a premium, crowded places are socially accepted and overtourism concerns are rarely articulated, if at all. This suggests that cultural expectations of personal space and expectations of exclusivity differ.
We also tend not to associate 'overtourism' with Africa. But uncontrolled growth in tourist numbers is unsustainable anywhere, whether in an ancient European city or the savannah of a sub-Saharan context.
The issue also comes about when the economic drivers of tourism mean that those who stand to benefit from growth are instead those who pay the priceof it, particularly where gentrification and capital accumulation driven from outside results in local resident displacement and marginalization.
Overcoming overtourism excesses
Radical policy measures that break the overtourism cycle are becoming more common. For example, Amsterdam has moved to ban cruise ships by closing the city's cruise terminal.
Tourism degrowth has long been posited as a remedy to overtourism. While simply cutting back on tourist numbers seems like a logical response, whether the economic trade-offs of fewer tourists will be tolerated is another thing altogether.
The Spanish island of Lanzarote moved to desaturate the island by calling the industry to focus on quality tourism rather than quantity. This shift to quality, or higher yielding, tourists has been mirrored in many other destinations, like Bali, for example.
Dispersing tourists outside hotspots is commonly seen as a means of dealing with too much tourism. However, whether sufficient interest to go off the beaten track can be stimulated might be an immoveable constraint, or simply result in problem shifting.
Demarketing destinations has been applied with varying degrees of success. However, whether it can address the underlying factors in the long run is questioned, particularly as social media influencers and travel writers continue to give attention to touristic hotspots. In France, asking visitors to avoid Mont Saint-Michelle and instead recommending they go elsewhere is evidence of this.
Introducing entry fees and gates to over-tourist places like Venice is another deterrent. This assumes visitors won't object to paying and that revenues generated are spent on finding solutions rather than getting lost in authorities' consolidated revenue.
Curtailing the use of the word overtourism is also posited – in the interest of avoiding the rise of moral panics and the swell of anti-tourism social movements, but pretending the phenomenon does not exist, or dwelling on semantics won't solve the problem.
Solutions to address overtourism
The tourism supply chain must also bear its fair share of responsibility. While popular destinations are understandably an easier sell, redirecting tourism beyond popular honeypots like urban heritage sites or overcrowded beaches needs greater impetus to avoid shifting the problem elsewhere.
Meanwhile, tourists themselves should take responsibility for their behaviour and decisions while travelling, as this can make a big difference to the impact on local residents.
Those investing in tourism should support initiatives that elevate local priorities and needs, and not simply exercise a model of maximum extraction for shareholders in the supply chain.
National tourist offices and destination management organisations must support development that is nuanced and in tune with the local backdrop rather than simply mimicking mass-produced products and experiences.
The way tourist experiences are developed and shaped must be transformed to move away from outright consumerist fantasies to responsible consumption.
The overtourism problem will be solved through a clear-headed, collaborative and case-specific assessment of the many drivers in action. Finally, ignoring historical precedents that have led to the current predicament of overtourism and pinning this on oversimplified prescriptions abandons any chance of more sustainable and equitable tourism futures.
Written by Joseph Martin Cheer, Professor of Sustainable Tourism and Heritage, Western Sydney University, and Marina Novelli, Professor of Marketing and Tourism, University of Nottingham.
Republished from the World Economic Forum. Read the original article here.


---