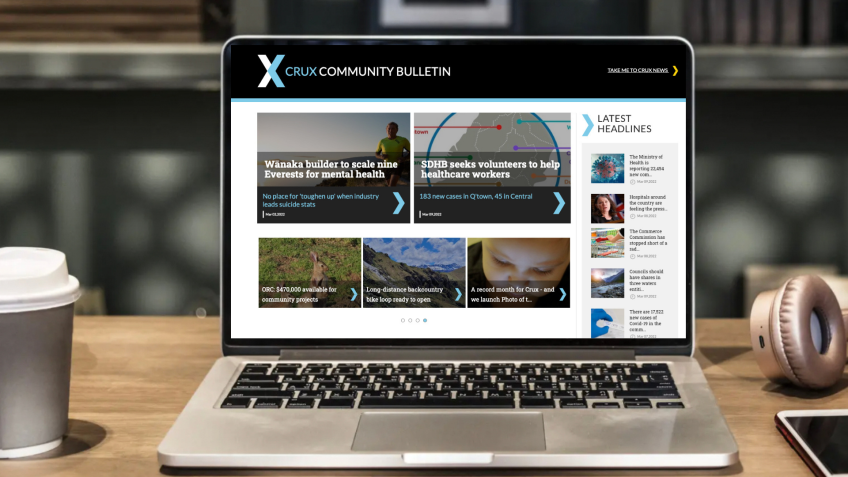 Welcome to the new Crux site – and Community Bulletin
Mar 10, 2022
---
You'll notice some big changes from today as Crux grows and extends the range of our local coverage.
You'll see that we are now partnering with local businesses to carry advertising that will go towards funding our strong journalism and strong community engagement.
The main site has been extended to include more local content and new menus that include the latest headlines, featured community stories, editor's picks and the most popular articles.
Today is also the launch of the Crux Community Bulletin. This brand-new section, with its own Facebook community group, is designed to provide a platform for all of those important events, sports and human-interest stories that don't qualify as full "news" but are still of great interest to everyone who lives here. It's a free service and you can send information, photos and stories for the Bulletin to this email address.
We will also shortly be launching Photo of the Day as a permanent feature that will showcase your images from across the region, with a different theme each month. There's $1,500 of premium Canon camera gear as a prize and the launch theme is Community. Please send images to this email after checking the rules of the competition.
The Crux website now reaches up to 9,000 local readers each day, with another 30,000 people each week being reached through social media, and those numbers will grow as we add new sections and new content during the course of the year. If you want to talk to Crux about our different commercial packages our Sales Director Grant Morgan would be happy to talk you through how the different options work – from page banners, to sponsored content, newsletter ads, custom campaigns, video content and even live events on social media.
Enjoy the new site and the Crux Community Bulletin, make sure to join the Community Bulletin Facebook group and go in the draw to win a $100 Prezzy card just by signing up for our weekly newsletter (just use the pop up window on the site to register or send us an email). The newsletter already reaches 3,500 people every Friday and it's a great way to make sure you've not missed any important stories during the week.
On a technical note, if you are a regular Crux reader your computer browser may still have aspects of the old website stored - so if you have any issues with the new website either just give the site a few hours to settle or do a hard refresh of the browser - here's a link on how to do that.


---