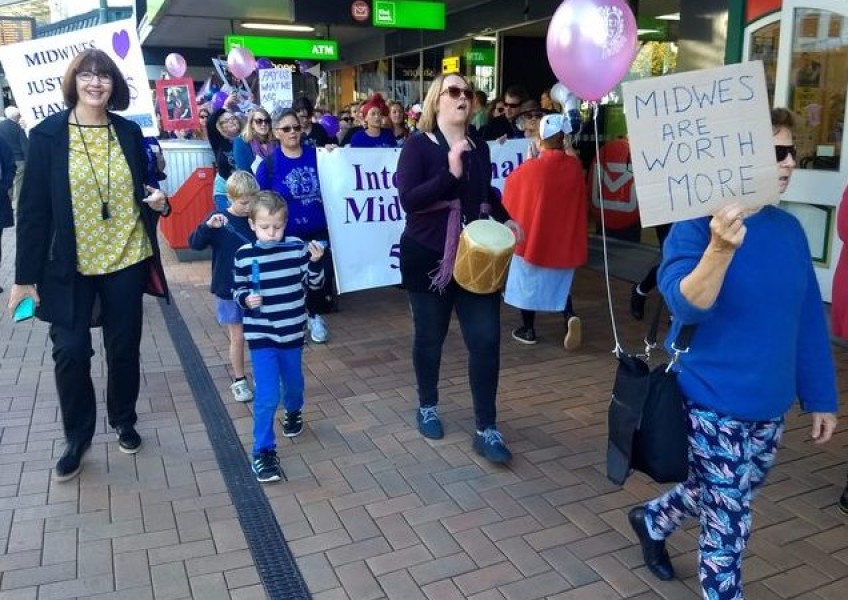 Wanaka's only local midwife: "Maternity crisis worsening"
by Kerrie Waterworth - Sep 08, 2018
---
Waitaki MP Jacqui Dean says she has "stepped up" the fight for better maternity services in Wanaka - by writing letters to both Health Minister David Clark and the Southern District Health Board to highlight community concerns about the midwife shortage.
But Wanaka's only remaining resident Lead Maternity Carer, midwife Deb Harvey, says the situation is so bad, it is "beyond letter writing now".
Harvey wants Dean to stand up in Parliament and ask the Health Minister "if he thinks it is safe for women and babies to not have any midwifery care (in Wanaka) or, if they do need it, to travel over an alpine pass to the Queenstown maternity unit, on a road that is subject to weather closures all year round".
Harvey and a locum midwife from Tauranga, who is the only other fulltime midwife in Wanaka, met with Oamaru-based MP Jacqui Dean in Wanaka last month to discuss the midwife crisis.
Dean issued a statement last week saying she is "vigorously pursuing this issue because I am gravely concerned about the current midwife shortage and because I believe the Wanaka community has a strong case for change".
Wanaka midwives provide antenatal, labour and birth, obstetric emergencies and postnatal care, 24 hours a day, seven days a week.
An estimated 150 to 180 babies are expected to be born to Wanaka mothers in the next 12 months, with approximately half likely to travel to Dunedin for the birth.
The one full-time and two part-time locum midwifes brought in by the Southern District Health Board (SDHB) earlier this year, as a stop gap measure, have yet to hear whether they will have their contracts extended when they expire at the end of October.
Dean says "Wanaka mothers need these contracts extended to at least six, if not 12 months, giving more certainty to pregnant women trying to secure a midwife for births next year.
"Already March 2019 is being highlighted as a flash-point, with an extraordinary number of babies due at this time and no guarantee there will be sufficient midwives to cope."
SDHB executive director of strategy, primary and community, Lisa Gestro, has promised there will be no gap in the provision of midwives in Wanaka, but admits they "appear to be dragging the chain" over extending the locum contracts.
She says that is because they are "desperately hoping" Wanaka midwives who are no longer practising will return to work.
Gestro says the SDHB has met with the Central Otago College of Midwives branch on several occasions, as well as individual meetings with midwives, and believes they are "making progress" in finding a solution to the crisis in Wanaka.
But practicing Wanaka midwife Deb Harvey doesn't agree, saying midwives who live in Wanaka have "zero interest" in returning to work, due to the high number of unpaid, on-call hours and the impact that has on them and their families.
The SDHB's Lisa Gestro says there is more than one way to address the issue of on-call hours and they are "working through those options".
She says the SDHB has employed a midwife to work with other midwives across the entire DHB region, to come up with a model that would bring them back to work, but the priority is in Queenstown and Wanaka.
The SDHB is also fast-tracking the establishment of a mother and child hub in Wanaka, Gestro says, which was one of the changes recommended following a review of maternity services across the region.
The hub will provide more supportive "infrastructure" for women and midwives, including facilities for births in an emergency, support for at-home births, and for births at Alexandra's primary maternity facility Charlotte Jean.
Other initiatives include funding to support Lead Maternity Care midwives working in remote rural locations; technology to enable access to specialist care so women won't need to travel as often; improved leadership to promote quality and safety, and recruitment and retention of midwives, and better communication.
Since the review's primary maternity services document was released just over three weeks ago, Deb Harvey says she has heard nothing about the Wanaka hub, where it will be, what it will house, how many rooms it will have, and who - if anyone - will staff it.
She says the $300 extra payment per case, offered by the SDHB to rural midwives as part of the support package, is not enough.
"West Coast midwives were given $500 five years ago when it was hard to recruit midwives there, yet Wanaka is a more expensive area to live and has fewer services due to the distance from main hospitals."
As the only remaining resident, fulltime Wanaka midwife, Harvey is very worried.
"I thought the situation was bad in February, but I think it is going to get worse."
Harvey is demanding "a clear statement from the DHB about plan B if their sustainability package doesn't cut it.
"I want to provide care in my community, but I cannot be on-call by myself all the time."
Main image: Midwives and supporters lobbied for better conditions during marches throughout the country in May 2018. Image credit: RNZ


---