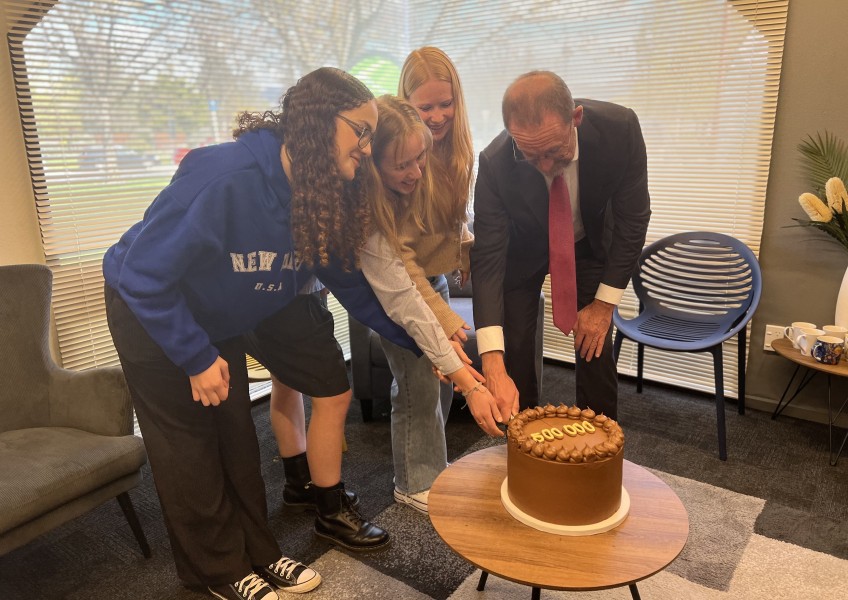 Wānaka teens share stories of mental health challenges with Minister
---
Three Wānaka teens have had the opportunity to give the Minister of Health a first-hand glimpse at the increased pressures facing young people in regional New Zealand.
Emma Arthur, Sienna Jones and Grace Gillies - all pupils at Mount Aspiring College - shared their experiences of working through mental health challenges with Minister Andrew Little.
The minister was in Cromwell at a small event with community support service ADL, which provides free professional counselling for rangatahi living in the lower South Island.
He joined the crew there to mark the Government's flagship primary mental health and addiction programme Access and Choice hitting the milestone of delivering more than 500,000 sessions to Kiwis needing mental health support.
Here's what that Government support's looked like locally: Occupational therapist Fiona Brown, who works out of the Cromwell office, says when she arrived young people seeking help were waiting 15 weeks to be seen; now, in Wānaka that's down to two weeks, in Cromwell, four weeks, and in Queenstown, six to eight weeks.
The teen representatives all spoke about the need for urgency around support when someone's reached a breaking point.
"I feel like if you're reaching out, and you need help, you shouldn't have to wait," one says.
Waiting can be "really, really difficult", and for some people will be the difference between life and death, another says.
Minister Little says any amount of wait time "when you're in distress" is going to feel "like an extraordinarily long time" and further work in the Government's pipeline will continue to address that, especially for "acute" patients.
For ADL chief executive Clive McArthur, the ramped up Government support for services like his in recent years has meant intervention can happen earlier, hopefully before a mental health challenge for a young person reaches crisis point.
It's allowed him to grow his team of professionals, and have them out and about able to go to the young people where they are.
Minister Little says that's why he chose to mark this national milestone in Cromwell.
"One of the key things about the whole programme is it is being pushed out into communities. You don't have to travel to Dunedin, Christchurch, Wellington or Auckland. It's taking frontline mental health services right out to the communities, to the GP practices, to places like ADL."
He says it was "really powerful" to hear the stories of the young people from Central Otago.
The message he hears around the country from young people is that "they want to take control of their lives and their issues", and it's important for adults to take onboard what help these young people say they need, he says.
"We do need to just remind ourselves every now and again that, actually, what might have been suitable 20 years ago might not necessary be the right thing today."
The teens all spoke of the importance of having an authentic connection with the adults charged with helping them work through issues - and how ADL had delivered on that for them.
"She didn't treat me like a client; she treated me like a friend," says one.
Another: "She didn't jump into every little thing that was wrong with me."
And another: "Just because you have a mental health problem doesn't mean you're different". The way she was treated made her "feel normal - you don't have that stigma that something's wring with you".
Mr McArthur says in his experience young people don't want labels.
"My sense is they just want to live their lives and sometimes there's shit that gets in their way."
His organisation works to put "skilled people in front of them", meeting the young people "where they're at" and not seeing them as a "diagnosis or a problem", he says.
In a statement to media, Minister Little says his government has rolled out free frontline services across the country, with more than half a million sessions delivered to date under the Access and Choice programme - 32,000 of them in the Southern region.
Nearly 105,000 New Zealanders with mild to moderate mental health needs were supported in the last financial year, and that number continues to increase, he says.
"The Government promised to transform mental health care in Aotearoa and address the lack of free and easily accessible primary mental healthcare services. This programme is filling a void that helps prevent small issues becoming big problems.
"Rebuilding the mental health system is a big job and we're just three years into the plan but there's already been a huge change and it's making a real difference to New Zealanders like those I met here in Cromwell today."
Main image: (L-R) Grace Gillies, 17, Sienna Jones, 16, and Emma Arthur, 17, cut a cake with Minister of Health Andrew Little, who stopped in at community support service ADL in Cromwell to mark a milestone in the delivery of a Government mental health and addiction programme.


---