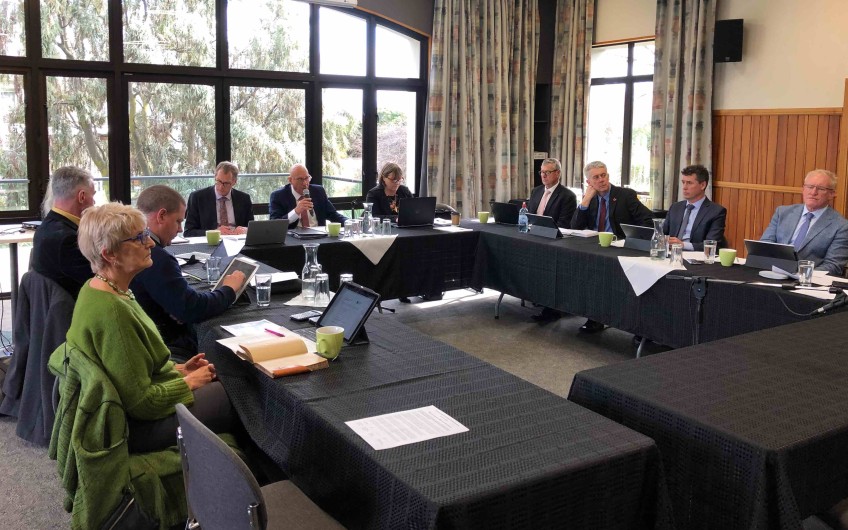 Wanaka residents to hold QLDC protest rally today
Apr 29, 2021
---
QLDC councillors are being challenged to engage with Wanaka residents outside today's full council meeting being held at the Lake Wanaka Centre at 1pm.
The issues behind the rally centre on a recent High Court ruling that found a lack of openness and transparency behind recent QLDC/QAC Wanaka airport expansion plans, as well as claims that Wanaka as a community does not get its fair share of council strategic planning and spending.
Many councillors, including Wanaka councillor and Deputy Mayor Calum Macleod have already accepted the challenge to meet and talk outside the Lake Wanaka Centre before the 1pm official start of the meeting.
Wanaka Stakeholder Group Chair Michael Ross is expected to speak during the public forum part of the council meeting when it gets underway.
Rally organiser Anna Simmonds emailed Mayor Jim Boult and councillors yesterday with this cryptic message:
"Dear Mayor Boult and elected council representatives,
As our council is meeting in Wanaka this week, members of our Upper Clutha community are taking the opportunity to gather together outside the centre before it begins. Many of us will be unable to stay for the council meeting itself, so we would appreciate you taking the time to come outside and engage with us just beforehand.

We hope to see you. "
When organisers were asked by Wanaka Community Board Chair Barry Bruce for more detail on the rally, this was the reply:
"It's concerning to me that as an elected representative you haven't noticed growing discontent and frustration around council attitude to Wanaka airport expansion. The costly judicial review decision on the allocation of the 100 year lease to QAC indicates that the high court also agrees with the community.
There are many of us wanting some flicker of hope that our councillors and other elected officials are now going to start really listening. Perhaps you and your team could make today a fresh start on that?"
A flyer promoting the rally details points of dissatisfaction over a claimed bias towards investment in Queenstown rather than Wanaka and what protesters see as a failure to address Wanaka's future in the latest 10 year Plan.
Here is detail from the flyer.
"We're holding a rally and celebration before the council meeting being held in Wanaka on Thursday.
Our community argued we were not properly consulted on the scope of ambition for Wanaka airport and the high court has agreed. The ruling sees the lease set aside and the judge saying QLDC failed to meet the essential requirement of consulting openly and transparently.

Too much ratepayer money has been spent fighting ratepayers and it needs to stop.
A council representative has since described this high court ruling as 'just an error in process'. They need to be informed it's much more than that. So come along, connect, say hi and thanks to all involved.
The Ten Year Plan leaves Wanaka high and dry - with most of the money going to projects in Queenstown, and important local projects like the active transport network stalled for at least a decade.
It's clear that narrow commercial interests are trumping what's best for the community and the environment."


---