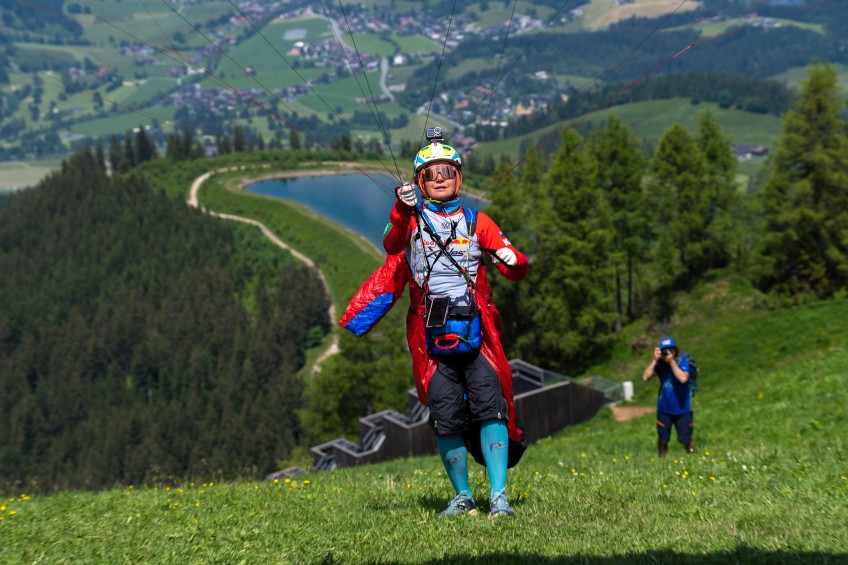 Wānaka paraglider takes flight in extreme endurance race
---
A Wānaka paraglider has set off on an epic 1,223 kilometre adventure race that will have her hike and paraglide across five countries.
Kinga Masztalerz was one of just four female athletes in a field of 32 at the start line of the Red Bull X-Alps start line in Austria yesterday.
In a statement, the event organiser says hundreds of spectators took to the town centre of Kitzbühel as the competitors, representing 18 countries, started what will be a 12-day journey across the Alps.
Their only means of travel: foot and paraglider.
Racers must pass through 15 turnpoints positioned across the highest and most iconic mountains of the European range - the first, the 1,660-metre Hahnenkamm, the start of the downhill ski race the Streif. In contrast to the skiers, the athletes ran up the famous course.
The rules of the race are simple. Athletes hike and climb their way to the tops of mountains before unfurling their paraglider wings and taking to the sky.
It is while flying that big distances are possible – but that only works if the weather is good. If the weather closes in, they're forced to land and continue on foot. It's not uncommon for athletes to hike as much as 100 kilometres and climb 4,000 metres in a day.
Kinga Masztalerz says everyone in the starting lineup comes with their own goals.
"Some come to win. Some come to challenge themselves. For me the goal is the raft."
This is the finish line in Zell am See, south of Salzberg in Austria – a floating raft that athletes must either land on or swim to.
It may only be 33 kilometres from Kitzbühel in a direct line, but for athletes the route is far longer and more complicated.
They must navigate their way around the highest mountains of the Alps on a course that weaves a line across Austria, Germany, and Switzerland, rounds Mt Blanc in France, and then heads back across northern Italy.
Veteran athlete Tom de Dorlodot, of Belgium, who is competing this year for the ninth time, says it is not just a game of physical endurance but strategy.
"What I say to people is, if you want to be fast you have to go slow. You have to think and make the right decisions."
Red Bull X-Alps was founded in 2003 by late adventurer Hannes Arch as well as Ulrich Grill, and it has taken place every two years since. The 2023 edition marks 20 years since the first race took place. Every edition since 2009 has been won by Swiss athlete Christian Maurer, or 'Chrigel the Eagle' as he has become known to race fans and followers.
A woman has never won the event.
Follow all of this year's action via live tracking on redbullxalps.com.
Main image (Zoom Productions/Red Bull Content Pool): Wānaka's Kinga Masztalerz in Kitzbühel, Austria on June 8, 2023.


---