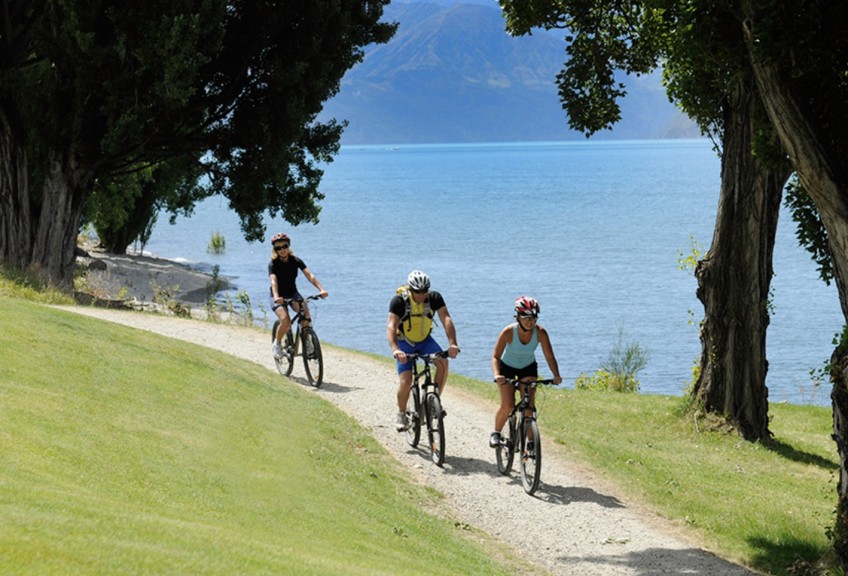 Wanaka cyclists "heartbroken" by QLDC failure to honour investment promise
---
Cycling advocates say the council has broken its promise to Wanaka over making meaningful investment in cycleways, and fails to address climate change mitigation in its Ten Year Plan.
Active Transport Wanaka spokesman Simon Telfer says the Queenstown Lakes District Council has "kicked the can down the road" for investment by delaying completion of a cycleway network to 2027.
Telfer says he felt "heartbroken" when he read the Ten Year Plan and discovered the community hadn't been listened to.
"We will have been waiting 10 years in total from when we started advocating for this.
"The real risk is that the next planning cycle in three year's time will move the goalposts yet again," Telfer says.
Forty three percent of all submissions received during the last Long Term Plan consultation process in 2018 related to a comprehensive cycling and walking network, with most of the input coming from residents in the Upper Clutha.
However, the only cycle infrastructure that was fully delivered in Wanaka over the past three years was the SH84 underpass, Telfer says.
The planned Mt Aspiring cycleway has been canned and active transport initiatives within the Wanaka town centre masterplan have been halted.
A continuous shared pathway along the lakefront, from the marina to McDougall St, will not be completed until 2026.
"We have a car-dominant CBD. We have a downtown public space built for cars, not people," he says.
Telfer says Active Transport Wanaka acknowledges times are tough and is not requesting further investment, only that funding be brought forward.
He says the $16m earmarked for 2025 to 2027 should be brought forward to 2021 to 2023.
"We can reprioritise other projects and bring this one forward.
"And every budget has contingencies for unexpected expenditure and we believe there's some fat in the budget for that as well."
Telfer also notes the Ten Year Plan makes no significant progress in mitigating climate change, despite the council having a climate action plan which lists a key outcome as "low carbon transport system."
He says much of the $450m to be spent on transport is focused on motor vehicles - including an $85m new arterial road into Queenstown.
"We are actually building a community over in Queenstown that's becoming more car-centric, leading to more emissions."
He says encouraging people to walk and cycle is the "low-hanging fruit" in climate change action - the easiest and quickest way for individuals to reduce their carbon footprint.
"It's about being environmentally conscious about how people travel, giving people the choice to not use their cars, and to do so safely.
"The support has been in the district since 2017, the council understand that but their budget's not reflecting the will of the community."
Crux has approached QLDC for comment.
Submissions to the Ten Year Plan close at 5pm Monday 19 April.


---