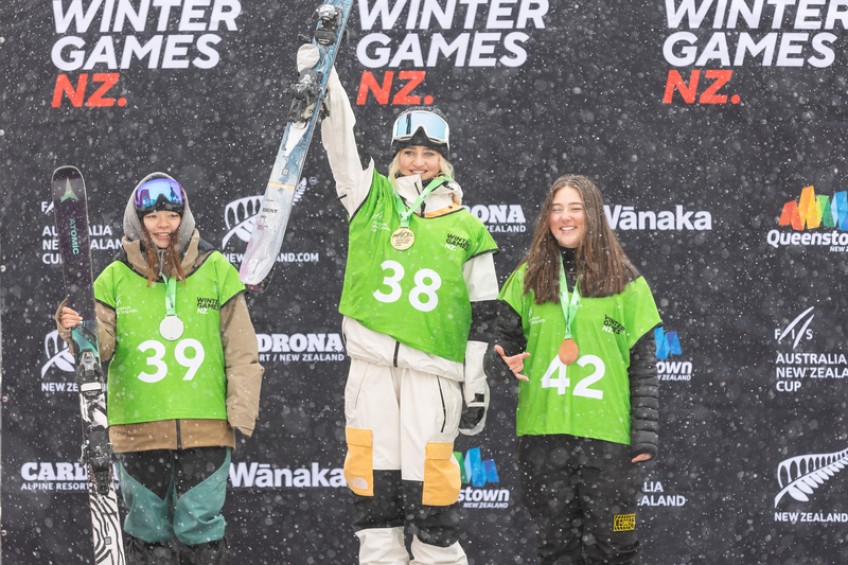 Wānaka athletes top Freeski Slopestyle podiums at Cardrona
Sep 05, 2022
---
Two Wānaka locals have claimed the top spots in the Freeski Slopestyle event at the Winter Games, despite windy weather bringing the competition to an early close today at Cardrona.
Low visibility that followed high winds this morning meant the athletes in the Cardrona FIS ANC Slopestyle Finals set to be held at the resort couldn't see far enough down the course to safely compete.

Local athletes Ruby Andrews and Luca Harrington topped the women's and men's Freeski Slopestyle, with results from qualification on Saturday used as the final results.

At the end of the first run of qualifications Ms Andrews was in second place and knew she had to do something special to secure the top spot: "My first run of qualification I put it down, and then one of my competitors went above me so I ended up putting down a switch misty 900 down which I have never done in competition before," she says.

"I am stoked, over the moon – this is my home mountain and coming away with a result like today, I couldn't ask for anything better."

She was joined on the podium by Yuna Koga of Japan and local up-and-comer Madeleine Disbrowe.

Mr Harrington says the weather had been challenging, but the qualification day had been the best on offer.
"I just tried to put something down that was clean and turned out that it worked out in my favour, so I am pretty happy."

Freeski judge Kat Alexander says Mr Harrington's first jump had been "unreal".
"His right double cork 1260 tail grab was perfection and then he got massive amplitude on his switch right double cork 1260 on the final jump, that just blew us out of the water."

Meanwhile, in the men's Snowboard Slopestyle, Jesse Parkinson of Australia, finished top of the field. The judges were really impressed with the backside triple 1440 he was stomping, the only competitor performing this massive trick.

Japanese riders Hiroaki Kunitake and Taiga Hasegawa both put down strong performances in the rail section, but without the huge trick Mr Parkinson was throwing down they had to settle for second and third, respectively.

Mari Fukada, of Japan, claimed to top spot on the women's Snowboard Slopestyle podium. She was the only woman throwing down back-to-back 720s with good execution on the large jumps. Wānaka athletes Lucia Georgalli and Ava Beer finished in second and third, respectively.
Meanwhile team USA have swept the podium for the women's Freeski Halfpipe event, which was also curtailed by conditions.
Held today in Cardrona's 22-foot Superpipe, the finals were cancelled halfway through the first run, with results instead taken from Thursday's qualifiers.
Hanna Faulhaber took the top spot with an impressive score of 92.67, 13 points clear of her teammate Carly Margulies in second place. Riley Jacobs rounded out the US podium sweep in third.

Head judge Tori Beattie explained that Hanna's huge back-to-back flares, consistent amplitude and strong grabs made her stand out from the rest of field, impressing the judges.

Ms Faulhaber says "I definitely laid down the run I was doing at the Winter Olympics and X Games, it's always good to throw down as hard as you can. Sometimes you save stuff for finals to surprise the judges but from hearing that we might not have finals I pushed through and gave it all I had on Thursday."

Cardrona local and Beijing 2022 Winter Olympian 16-year-old Gustav Legnavsky took the win in the men's Freeski Halfpipe category with an impressive run that included three double corks, scoring 94.33. Mr Gustav says he was disappointed that the finals were cancelled, but nonetheless was stoked to take the win.

Since the Olympics I've been getting fired up wanting to have those better results, definitely feels a lot better and I have been more consistent. I am pretty excited, it's great to get another gold back at my home mountain."

Fellow Kiwi Ben Harrington finished in second place, right behind Legnavsky, with a score of 93 flat. Mr Harrington, an X Games competitor, and Winter Olympian says "It's good, Gustav is unreal at the moment, he is skiing super well, it's really cool to get to ski with him, we've been able to ski together and push each other, it's been really fun."

Matt Labaugh, of the USA, rounded out the men's Freeski Podium in third with a score of 92.00.

Gaon Choi of Korea was a standout competitor in the women's Snowboard Halfpipe category from the second she dropped in. Ms Choi impressed the judges with her amplitude and her ability to hold her grabs for the duration of her tricks.

She explained to us how she loves coming to New Zealand to compete and is really pleased with her results here at the 2022 Winter Games NZ.

Tsuki Yamazaki and Mion Kamimura, both of Japan, rounded out the podium in second and third, respectively.

Chaeun Lee, also of Korea, took the win in the men's snowboard category, with Konosuke Murakami of Japan right on his heels. The judges explained that Lee and Murakami had huge amplitude, almost twice as big as the rest of the field and landed super technical runs.

Sixteen-year-old Kiwi Campbell Melville Ives rounded out the podium in third place. "We haven't had any international athletes in a few years now so it's really sick to be back competing with them."
Main image (Winter Games NZ/Neil Kerr): Women's Freeski podium (left to right) Yuna Koga (2nd), Ruby Andrews (1st), and Madeleine Disbrowe (3rd).

---