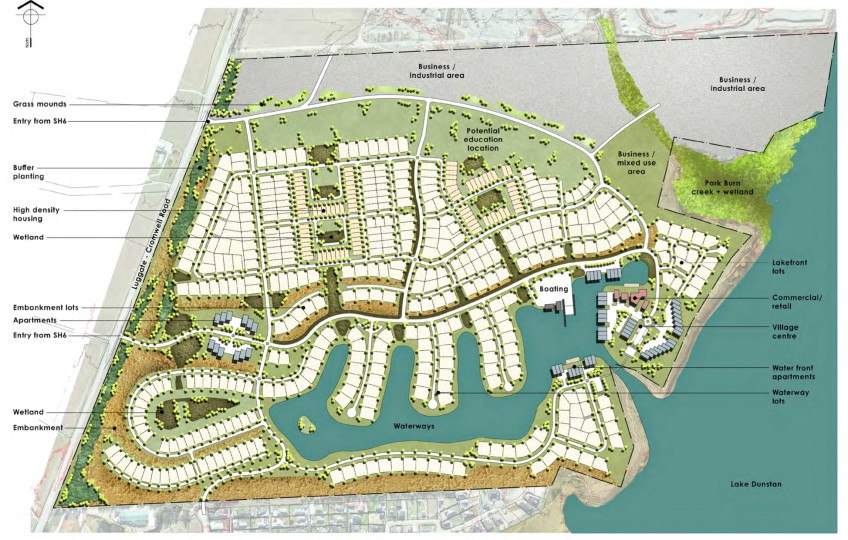 Waka Kotahi holding Cromwell back from building houses it needs: MP
---
Waka Kotahi is being told to "stay in its lane and not hold Central Otago back from building the houses it needs" by the MP who represents Cromwell, Jacqui Dean.
The comment relates to the transport agency's submission to the Central Otago District Council on Plan Change 21, which would rezone land for 543 new homes up Lake Dunstan from Pisa Moorings.
It is a private plan change request by Fulton Hogan, who has been operating a quarry on the land for years, but sees its future as another satellite lakeside neighbourhood for Cromwell.
Waka Kotahi's was one of 14 submissions on the proposal.
The transport agency is opposing the plan change because any future occupants of the proposed rezoned site will rely on just one road to get almost anywhere else – State Highway Six, the arterial route connecting Wānaka, Cromwell and Queenstown.
In its submission Waka Kotahi says the quarry site is "quite remote" – 10 kilometres from Cromwell, 40 kilometres from Alexandra and 45 kilometres from Wānaka – and there is no public transport connecting it to anywhere else.
In a context of climate action, that isn't ideal, it reckons.
"We anticipate that there will still be a heavy reliance on private vehicle use to travel to and from the subject site and the main existing service and employment centres in the district, such as Cromwell, Alexandra and Wanaka."
However Ms Dean is calling Waka Kotahi's stance "appalling" in light of the housing squeeze driving up costs in the region.
"Central Otago is one of the fastest growing regions in New Zealand.
"We need to spread growth around and build quality houses that serve this region well.
"Any proposal should be viewed as an opportunity to alleviate current pressures and build towards the future."
She says Fulton Hogan's proposal has the potential to create jobs, provide housing and contribute to the local economy.
"Waka Kotahi should stick to its job and get on with projects that allow Central Otago to thrive."
But in its submission Waka Kotahi points out reducing greenhouse gas emissions and tackling climate change is part of its remit.
It also notes the highway passed the site is classified as a Limited Access Route, and as such the transport agency seeks to limit access points on and off it.
In its plans, Fulton Hogan is proposing a new intersection to channel people in and out the quarry development, and forecasting more than 1,000 additional peak hour traffic movements through it.
Another government agency, the Ministry of Education, is also cautious of the plan change request, saying approving it would press go on population growth "at a scale and pace" unanticipated by the ministry.
It would "likely put pressure on the local school network", it says in its submission.
Meanwhile the plan change does have the support of another big player in the region, which will potentially be initiating its own plan change in the future – Christchurch Airport.
In its submission, the airport says its own research shows official projections have historically underestimated population growth in the region, and it supports Fulton Hogan's approach of planning big.
However, the problem remains, the quarry site has not been on the council's radar as a potential new neighbourhood for 500-plus households, and spatial planning documents do not flag the area for future development.
There were just 14 submissions on the private plan change, with more supportive or neutral than opposed to Fulton Hogan's plan.
The next step on the CODC's decision-making timetable is a submissions hearing.
Details of the plan change request and all submissions made on it are available here on the council's website.
Main image: Fulton Hogan's revisioning of its Parkburn Quarry on the outskirts of Cromwell has waterways and waterfront apartments (Image: QLDC/Fulton Hogan Masterplan).
Read more: Fulton Hogan's Pisa plan - from quarry to waterfront apartments


---