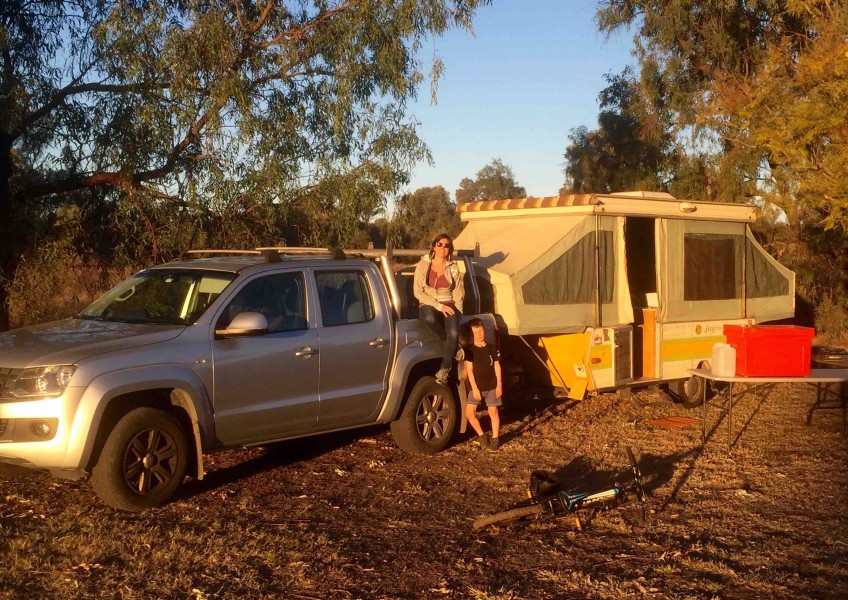 The Queenstown tourist overseas - treading carefully!
by Esther Whitehead - Aug 21, 2018
---
Crux columnist Esther Whitehead is taking a break from researching and writing about serious problems in our communities, such as mental health and poverty, and we're instead following her family's Queensland camping adventure...
Part 1: Taka-Time: This travel piece ambles through destinations and reflections in a breezy style, full of anecdotes on how to relax to access your creative insights. Taking a holiday might just be the catalyst for the next chapter of your life.
Where do you go on holiday when you're from a tourist destination? Being married to someone who works in the tourism industry gives you a different view of it all - you can see journeys as work related rather than a vacation. For our family holiday, we saved up for some time to get away from the industry, to escape the commercial nature of Queenstown's tourism.
We all have different reasons to holiday, possibly to relax, to cover off landmarks, to experience different cultures and cuisines, to party, to set personal challenges such as summiting iconic mountains, to research a destination for a new home.
As someone who is interested in our environment, even choosing to go away somewhere is a dilemma. Knowing that travelling as a tourist is perpetuating the problems for our environment, it then becomes about trying to make choices around the least impact. "Leave nothing but footprints" goes the expression – well, I would say we succeeded with this, but it was a pretty hefty carbon one! Of course, Sustainable Tourism is an oxymoron. In reality, it means stay at home and watch "Get Away" shows - without such principled virtues, we chose to take the holiday.
The first stop after arriving in Brisbane was Carnarvon Gorge. There is nothing particularly intrepid about this, though it felt like it to us, the sheer vastness of Australia is the first overwhelming aspect (both of us growing up in UK and then emigrating to NZ, a similarly small country). You travel 500kms and think you've done some real distance and then look at the map to find it's a microscopic amount.
A comfortable two-day drive to get there in our borrowed 4WD and Jayco (thanks Mike!) into incredible gorges rich with native flora and fauna and Aboriginal paintings was so stunning we never wanted to leave. We nestled into the jungle and taka-time began.
We were one of only two families in the campground. The others were Aussie couples aged over 60 with flash gear, lots of time and lots of money, enjoying retirement on the road.
The lack of diversity was astonishing (though we were out of school holiday season). It was your typical Bruce and Sheila - he sporting a beer belly and she with her well-organised galley of goods, their names written on the back of their shiny compact caravan and a dose of that Australian bias towards Aboriginal culture. One guy said to me "you should go to Burke, that town is ya typical Aussie town. What, ya don't know it? Ah mate, it's full o' black fellas, yah know, some of them are ok," and on he went. He was completely blind to the long-established Australian institutional racism he spurted.
Anyway, I digress! Surprisingly, rising early becomes the norm in Queensland. You'd think freedom from work and routine would result in that blissful mid-state between slumber and wakefulness and prolonging this as much as possible. Getting up at 5.45am to watch playful platypuses became our new routine. Not only is rising really early completely unnatural for me, waking with enthusiasm at dawn was not my plan for our holiday. Perhaps this could also be put down to a break from my G&T custom back home.
Getting up at silly o' clock has never been a strength of mine - as a teenager, I'd pride myself on being able to get ready for school in record-breaking time so that I could spend as long as possible in bed, much to my mum's despair. I was "punctually late" for roll call every school day by exactly five minutes. "Whitehead" being at the end of the roll meant it was generally accepted that I was on time. Indeed a few years prior, I was put on school report (like detention) for my poor punctuality. I didn't realise until quite some time later that it was for being late. I mistook the punishment for poor "punctuation" and focused really hard on putting my commas, apostrophes and full-stops in the right place, whilst still being late!
So, whilst I find myself with an early morning routine on this trip which is more inline with productivity, it's effortless and that's what makes it a holiday a break. It turns out that relaxing can be enormously productive. It's not that we're actually being idle when we're away on holiday, it's about resetting the brain, recalibrating the attitude and readdressing priorities. Being on holiday for me is about active inactivity (I guess that's what meditation could also be classified as!).
We too often feel guilty about breaking our routine, about taking time out to do things for ourselves. I guess the ultimate goal is to live life as a "stay-cation" but the only time many of us mentally let go is when we are geographically removed from everyday life or drunk! 
Being a bit of a dreamer, I have always felt some guilt towards the time I like to spend just pondering. I recall in my late primary school years writing a story built around a quote I took from Garfield, one of my favourite characters back then, who wisely said "Some call it laziness, I call it deep thought" – that has always struck a chord with me.
Being on holiday for me is about allowing time for consideration, for deep thought. Carnarvon ticked the box for me on this front. It's neither commercialised nor activity-based. It's an opportunity to walk, wander and contemplate and just "be" in a beautiful environment.
I continue to work when I travel, though only part-time, so for me it's the opportunity to create the mental space that I find I don't have at home.
Part 2 of this travel journal (coming soon) may inspire you to sell up and head to Queenland's Tropics for good. A good dose of cultural insights, sun-soaked havens, political forays and personal encounters of the green, slimy kind…!
Esther Whitehead, Crux contributor and long-term Queenstown local, isn't afraid to tackle big issues like mental health and poverty in her articles. As managing trustee of the Dyslexia Foundation of New Zealand, she is a strong advocate for equity in education. Locally, she is the founder of the Sustainable Queenstown Charitable Trust, which aims to inspire change through community engagement and provide environmental solutions. In research beginning next month, Esther will look at how local businesses are meeting the Tourism Industry Association's sustainability commitments.  

---