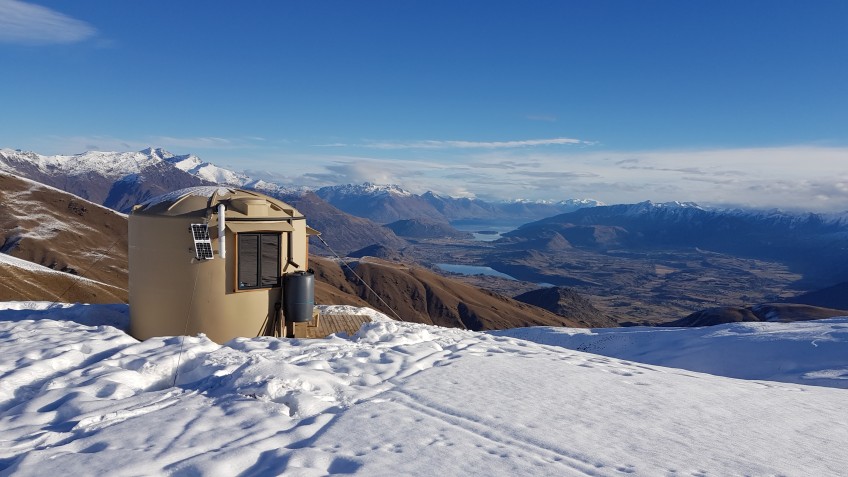 Team of young adventurers to take on new ski traverse
---
A young Queenstown freeride skier is among the team selected for the first official ski crossing of the Mahu Whenua Traverse between Treble Cone and Coronet Peak.
18-year-old Cameron Marshall is joined by fellow Wakatipu High School student 16-year-old Sam Davis in the Antarctic Heritage Trust's 2021 Inspiring Explorers expedition.
The Trust has previously taken groups of young Kiwis to far-flung places like South Georgia and the Antarctic Peninsula on expeditions inspired by the feats of early explorers like Shackleton and Scott.
But Covid has meant this year they've had to look closer to home, with the seven-person team taking on the new 50km traverse across the Harris Mountains.
Marshall has explored some of the best terrain in the world while competing overseas, skiing in the likes of Japan, Switzerland, France, America, Italy and Canada.
But he says he hasn't yet explored this part of his own backyard.
"Obviously not really being able to go overseas safely with COVID, it's cool to be able to have an expedition that's where we live and is so close to home," Marshall says.
He says he's looking forward to sharing the 6-day crossing with the team of other young adventurers.
"We're all like-minded people who love being in the outdoors and skiing."
Among Marshall's achievements is winning the 2019 NZ Junior Freeride Tour overall and placing second in the overall 2020 NZ Freeride Junior Tour U18 category.
He hopes to weave some of his freeride style into the downhill skiing sections of the traverse.
"If I can find some drops maybe along the way, or some jumps that'd be cool. I'm just keen to work on my skills in a whole different environment and different terrain."
The expedition is a partnership with the Mountain Turk Club, which is responsible for building the iconic "Turks" - plastic water tanks converted into huts that are dotted along the route.
Sam Davis is family friends with Mountain Turk Club founder Erik Bradshaw, and helped dig the foundations for the Vanguard Peak turk.
He's been doing "laps up and down Coronet Peak" on his skis to get fit for the challenging multi-day traverse.
The keen skier said he was "a bit nervous", and daunted by the calibre of his team mates.
"I've just seen who I'm going with and there's a lady who's won Godzone and there's someone who's kayaked the source of the Amazon river, and someone who's rowed the south Atlantic Ocean and then my bio says I'm a Wakatipu High School student who likes skiing."
"So I'm a bit worried but I'm really excited. It should be really fun."
The team members he's referring to are 28-year-old Isaac Giesen of Christchurch who was the first Kiwi to row the Atlantic Ocean solo, 30-year-old Emily Wilson of Wanaka who's competed in the Godzone adventure race seven times, and 25-year-old Blake Hornblow of Dunedin who kayaked the source of the Amazon in Peru.
The other team members are 25-year-old Libby Clifton of Christchurch who crossed the Findlay glacier in 2018 as part of a team recreating John Findlay's original two-month traverse from the 1930s, and 22-year-old Ana Ross of Melbourne who works as a science communicator for the Monash Climate Change Communication Research Hub and whose adventures have taken her from the Arctic to Afghanistan.
The expedition was originally planned for the start of August, but due to a lack of snow has been moved to August 30 - September 4.
The trip will be led by Mountain Turk Club founder Erik Bradshaw, Antarctic Heritage Trust Executive Director Nigel Watson and Antarctic Heritage Trust General Manager Commercial and Partnerships Marcus Waters.

---