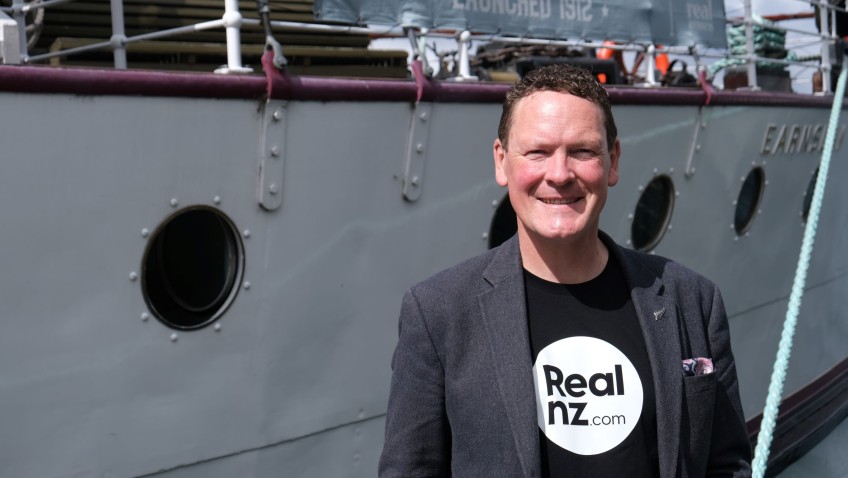 Stephen England-Hall: How Covid will change NZ tourism forever
---
Seven months after New Zealand closed its border to foreign traffic, Stephen England-Hall put his hand up for the unenviable job of leading one of the country's major tourism companies.
He's obviously the sort of person up for a challenge.
Approximately 80 percent of the visitors on board the buses and boats belonging to the Wayfare group (as it was known when Mr England-Hall jumped aboard) were from offshore and overnight they disappeared.
Once Kiwis had kicked Covid-butt in 2020, and they'd been given the greenlight to explore their own backyard, the company had available to it a mere 20 percent of its pre-pandemic customer base.
But rather than despair, (although no doubt there was a bit of that too), Mr England-Hall led a complete company shake-up.
The forced freeze on foreign travel - unimaginable in 2019 when New Zealand hosted 3,864,018 overseas tourists – provided a rare opportunity for the Wayfare group to think about how it could do things differently.
The company's now called RealNZ and it looks to its roots for inspiration.
In 1954, southern couple Les and Olive Hutchins took groups of visitors on multiday trips into remote Doubtful Sound.
"Their focus at that time was a kind of simple idea that people only save things they care about, and they only care about things they experience," says Mr England-Hall.
Fast-forward seven or so decades and the family business had morphed into Real Journeys, one of a cluster of brands – including Go Orange, Cardrona ski resort, and the International Antarctic Centre - for which Wayfare had become the corporate identity for.
Each business under the umbrella group had separate websites, booking systems, staff and brand identities.
Pre-pandemic, the unwieldy business model clomped along, any weaknesses insulated by a seemingly endless glut of international visitors to New Zealand.
Today, partly out of necessity, for sure, it's a tighter, far more agile operator.
"More able to deal with the ebbs and flows," says Mr England-Hall.
Most of the experiences it offers can now be found online in one spot, with the exception of those offered by the International Antarctic Centre and the ski fields at Cardrona and Treble Cone, and office staff work across the business.
The big rebrand was largely a digital one – buses and boats weren't hauled in for a repaint; they'll get a spruce up as and when they need one anyway.
"We've gone from being, you know, largely five independent or separate entities to operating as a single group under RealNZ.
"And there's obviously efficiencies that have been gained there."
Some of those efficiencies can be translated as job losses.
Mr England-Hall says it's hard to give exact figures.
He's not evading a difficult question – it's a reflection of the seasonality of staffing in the tourism sector, he says.
There were plenty of winter jobs up the mountains, and fewer over summer at usual tourism hotspots.
But the decision to do things differently did "dramatically" affect permanent staff numbers.
The brand, pitched now at domestic travellers but poised to embrace international visitors as Covid restrictions allow, is simple: Real people, real places, real experiences.
"That's really at the heart of what started our business 70 years ago."
It's the sort of travel Mr England-Hall likes. At least, it was, when jumping on a plane and jetting to a foreign destination with the family in tow was a thing.
Covid-19 has irreversibly altered tourism the world over, he reckons.
If Covid chaos had not ensued, it's hard to say if RealNZ's radical regroup would have eventually happened anyway – generally, there were already murmurs of how to manage tourism without killing the golden goose before the fundamental market shifts of 2020.
But Mr England-Hall will say this: "We won't go back to the model we had before".
RealNZ's clicked onto the fact tourism and conservation need each other for mutual survival, and it seems to be walking the talk.
There's conservation projects, carbon audits and core staff with job descriptions dedicated to sustainability.
Mr England-Hall's even looking to ditch coal on the iconic TSS Earnslaw, which has been cruising Lake Whakatipu for more than 100 years, trailing clouds of thick black smoke behind it.
The elephant in the room in any discussion of tourism and sustainability is climate change.
But Mr England-Hall is quick to defend tourism's role in a heating planet – he reels off mind-boggling comparisons between the local dairy and tourism industries to prove his point.
"It's not perfect as an industry by any stretch of the imagination, and we have a long way to go.
"Our commitment is to understand our impact on our environment and then mitigate it as much as possible."
RealNZ's strength in the conservation game comes from connecting people to place, he says.
"If we want people to protect and conserve and look after these really special places in New Zealand, whether it be, you know, Whakaptipu, or Fiordland, or the mountains in Wanaka - people need to be able experience them, to build an affinity with them."
There's also a self-centred but logical motivation. After these often once-in-a-lifetime encounters, visitors become ambassadors for these remote and precious places encouraging others to add them to their travel bucket-list.
"I want them to tell the world just how amazing it is."
The border reopening is no silver bullet to the tourism industry's dismal bottom lines of recent years, he cautions.
"Even as things recover, which they will do, that recovery won't be uniform.
"We won't open the border and suddenly there's two million holidaymakers back in New Zealand.
"It will take several years to get back to any form of volume of visitor numbers."
New Zealand already has the odds stacked against it as an international destination, and as an annihilated aviation industry clinks back into gear its harder to pick who'll Kiwis will be welcoming back as visitors.
"When you think about New Zealand as a place to go, it is one of the most irrational choices a tourist is ever going to make - to go to New Zealand for a holiday.
"It's very far away, it tends to take a long time to get here, relatively speaking, and it costs quite a lot of money. And so we're up against it."
Mr England-Hall knows a thing or two about selling New Zealand to the world – before becoming boss at RealNZ he lead Tourism New Zealand.
Hard work has gone into building brand New Zealand, he says.
"It took decades to get all of the skills, talent, knowledge, expertise, relationships…and it took only a year or two to decimate it.
"I'd like to think we can restore that quickly, but it did take a long time to get to where we were.
"New Zealand has to get back to competing on the world stage as a place people want to go.
This rebuild is part of what attracted him to a seemingly unattractive job at the helm of a haemorrhaging tourism company 16 months or so ago, he says.
"To be able to stamp my mark on how those businesses were shaped and how they impacted on New Zealand's reputation, its experience of itself, our own story as a place and a country.
"Taking on a role like this one meant that I could be directly in a position to influence or even direct that, have my hands on moulding the clay, so to speak."
In the meantime, Mr England-Hall says RealNZ will continue to cater to Kiwi holidaymakers.
"What the lack of international visitors has really shown us is we have to make New Zealand available for New Zealanders first, and then share it with the world."


---