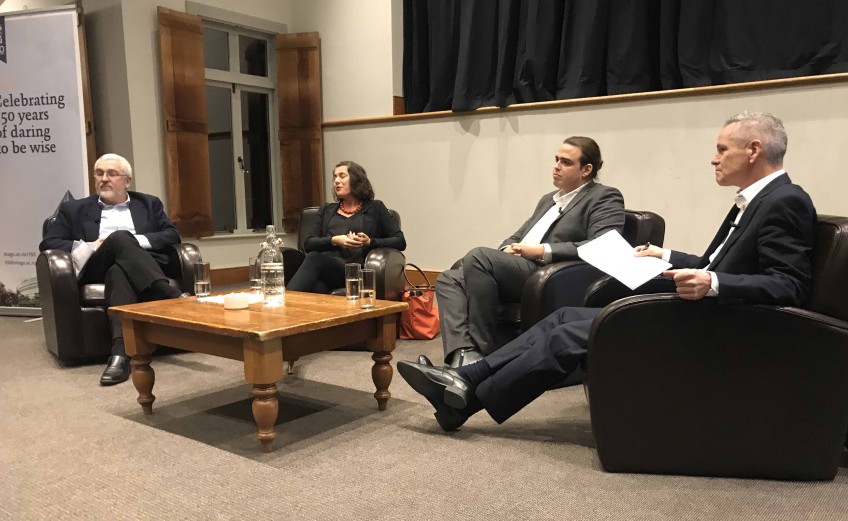 Social media giants could disrupt NZ elections
by Cath Gilmour - Jul 05, 2019
---
We've been aware for some time of the formidable power held by the world's social media giants like Facebook and Google. Last night the University of Otago held a high powered symposium in Queenstown to examine just how much power they have and what the effects on New Zealand will be. Cath Gilmour, a former QLDC councillor and co-chair of the Catalyst Trust, has written this report on the key points from the OU symposium.
Foreign interest groups could actively foment outrage with fake debates about "wedge issues" like abortion and marijuana to divide New Zealand society prior to next year's elections.
New Zealanders should "proactively anticipate" such manipulation of our democratic process, Brainbox Institute director Tom Barraclough told the audience at last night's University of Otago Winter Symposium in Queenstown.
'Bitten by the FAANG' looked at the impacts of these global technological giants - especially Facebook and Google - on democracy and what might be done to control them. FAANG is an acronym for Facebook, Amazon, Apple, Netflix and Google.
Marianne Elliott, co-founder of digital lobbying group ActionStation and co-director of The Workshop, recently produced a report on the effects of digital technology on democracy after a year's research funded by the Law Foundation.
She said a trend in the lead up to the US 2016 election was the creation of entire fake online communities by both Republicans and Democrats "to have them do and say ridiculous things, to sow discord between the different camps".
Already, there was evidence that overseas campaigners were targeting the rights of transgender people through similar tactics in New Zealand digital media channels. The white supremacist movement was proactively ramping up online debate, with the intent of getting mainstream media to then take it to a wider audience.
A trend now was to move off public platforms like Facebook to private messaging platforms like WhatsApp, which were harder to track.
Elliott said her research had shown issues like online trolling, abuse, hate speech, deep fake videos and algorithms designed to polarise and cause outrage were having a damaging effect on our democratic culture.
The ability to have difficult conversations, gain broad consensus on facts and reach compromise in society through discourse were all being eroded by abuse of digital technology's powers and reach.
"The key point is, if someone is sharing something with you that provokes a sense of outrage, ask yourself, why," said Barraclough? "It is important to engage quite critically and break out of your filter bubbles."
The problem, added Elliott, "is that if our friend is the source, we tend to trust them".
Elliott, Barraclough and University of Otago senior lecturer John Williams all agreed digital technology also offered opportunities to engage and excite citizens about more direct involvement in democracy, as seen in the 'me too' movement, ActionStation and the Arab Spring.
But the fact this technology was in the stranglehold of a handful of huge companies with no democratic accountability denied many of these opportunities, Elliott said. This was unlikely to change unless it became part of the American political agenda. The risk of political repression meant state or government control wasn't ideal either.
Williams said the FAANG saying sorry but they couldn't change their algorithm was not a valid response to the Christchurch Mosque massacres. "If there were a commercial imperative, they would change the algorithm."
Greater transparency and independent oversight, ethical frameworks, anti-competitive measures, regulation and better use of existing law, political and public pressure, a Digital Commissioner, technology workforce pressure and industrial action, and a "post-consent model of data-sharing" were other levers that might be used to better control the FAANG, the three speakers said.
"It is really easy to be a bit disempowered and despairing, but it's too important to our democracy in New Zealand," said Elliott. "We need to keep looking for these levers."
She said NZ PM Jacinda Ardern's Christchurch Call move to swiftly put international pressure on the FAANG was a significant use of "the moral power in that moment" and should be continued.
Main Image: Left to right - Dr John Williams, Otago University Senior Lecturer, Marianne Elliott co-founder of ActionStation, Tom Barraclough BrainBox Institute and MC Guyon Espiner of RNZ


---