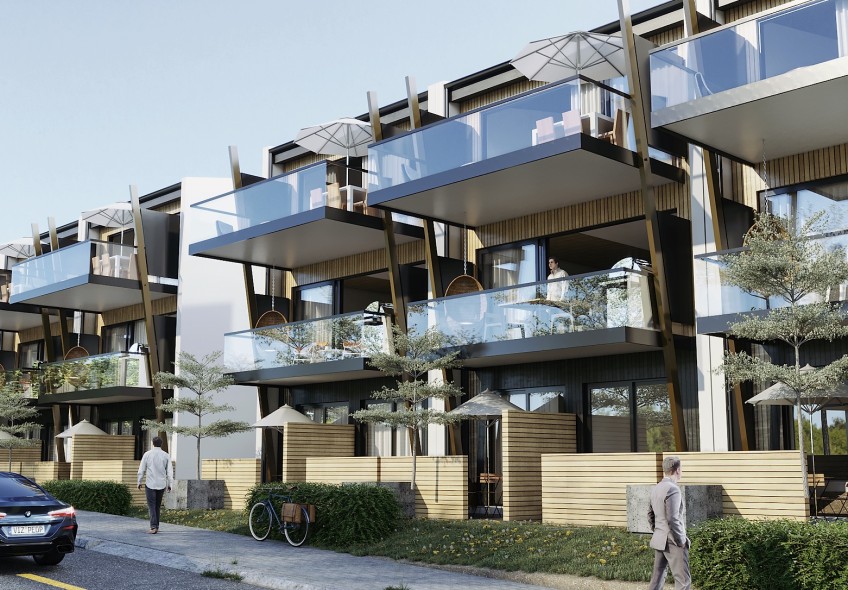 Silver Creek's Ross Speakman revealed as a former jailed fraudster
---
A key member of the Silver Creek team trying to build 580 new houses in Queenstown was jailed for fraud after the 1987 stock market crash in one of the most spectacular cases to emerge from that era.
More recently he was the sole director and a shareholder of the franchisee for Signature Homes in Queenstown, Coronet Peak Construction Limited, which collapsed in 2019 owing creditors more than $1.8 million according to the final liquidators' report.
Ross Haddon Speakman keeps a very low profile and not much, if anything, survives in internet searches relating to his past. Not a single image of Mr Speakman can be found online.
However, Crux has discovered that Mr Speakman's conviction for fraud was arguably the most flamboyant business failure at a time when many ambitious New Zealand business figures went down in flames.
In researching this story, we have attempted to make contact with Mr Speakman at the $4.5 million house he occupies on the slopes of Queenstown's Coronet Peak, and by phone – but he's declined to comment.
Our initial contact with him in relation to the troubled Silver Creek subdivision three weeks ago produced legal threats but little concrete information on the development that has left contractors unpaid following an uncertain resource consent process that has so far run for more than two and a half years.
Speakman – flying high at the age of 29, jailed at 31
At the age of 29 Mr Speakman was, according to Metro magazine, living the high life with two Mercedes, a mansion on Auckland's Paratai Drive, a house in London and a $1.6 million yacht.
Metro magazine in 1989 reported Mr Speakman probably held the record for being the biggest individual failure of the 1987 stock market crash. The magazine said that from being in a remedial reading class at his Auckland primary school Mr Speakman launched a property empire after using his credit card to fund the deposit for a commercial building that ended up being worth millions.
Mr Speakman was jailed for 15 months in June 1989 after being found guilty by a jury of using a document with intent to defraud and obtaining by false pretences. In a short time he had gone from being worth more than $20 million to owing $8 million.
He had declared himself bankrupt but then was spotted in April 1988 gambling at the races, an incident that attracted anger from his multiple creditors. Mr Speakman defended himself at the time saying "it was not his money" being used to bet on the horses.
Then things go quiet in terms of any media record of Mr Speakman.
A Queenstown source told Crux that he had at one stage been "selling petrol stations in the UK" but then in 1992 Mr Speakman appeared in a New Zealand television documentary where he talks openly about his jail time, behaving recklessly in business deals, that first commercial property credit card deal and being "back in the money" after the fraud charges, jail time and bankruptcy.
This extract from the 1992 documentary 'Class of '87' is published with permission from the copyright holder and is from material preserved and made available by Ngā Taonga Sound and Vision. This clip features Ross Speakman talking about his time in jail, his 'terribly reckless' business behaviour and how he started as a property developer with just his personal credit card.
Mr Speakman now lives in a grand but secluded house on the slopes of Coronet Peak. It's worth approximately $4.5 million but is mortgaged to ASB and is in the name of his wife, Adrienne Speakman.
When Crux called round this week Mr Speakman was not there, but the front door was wide open, nobody else appeared to be at the property and around four vehicles were parked there. There was washing on the line but no sign of anyone being home. We had hoped to get Mr Speakman's side of the story regarding the controversial Silver Creek subdivision, where contractors are owed hundreds of thousands of dollars and resource consent has still not been granted. We rang Mr Speakman from the property – he answered but when asked if he would comment on Silver Creek he said "no" and hung up.
The Silver Creek subdivision, on a steep slope high above Frankton Road, could produce more than 580 new Queenstown homes in a market that desperately needs them. The mystery is that Mr Speakman's name features on the formal security documents lodged in Melbourne with Merricks Capital, a multi-billion-dollar finance company that appears to be funding the Queenstown subdivision, but without Mr Speakman being a director or shareholder of Silver Creek's holding or subsidiary companies.
Mr Speakman is referred to in the finance document as the person acting on behalf of Silver Creek Ltd and SC Holdings Ltd as well as SC Holdings 2019 Ltd.
Crux can find little or no evidence that Mr Speakman has any official stake in either the funding or the management of the subdivision. However, contractors like Murray Erskine who are fighting to get paid have told Crux that Mr Speakman is the main man on the subdivision site and he calls the shots – including how money gets spent.
The Signature Homes collapse in 2019
In 2019 Mr Speakman was the sole director and, with his wife Adrienne, a shareholder of Coronet Peak Construction Ltd, which traded as Signature Homes in Queenstown. The company went bust owing creditors more than $1.8 million, with the liquidators reporting that there was a lack of proper financial records and some transactions that were questionable from a legal perspective. However, the liquidators had no funds to take these matters further.
It's between this failed company and the Bain family that things get interesting – not just mildly interesting but 'truth is stranger than fiction' interesting.
David Wallace Bain (ONZM) was recognised in this year's New Year honours for services to health and the community. He is also a former coroner, lawyer and Waikato mayor. His son Lyndon Bain is the head of financial governance and management at the Bank of New Zealand. Lyndon Bain is also a shareholder and director of some of the Bain companies with Mr Speakman links.
Both Bains (senior and junior) are listed as shareholders and directors of a number of companies that are also linked to Mr Speakman's wife Adrienne. Mr Speakman's brother, Craig, is also listed in company documents as an accountant working with many of these companies.
The companies appear to range across both property development and pharmaceuticals, mainly in New Zealand but some overseas.
Some of the companies have Queenstown connections, such as Gibbston Highway Ltd and Mount Rosa Farm Ltd, where David Wallace Bain is a shareholder along with both Adrienne Speakman and Craig Speakman as substantial shareholders.
David Wallace Bain is too unwell to speak with Crux according to accountant Craig Speakman and also Mr Bain's personal lawyer Sam Laubscher of Te Kuiti law firm Lamb Bain Laubscher.
A Court of Appeal judgment relating to Ross Speakman's conviction for fraud back in 1989 records D W Bain as the lawyer representing him. We can't confirm that this is David Wallace Bain the former mayor and coroner, but Mr Bain was a lawyer at the start of his career.
Regardless of what the links are, the Silver Creek situation could come to a dramatic climax in just four day's time when one of the developers has promised to pay earthworks contractor Murray Erskine the money he is owed. It's a promise that has been made many times before, but never honoured.
A statutory demand issued by Mr Erskine's company Erskine Earthworks Ltd gives it the right to push Silver Creek Ltd into liquidation if it is not paid.
Such a move may shed further light on the complex structure that has so far kept this subdivision afloat, and the exact role of the colourful Ross Haddon Speakman.


---