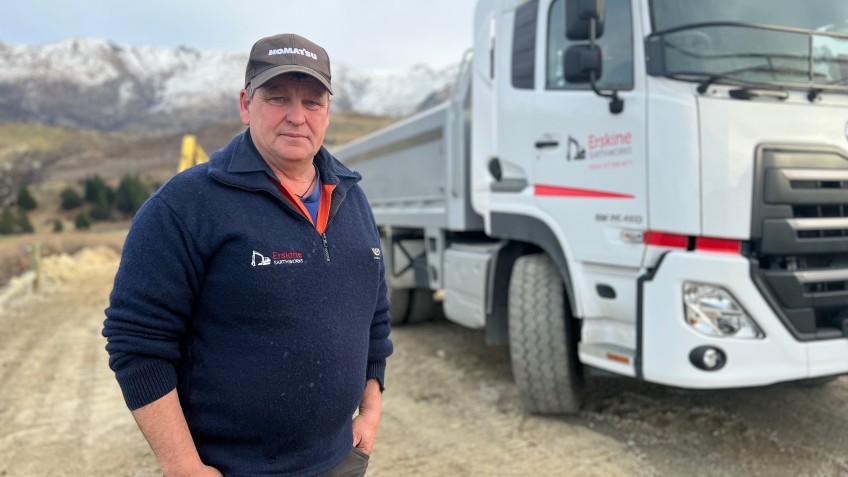 Silver Creek contractor issues legal demand
---
A contractor who claims they are owed more than $200,000 by the developer of the proposed Silver Creek subdivision in Queenstown has issued Silver Creek Ltd with a statutory demand. If the debt claimed is not paid or otherwise satisfied the contractor can apply to liquidate the company.
The subdivision project has been delayed by complex resource management issues and the involvement of Ross and Adrienne Speakman, who have been part of a refusal to pay contractors that have completed initial work at the Silver Creek site.
The Queenstown Lakes District Council public e-docs platform shows resource consent has still not been granted after two and a half years, with the council notes declaring it's "waiting for further information".
Murray Erskine, the earthworks contractor who has issued the legal demand, told Crux today he has lost all faith in the developer and claims he has been fobbed off with excuses for more than 12 months. "I'm like a rottweiler with a rabbit," he says, summing up his current attitude to the dispute.
Mr Erskine says that although he was initially dealing with Gavin and Josh Moore as the main people running the project, he recently has seen Mr Speakman taking a primary role with payments and management of the Silver Creek project.
Crux has been investigating the background to Silver Creek, discovering what appears to be a complex ownership structure financed by a multi-billion dollar finance company in Melbourne, Merricks Capital.
The former bankrupt, the former mayor and the BNZ governance boss
Mr Speakman comes with a colourful business background. At the age of 29 he headed an $80 million property empire which collapsed in April 1988 with debts of $8 million, leading Mr Speakman to declare himself bankrupt.
According to a feature article published by Metro magazine in February 2019, Mr Speakman was previously living a playboy life with a house on Paratei Drive, two Mercedes, an apartment in London and an order for a $1.6 million luxury yacht.
Metro also reported that Mr Speakman had been hired, prior to the 1987 crash, from the Auckland Council's valuation department by Rod Petricevic, who also lost an $80 million property empire.
Mr Petricevic was later jailed for six and a half years for misleading investors and making false statements in offer documents.
In 2019 Ross and Adrienne Speakman owned Queenstown-based Coronet Peak Construction Ltd (CPC Ltd), which was trading as Signature Homes and according to one source in Queenstown was seeking to undercut the local house building market by using Auckland-based quantity surveying and labour prices. The source told Crux that they felt that business model was doomed to fail due to the unique nature and costs of the Queenstown construction industry.
CPC Ltd was owned 50/50 by Ross and Adrienne Speakman and went bust owing, according to the final liquidators' report released a fortnight ago, $1.8 million to creditors. Some $1.18 million of that money was said to be owed to a company called Palmer Road Properties Ltd – whose sole director and shareholder is David Wallace Bain.
Over the past two weeks Crux has discovered many different companies involving the Speakman family and Mr Bain. Mr Bain is a former Waikato mayor and well-known coroner. He was awarded an ONZM in the 2023 New Years honours list.
Many of the companies were, until a few days ago, registered to an address in Auckland's Hobsonville, at a house occupied by Mr Bain's son, Lyndon Bain.
Lyndon Bain is the Bank of New Zealand's Head of Financial Governance and Management Assurance.
Lyndon Bain refused to discuss the Silver Creek project when contacted by Crux.
Just two days after Crux made contact with Lyndon Bain a number of companies changed their address records to a Rotorua address that we understand is linked to his father, David Wallace Bain.
The Australian finance company
According to a financing statement from the Personal Property Securities Register seen by Crux, a special purpose vehicle owned by Merricks Capital in Melbourne appears to have a security interest over the personal property of the companies associated with the development.
This document suggests Merricks Capital is a source of the Silver Creek subdivision financing. Merricks has managed over $8 billion in "global investment opportunities" (source Merricks website) and "traded in excess of $250 billion of securities and commodities".
The document lists Ross Speakman as the person acting on behalf of Silver Creek Ltd. Mr Speakman's address is given as a Queenstown house on Coronet Peak Road that according to the www.homes.co.nz valuation is currently worth $4.33 million. The QLDC rates database lists Adrienne Speakman as the property owner.
In our initial coverage of the Silver Creek subdivision, we spoke to a third member of the Speakman family, Auckland accountant Craig Speakman – who is also listed alongside the Bain family in various company records. Craig Speakman told Crux that David Wallace Bain was too unwell to talk with us or answer questions. We received the same response from David Wallace Bain's personal lawyer. Craig Speakman referred us back to Ross Speakman.
Mr Speakman has said we are "treading on big toes" by investigating the Silver Creek development, that the blame for the current situation lies with QLDC planning delays, and that the contractors who say they are owed money are not to be believed.
Adrienne Speakman has also declined to answer Crux questions about Silver Creek or unpaid contractors.
All of which leads us full circle to a simple question. Why are the Queenstown contractors like Murray Erskine not getting paid?
Mr Erskine's issuing of a statutory demand may well smoke out some of the answers to what this is really all about.


---