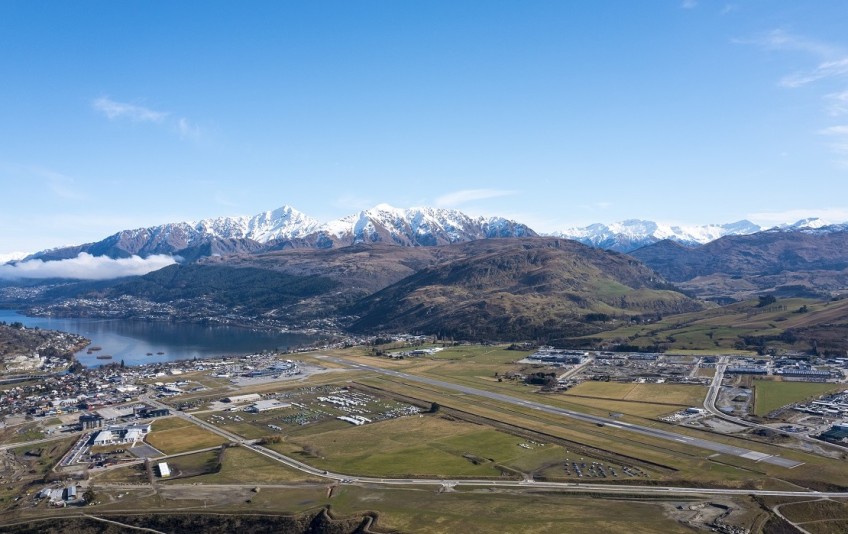 Experts suggest Queenstown airport is moved - and not to Wanaka
---
A public meeting on April 29th will hear a proposal that Queenstown airport be relocated to a new regional location and that the current site is used for affordable housing and an improved hospital.
A new expert group, headed by high flying international regulator David Mayhew, has produced a detailed economic case that concludes there is no viable future for the existing airport at Frankton, just six kilometres from central Queenstown and smack in the middle of New Zealand's most famous scenery. With a background that includes NZ's Securities Commission and the UK's Financial Services Authority, Mayhew is likely to be a strong advocate for bold community thinking and clear conclusions.
Queenstown airport is 75% owned by the Queenstown Lakes District Council and 25% by Auckland International Airport.
The expert group, that includes experienced planners and architects, seems to have reached the same conclusion as Air New Zealand. The national airline hinted strongly last year that Queenstown airport would never be able to handle significant growth due to its location - jammed between lakeside houses and the Shotover River. In addition Queenstown residents have made their feelings clear by voting overwhelmingly last year for no further expansion of the airport in both a Crux survey and subsequently the airports corporation's own survey.
The radical plan to move and then close the existing Queenstown airport has the support of the influential Wanaka Stakeholders Group who oppose large scale expansion of Wanaka airport. That group has been frustrated at the apparent reluctance of the Queenstown Airport Corporation to share its Wanaka plans, even though the corporation has made it clear that an expansion of Wanaka airport would follow the blocking of Queenstown airport's expansion. The corporation calls it the "dual airports, one business plan."
However the airport corporation's failure to effectively engage with the community might eventually lead to no airports - let alone two.
Pressure groups in both Queenstown and Wanaka believe that a new regional airport, potentially near the small town of Tarras 20 kilometres east of Wanaka and 20 kilometres north of Cromwell could not only relieve the infrastructure load in Queenstown but spread the general benefits of tourism across a wider part of the lower South Island. Cooperation with Dunedin and Invercargill airports would be an important and logical feature of the new plan.
Speaking to Crux this afternoon, Queenstown group chair David Mayhew said "This is blue sky thinking about Queenstown reaching a tipping point. It's very important in relation to the airport and the number of passengers coming through Queenstown, but also it's a big watershed moment in terms of the overall growth of Queenstown and the risk of too much tourism and over-development."
Chair of the Wanaka Stakeholders group Michael Ross was quick to throw his support behind Mayhew. "It's a very bold proposition, but somebody needed to ask the question and I understand that when the Frankton community was consulted on options for the future, they were given a license to be as bold as they wished to be. So this initiative has certainly responded to that challenge really well. And that's why I think it deserves a serious debate."
Crux has also been told of increasing safety concerns at Queenstown airport involving aircraft running close to the runway threshold in incidents that have been reported internally within the affected airlines, but not to the Civil Aviation Authority. Commercial pilots have previously challenged the lack of comprehensive safety measures at Queenstown to slow down aircraft that cross the runway threshold after landing or after aborting a take off. The Local Lakes District Hospital lies virtually underneath the approach to main runway, as does the local primary school.
At a recent council meeting Mayor Jim Boult criticised what he called "Wanaka misinformation" that suggested a new expanded airport at Wanaka would be "like Heathrow". However, when Crux then approached the Queenstown Airport Corporation for information about what was planned at Wanaka, this was their reply:
"The need for information on the future of Wanaka Airport is understandable given the misinformation others have been circulating in the community.
It is a bit too early to give the detail you mention below as there is technical work underway to help us understand everything from the airspace to what's underground at the airport. This needs to be completed and considered before the picture is clear enough for specific answers on your points.
However, a series of conversations are currently planned with a broad range of stakeholders, including local community members and organisations, the business sector, the airport community, airline customers, etc. These conversations will continue over the next several months in order to discuss planning options, seek feedback and address any misinformation. There are also the airport's 24/7 online engagement channels (our.wanakaairport.com) where we will post information as it becomes available and will continue to seek feedback from the broader community and others who have an interest.
Ultimately, we're aiming to bring the long-term planning for Queenstown and Wanaka airports together into a dual-airport proposition at the end of the year. This will provide a 30-year roadmap for sustainable airport growth, including infrastructure development, noise planning and transport connectivity, and will complement regional planning for transport and other infrastructure needs."
This response seems to be at variance with Air New Zealand's view and an increasing community view that the Corporation is stalling for time, reluctant to confront widespread opposition to any growth in Queenstown and the potential introduction of jet flights to Wanaka.
David Mayhew says the answer is simple. "The elephant in the room is that Queenstown airport's current location is an accident of history. They want to spend tens of millions building a new terminal, but they can't make the runway any longer or build a second runway - there's no space. It makes far more sense to build a modern, fit for purpose regional airport somewhere else and use the current airport land to help Queenstown address housing and public health care challenges."
In Wanaka Michael Ross is calling for a wide ranging and independent conversation that involves the entire region. "We think that there needs to be a regional discussion because actually this very much affects Central Otago and Southland. All of the communities need to be involved with that discussion in order for us to reach a mutually acceptable situation across the region."
Crux has proposed to the Queenstown Lakes District Council that this issue would benefit from the recently launched Crux/Ethelo Local Democracy Project, that has been designed to bring participatory online democracy to complex community decisions.
Here is the flyer information that will shortly be distributed to promote the April 29th meeting.
Blue sky thinking - Frankton without the Airport?
Do you think the growth of the Airport is 'inevitable' as residential population and visitor numbers continue to increase?
Come and hear the 'blue sky thinking' of two residents who challenge that inevitability.
Architects and urban planners, Gillian Macleod and David Jerram, will present a plan of what Frankton might look like without the Airport. They will also discuss the facts and figures that may lead you to agree, what is inevitable is the Airport's relocation.
Where: Remarkables Primary School
When: Monday, 29 April at 8 pm.
Host: Frankton and Kelvin Peninsula Community Associations


---