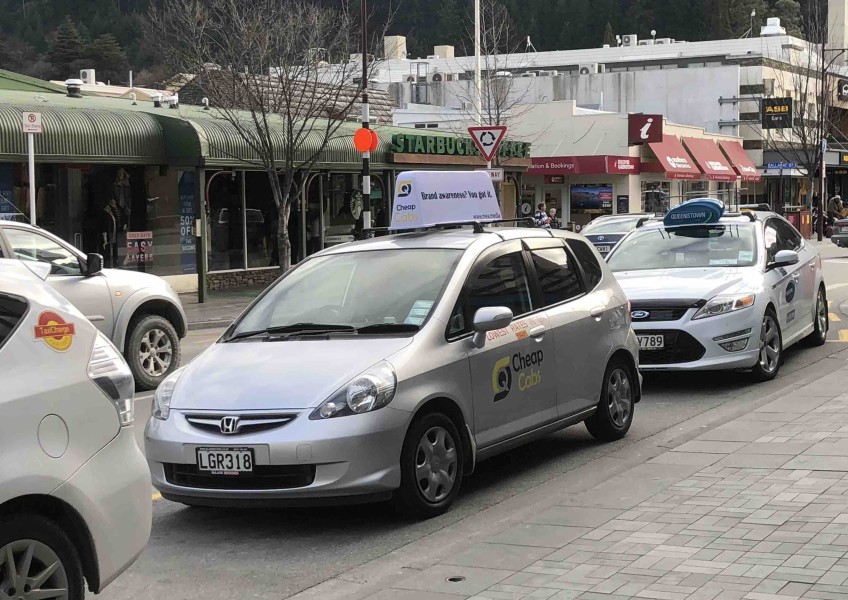 Updated: Queenstown's taxi industry "chaotic" - passengers ripped off
by Eileen Goodwin - Jul 06, 2018
---
Loosening taxi rules has led to a "chaotic" situation in Queenstown, where tourists and intoxicated people are being ripped off, an industry leader says.
The industry lobbied against last year's deregulation, so its view is not surprising, but Taxi Federation boss John Hart says he's hearing complaints.
"Queenstown Taxis tell us they get frequent complaints from people who have paid far too much for their rides, but they can't identify who took them home."
Hart acknowledges the changes, introduced after lobbying from Uber which started its Queenstown service last month, mean cheaper fares, but there is more room for exploitation.
Since October 1 last year, the rules around who can drive taxis have been relaxed. Hart says "family car" drivers who don't work for a company are dangerous as they're untraceable.
He cites a Queenstown case in which a young intoxicated woman paid $240 for a ride that ought to have been no more than $18. And he says a recent case in Wellington saw a woman charged $500 for a ride to Waikanae that ought to have been $150.
''While people might get a cheaper ride, they also run all sort of risks.
"If a driver was prepared to take advantage of that young woman and charge her all that much for a ride, how else was he prepared to take advantage of her?"
He says passengers have no comeback and it's largely drunk people being exploited. And he says there's a particular problem in Queenstown as tourists may be more unsuspecting.
"It's a huge risk ripping off tourists who don't know what's going on. It must be happening if it's happening to locals."
There is no proof for the claims, but Hart says the New Zealand Transport Agency (NZTA) has insufficient resources to police the new regime. The NZTA did not respond to Crux's requests for comment.
He says drivers who don't carry pre-registered passengers - as per the Uber model – are obliged to carry in-cab cameras. He doubts many "family car" drivers obey the camera rule. He's also concerned about the long hours being put in by drivers and a general lack of accountability if something goes wrong.
''You just have to be very careful and people who are drunk often aren't.''
He says Labour promised to review the new regime after it had been in place a year and he hopes that will take place.
He says the financial effects of the deregulation vary in different centres, but many firms are insulated by business accounts. It's having an impact at night and he says some drivers have given up working night shift.
''There's no one policing it, NZTA doesn't have the resources to enforce the new rules. Queenstown is a bit chaotic to my mind."
Uber driver Emily Hay is sceptical about reports of bad behaviour as she says the new regime ensures drivers undergo a police check.
She says Uber's model eliminates any risk of bad behaviour because everything is tracked for both the driver and the passenger.
Even minor things – such as when she opted to pick up a woman and young children directly from the airport as the woman didn't understand English – was picked up by Uber as an infringement.
"Uber rang me the next day and they were like 'are you aware of the rules'?"
Uber is getting a lot of airport work, she says, but drivers have to do pick-ups and drop-offs in a nearby street as it doesn't have a concession.
Hay is happy to work within the rules and says they provide comfort and security.
"It's safety for me, it's safety for the passenger."
She says she's one of about 10 Uber drivers in the resort – she says only Uber knows the actual number. About 60 percent of her passengers are visitors, many of them from Wellington and Auckland.
She says demand varies – and there's an art to choosing the right jobs from the app – but on a recent night she made $300 in four hours.
Uber representatives declined to release details about ride numbers to Crux when contacted.
Another new player in the resort is Savvy, operated by Go Bus since last November.
Go Bus director of business development Russell Turnbull says the ride-sharing app is something of an experiment for Go Bus and he's pleased with how it's working.
He says it's completed about 25,000 rides in the resort and is popular with workers and young people.
The company is thinking of introducing the service to other centres.
He says the ride-sharing service uses private hire legislation and last year's deregulation didn't have a big impact.
Drivers are paid a wage and there is no incentive or opportunity to over-charge passengers, he says.
Transport Minister Phil Twyford says a nationwide operation carried out by NZTA in November and December found "relatively high compliance" with the rules.
He says the federation should report its concerns to the NZTA.
"I am also regularly meeting with stakeholders, including the Taxi Federation, to understand the issues in the sector," Twyford says in an email.
He says police data indicates there hasn't been a rise in taxi-related offending.
"I expect NZTA will continue to maintain an active eye on the sector, in its role as regulator," Twyford says.
Cheap Q Cabs owner Luis Kreische says his company – established six weeks ago - has taken advantage of deregulation to offer cheap fares, but he acknowledges the changes put passengers at risk from less scrupulous operators.
He says his cabs have cameras and there has been no complaints about his drivers.
"The changes in the law were great in terms of bringing lower costs to the customers and allowing new companies to come along in the market, but it also does bring problems.
"What you have nowadays is a whole bunch of fully unbranded taxis that have no rules and regulations and they do take advantage of when people are heavily intoxicated. They are essentially there for the quick money."
Kreische says his fares are cheaper than that of Uber, and he claims older established Queenstown firms will eventually be put out of business as they haven't developed plans to compete with Uber.
Queenstown Taxis and Green Cabs both declined to comment for this story. Corporate Cabs said it would respond, but did not.
If you feel you've been overcharged by a taxi driver or had a negative experience, please get in touch with Crux by emailing us at [email protected].
Main image: taxis queue at the Camp St taxi stand in Queenstown.


---