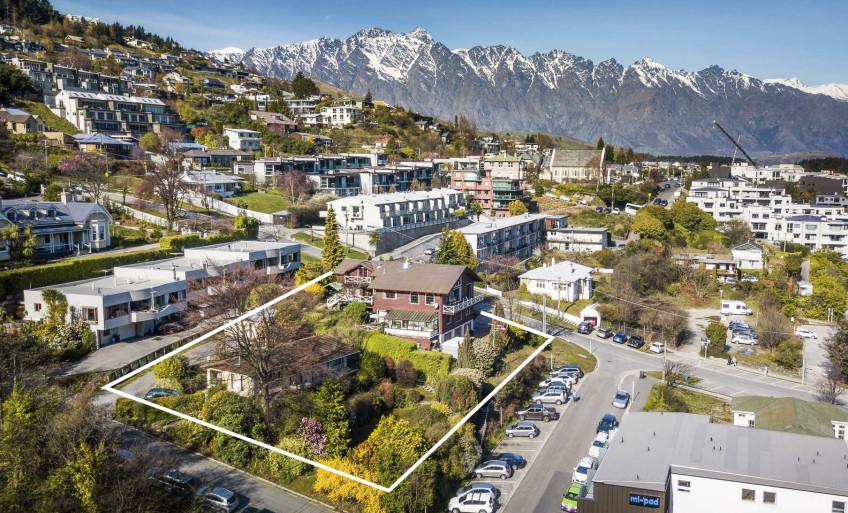 Queenstown section on market for over $5.5 million
Sep 19, 2018
---
Here's a media release from Sotheby's International Realty
A new development could be on the cards for Queenstown's CBD with a prime central site up for sale.
Available for the first time in 45 years, a prominent Ballarat Street corner site will be sold together with an adjoining property on Malaghan Street as one 1,583sqm freehold site. The high-density zoned land with three street frontages is just 200 metres from Queenstown Mall and could potentially be developed into visitor accommodation, apartments or offices.
Listed by New Zealand Sotheby's International Realty (NZSIR), the property is expected to sell for above its current RV of $5.5 million. NZSIR sales associate Matt Finnigan says it's an extraordinary opportunity for developers or property investors seeking rare central Queenstown land.
"It's a once-in-a-lifetime property with endless potential," he says. "The site has no historical classification and offers three street frontages, as well as outstanding views of Lake Wakatipu. To our knowledge It's the first time ever that the combined properties have been made available, so we're expecting it to generate a lot of interest given the strong demand for in-town development sites of this calibre."
Under the new Queenstown Town Centre Masterplan, the property neighbours the proposed Community Heart Precinct featuring an arts centre, library and transport hub, as well as the new Melbourne/Henry Street arterial route.
Two houses currently occupy the property; 62 Ballarat Street was originally built in the 1950s on the 784sqm lot, while a house was moved to the 799sqm lot at 5 Malaghan Street in 1982. The sites have been under the same ownership for 45 years and 11 years respectively, however this is the first time they will be sold as one.
"The two existing houses already offer some income potential and we expect that any developer wanting to hold in the interim will want to rent the houses out," Finnigan adds.
Queenstown planner John Edmonds of John Edmonds & Associates says the property is poised for future commercial or high-density residential development.
"The development of the proposed Community Heart Precinct makes it well suited to a range of complimentary activities such as visitor accommodation, apartments or offices," he says. "In addition, the proposed Henry Street arterial road will also significantly change the character of this area, giving the land a much higher visual presence and profile."
International tenders for the property close 4pm Monday, October 15, 2018.


---