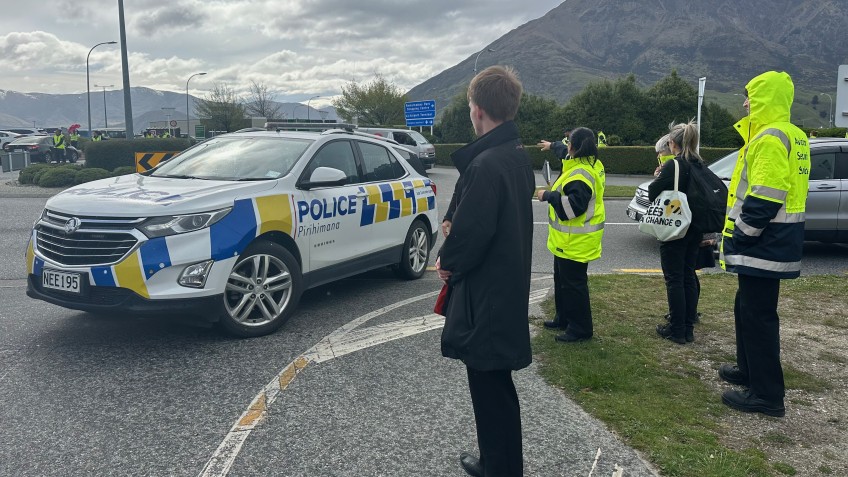 Queenstown airport bomb scare passenger "located and cooperative"
---
Queenstown airport has provided more detail on Friday's security scare that resulted in the airport being evacuated, the defence force bomb squad flying in and multiple flights being cancelled or diverted.
Since the revelation by airport CEO Glen Sowry that the suspicious item was in fact a pair of ski boot warmers speculation has been widespread as to how such a large-scale response was justified.
Crux has learned that the suspect device was found by Aviation Security (AvSec) Xray equipment in the airport's baggage make-up unit (BMU) where checked-in bags are scanned before being loaded onto aircraft.
The scan showed a laptop computer close to what is now known to be the ski boot warmers.
The alert was raised and according to Queenstown airport the passenger who owned the bag "was located and was cooperative."
This was the airport's response to questions from Crux as to why the owner of the bag simply did not explain what was inside.
Crux had shared with the airport management information from a Crux reader that was posted, and then removed, on our Facebook page.
The post said that "the passenger involved told Avsec that his father had packed the bag and therefore he was not fully aware of what the contents were. It was actually another Government department that made the call to travel to Queenstown to investigate."
Queenstown airport did not respond in full to our request for comment on this information, but the fact that the passenger reportedly did not pack their own bag may partially explain the involvement of the defence force bomb squad.
Airport CEO Glen Sowry made the following statement to Crux today.
"The response to the security alert on Friday was well handled by all involved. Safety and security are our top priorities. Millions of bags are handled every year at Queenstown Airport and identifying one that needs additional risk assessment, such as the one on Friday, is is an extremely rare occurrence.
As soon as the security alert was raised by AvSec, we activated the ZQN Emergency Operation Centre and supported the response. Given the nature of the risk identified, a multi-agency response was initiated with the New Zealand Police acting as the lead agency.
It's obviously good news that the reported items were ultimately deemed to be no threat, but that was not confirmed until shortly before the airport was reopened at 3.00pm.
The New Zealand Police, AvSec, and NZDF have authority when it comes to assessing these risks and deciding the appropriate response and we have confidence in the steps that were taken under the circumstances."


---