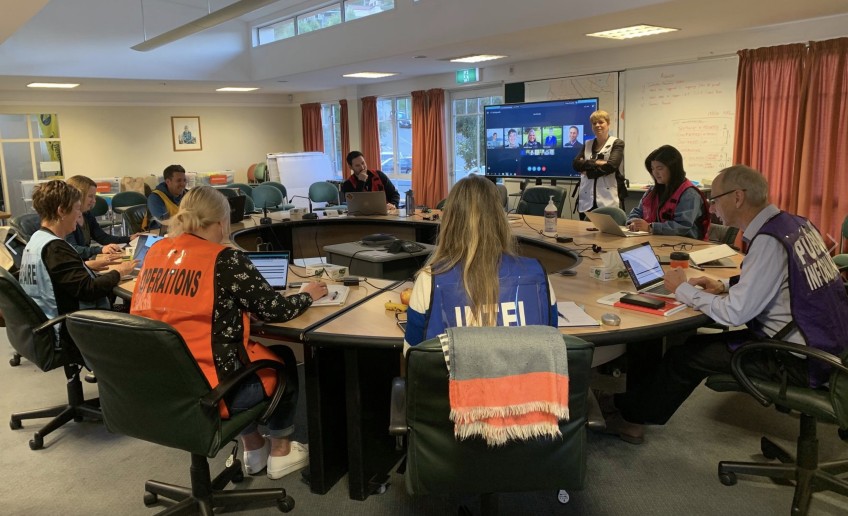 Local response to Covid-19 - SLRRG Group formed
---
It's not an attractive name, but SLRRG (Southern Lakes Business Response and Recovery Group) is focussed on addressing the Covid-19 crisis. The Wanaka and Queenstown Chambers of Commerce belong, as do the two tourism marketing organisations (Destination Queenstown and Lake Wanaka Tourism) along with the Queenstown Lakes District Council.
We publish an update below from Queenstown Chamber of Commerce CEO Anna Mickell and the latest statement from Acting Emergency Management Controller Meaghan Miller. Unlike other councils around NZ, QLDC has not yet closed communal facilities like libraries and swimming pools.
Update from Anna Mickell, CEO of the Queenstown Chamber of Commerce.
Like many other tourism centres in the world, Queenstown has been critically effected by the COVID-19 pandemic response. Job losses at this time are hard to quantify, but tourism companies, and their suppliers have commenced plans for laying off thousands of staff over this week and next.
Our message to the ministers was simple this past week, we need more capacity for WINZ and INZ urgently for our employees who find themselves without work. We need urgent support for our on-the-ground support agencies like Salvation Army, CAB and Happiness House to help them deal with a increase in requests for immediate support, and with predicted increases in other social issues that will arise as a result of this sudden traumatic social and economic shock. Business support agencies, like the Chamber, are also overwhelmed, and are also predicting a massive reduction in their revenue in the next 6 months.
Our job this week is to ensure that we start to register vulnerable migrants and help them get the support they need to get home.
From a business perspective; employers are grappling to make sure that they still comply with all aspects of New Zealand law. It is important that they are acting lawfully around hours of work, redundancy, insurance and employment visas, this is time consuming and stressful, for both the employee and the employer.
The Chambers, QLDC and the RTOs have scrambled together a business response and recovery team (Southern Lakes Business Response and Recovery Group (SLRRG), which is working alongside, the Southern DHB led pandemic response team. SLRRG has already made formal recommendations to government on the assistance that is required. Our focus, aside from the immediate crisis, is working to ensure that key parts of the business infrastructure is maintained to ensure that we have a stable base to being a recovery later this year.
The situation is impacting on every part of the fabric of the Queenstown economy. Many working people rely on augmenting their income with short or long term rentals. This may be a person who holds the tenancy for a four bedroom, who has suddenly lost two flatmates, or a mum and dad with a short term holiday accommodation attached to their home. The economic realities of this are far reaching.
Statement from Meaghan Miller, Acting Emergency Management Controller via QLDC Comms/Marketing.

Community resilience and a strong local network are key to getting through the current COVID-19 outbreak.
That's the view of Queenstown Lakes District Council (QLDC) Emergency Management Acting Controller Meaghan Miller. Making connections, swapping contact information and checking your whānau and business preparedness are all sensible precautions we should all be taking right now, she said.
"The Ministry of Health and District Health Boards are leading the response to the COVID-19 outbreak, but there's a lot we can be doing locally. We have a lot of strong community networks in our district which will stand us all in good stead, and now is the time to reinforce those connections – especially with people who are new to the district or elderly or immunocompromised," Ms Miller said.
"When you think about your neighbours, think beyond those houses either side of you. Who lives behind you, across the road, a few doors down or further away in more isolated and remote communities? Could they use assistance or could they help you if you need it?"
Ms Miller said if people are not acquainted with neighbours then knock on the door, maintain social distance and swap numbers without physically swapping a piece of paper. "That one small gesture today could prove a useful lifeline for you and your neighbour." Community welfare does not need to start with Council or emergency management, it can be in full swing now in our communities.
QLDC has received many enquiries from the community and businesses about how they can help with the response and longer-term recovery. A list of accommodation or service providers willing to assist those in self-isolation or vulnerable is available on the QLDC website. There are also forms to submit details for those willing to provide services or volunteer assistance.
Ms Miller also highlighted now was a good time for locals to familiarise themselves with their Community Response Plans, available from the QLDC website.
"The Response Plans include useful information such as local key contacts and household preparedness for emergencies. If you aren't feeling connected, it's also a good time to reach out to your local Community Association which can be an effective source of local knowledge and support."
The QLDC website contains links to useful resources and advice regarding COVID-19. For the latest information and advice about COVID-19 you can visit the Ministry of Health's dedicated site at https://covid19.govt.nz/. If you believe you may have contracted the virus, or are struggling with the emotional and mental effects of self-isolation, please contact Healthline on 0800 358 5453.
We are working closely with your local health providers and one clear message from them is please do not visit your doctor if you believe you have COVID-19. If this is the case, call Healthline on the number listed above.
Main Image: The council's Covid-19 emergency management group in action - headed by Meaghan Miller (standing).

---