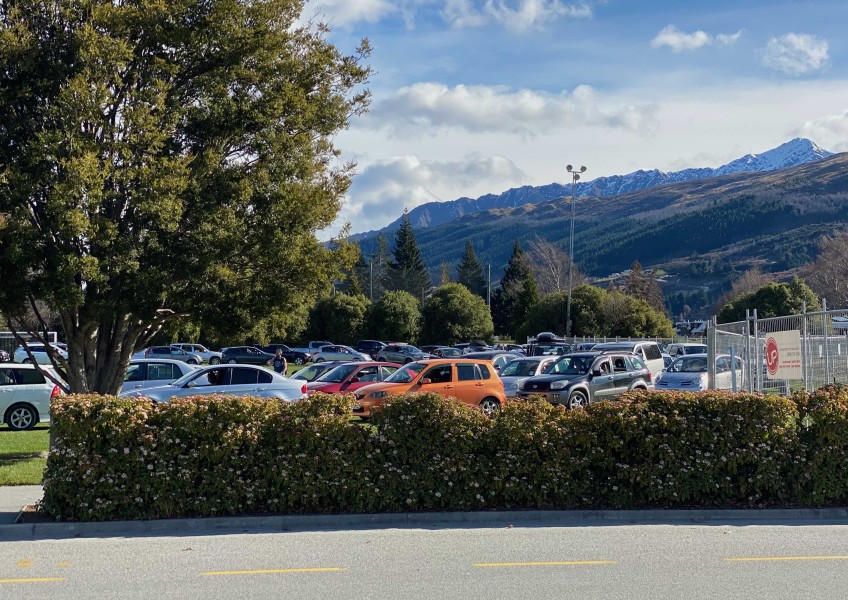 Qtown pop up vaccination centre grows to meet demand
---
Up to 20,000 people in the Queenstown area may have been vaccinated against Covid – largely due to a late surge supported by a pop-up vaccination centre that was not originally part of any Ministry of Health or SDHB plan.
Most of the early Queenstown vaccinations were done through GP practices and medical centres, but now hundreds of people are taking advantage of a new operation at the Queenstown Events Centre. The new pop up centre has four qualified nurses working in four separate vaccination areas.
Organised by local Occupational Health Nurse Debbi Swain-Rewi and Darren Rewi of Ngāi Tahu, the Events Centre operation was originally designed to assist local Māori and Pasifika, but the facility quickly grew to fill a huge community gap by vaccinating staff from QLDC and Skyline and then the general public.
The pop-up operation was swamped today as huge traffic queues stretched along SH6, before the location was closed to avoid overcrowding.
The events centre operation will open again at 1.00 pm tomorrow (Thursday 26th August) to the general public (over the age of 12).
Speaking to Crux this afternoon at the vaccination centre, Darren Rewi said that he was amazed at how successful the operation had been. "There were a few hurdles at the beginning but with the help of Local MP Joseph Mooney we got everything set up in record time."
Joseph Mooney confirmed that he had been able to step in and help facilitate a lot of the official permissions that were needed to get the vaccination centre up and running quickly.
Crux understands that mass shipments of Covid vaccines sent to Queenstown were about to be sent on to Oamaru – to be eventually returned to Queenstown – but that plan was set aside after some fairly robust input from local organisers.
In the meantime, the two branches of the Wakatipu Medical Centre, at Frankton and Lower Shotover, have been running a full Covid vaccination programme alongside the Queenstown Medical Centre in the CBD. A Lower Shotover medical centre manager today estimated that the Queenstown total of vaccinated people might be approaching 15,000 - 20,000 with only 4% declining the vaccine when contacted.


---