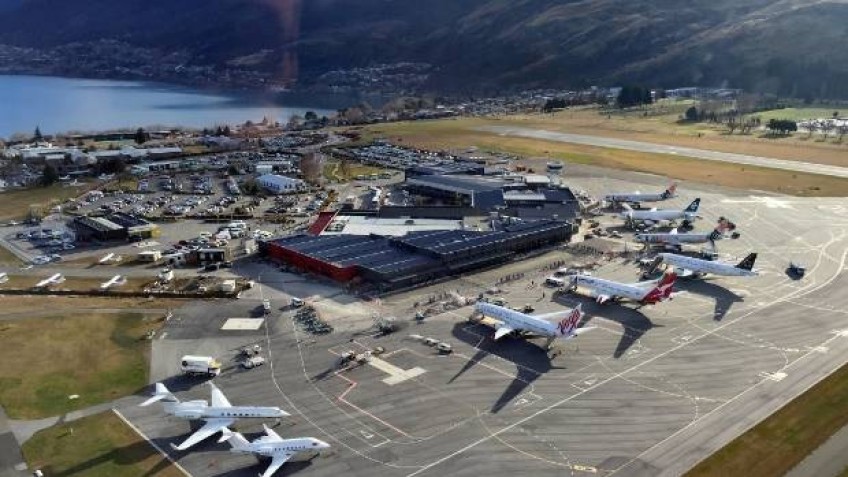 Q'town airport – tough times ahead but CEO earned over $570,000
---
** Updated: Remarkables Park Ltd says "they cannot understand" the Lot 6 purchase price offered by QAC. See story for details.
The Queenstown Airport Corporation (QAC) has released its annual report for the year to June 2020 detailing a massive drop in revenue post Covid. The report however details an offer of $18.4 million for a land purchase (Lot 6) linked to airport expansion and a strong year for CEO Colin Keel where his salary is reported to have increased to $570,000 - $580,000.
QAC paid $250,000 to its mainly Auckland based directors and reported 20 staff earning over $100,000. Mr Keel was previously reported to have had a pay rise from $500,000 to $550,000 with these latest accounts showing him on between $570,000 and $580,000 prior to taking a 20% Covid related pay cut.
Mr Keel has been unwilling to publicly detail the number of post Covid job cuts at Q'town airport with the annual report simply stating that Covid will have a "material impact" on future trading, the business being restructured with the QAC "renegotiating" its debt arrangements with banks out to the end of 2021, putting a freeze on capital projects but pushing ahead with the purchase of extra land for expansion – the area known as Lot 6.
QAC has been chasing Lot 6 for future terminal expansion ever since 2008, battling the owner – Alastair Porter's Remarkables Park Ltd (RPL) – through the courts before finally winning the right to buy the land in 2019.
The offer of $18.4 million that is revealed in the annual report was descrbed today by RPL as a figure they "cannot understand."
"RPL advise they received a letter of compensation from the Queenstown Airport Corporation Limited (QAC) dated 8 June 2020 advising QAC have offered $18.34 million excluding GST for the 15.4 ha they had taken from RPL under the Public Works Act on 1 November 2019.
A spokesman for RPL said "We are currently considering QAC's offer. Regrettably it is however difficult to currently assess the offer as no supporting valuation analysis has been provided by the QAC. "
RPL also confirmed that on the basis of available information including comparative land sales & discussions with RPL 's valuers we certainly cannot understand the offer." Source: Remarkables Park Ltd.
If QAC and RPL can't agree on a purchase price then the issue will go to a valuation tribunal to be resolved.
The accounts reveal the expenditure of $310,000 on legal costs linked to action being taken by the Wanaka Stakeholders Group (Protect Wanaka) against QLDC and QAC and forecasts "significant" costs in the future.
"During the reporting year the Wanaka Stakeholders Group (WSG) initiated judicial review proceedings against Queenstown Lakes District Council (QLDC) as first respondent and QAC as second respondent. The proceedings relate to the future governance model for Wanaka Airport as determined by QLDC in 2016/2017 and which resulted in a 100-year lease negotiated and executed by QLDC and QAC in 2018. During the period QAC incurred approximately $310k in legal costs and is forecasting significant costs in the future to respond to this matter. These costs have been expensed in the income statement as the costs are incurred." Source: QAC Annual Report to June 2020
The airport will not pay a final dividend to shareholders QLDC and Auckland Airport (AIAL) due to the dramatic drop in air traffic due to Covid 19.
Previously QAC has contributed around $7 million to Queenstown ratepayers as a dividend.
The airport's profit at $18 million was actually up $1.4 million on the previous year due to strong air traffic numbers prior to Coivd 19.
Controversially the QAC's next Statement of Intent (SOI) won't be ready for QLDC councillors much before October this year with an earlier version being accepted earlier this year in spite of broad agreement it was flawed and out of date.
QAC is a Council Controlled Trading Organisation (CCTO) operating independent from QLDC under the terms of the annual SOI.
The annual report notes that Christchurch Airport (CIAL) proposes a new international airport at Tarras saying that the timescale suggests no short term effect on Queenstown airport but that the move will be taken into account for QAC's longer term planning.

---