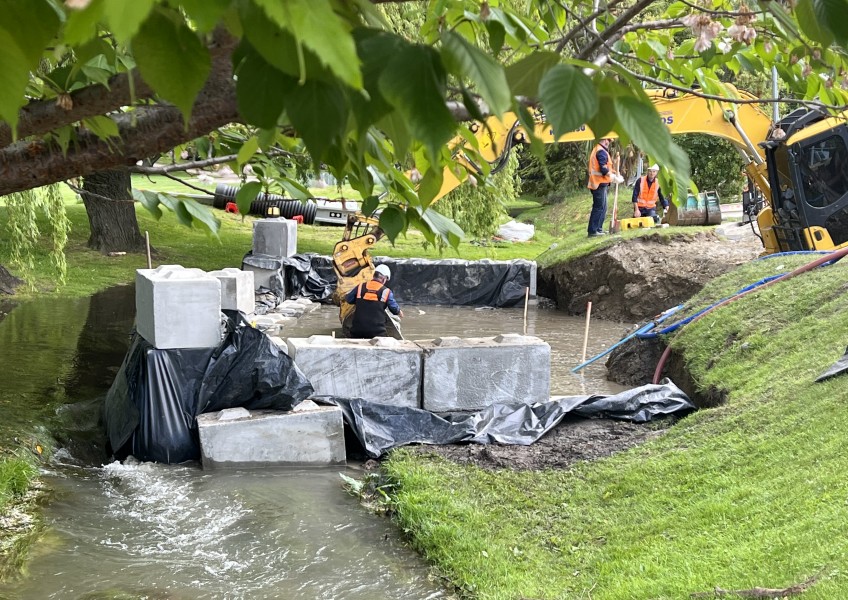 QLDC team contains sediment discharge into Horne Creek
---
A discharge of sediment into Horne Creek from a council construction team has been reported to the Otago Regional Council.
Crux received a complaint yesterday from a member of the public who noticed that Horne Creek water was discoloured below the worksite.
We asked QLDC for details of both the incident and the work that was being done in the creek – here's their full response:
"The work is part of the town centre Arterial Stage 1 project and wider stormwater management and reticulation improvements for Queenstown Hill. A new stormwater pipe and dissipation outfall structure is being installed within the Boundary Street car park.
"The concrete blocks in your photos have been used to create a 'coffer dam' temporarily redirecting the flow of water towards the Recreation Ground. This is so a dissipation outfall structure (effectively a stone ramp) can be installed from the edge of Horne Creek to the boundary of the car park. This permanent feature will protect Horne Creek against the localised impact of any increased stormwater flows by dissipating the energy of stormwater before it enters the creek (i.e. ensuring the creek doesn't get scoured).
"The cost of the dissipation outfall structure is approximately $200,000.
"Approximately 1m3 of water containing sediment was accidentally released yesterday when part of the polythene liner separating sediment-laden water in the coffer dam from the main flow in the creek was pulled out from under the concrete blocks by the pressure of water.
"The discharge lasted for no more than 12 minutes, beginning at 12.30pm with the dam repaired by 12.42pm.
"Downstream monitoring was undertaken by the construction team immediately after the repair with test results pending. Whilst regrettable, we expect this incident had a less than minor environmental impact given the short duration and relatively small volume of the discharge.
"Otago Regional Council were informed of the incident immediately. We will continue to monitor the site and liaise with ORC as required."


---