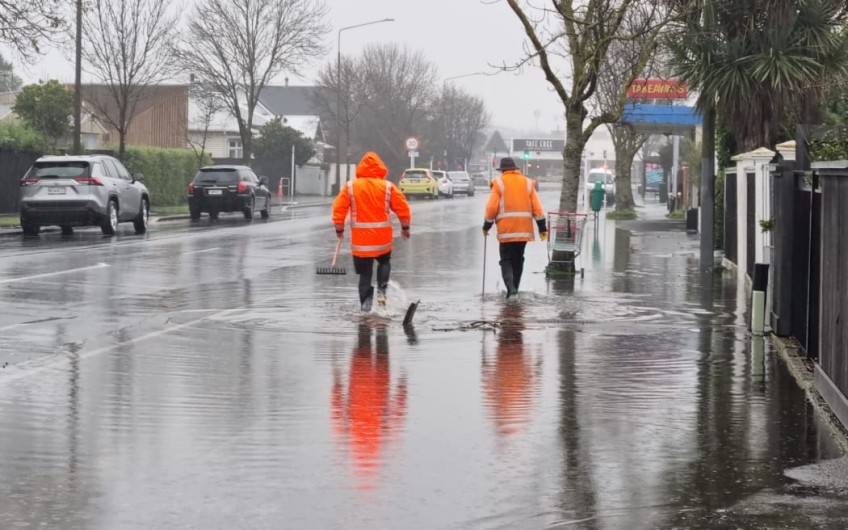 Rivers burst banks, flooding as wild weather hits South
---
Rain continues to fall across many parts of Otago following a heavy weather warning issued yesterday, and emergency services are warning already saturated ground will be prone to slips and surface flooding later in the day.
In Dunedin, New Zealand Army personnel are on standby.
The New Zealand Defence Force says it currently has a liaison officer embedded with Civil Defence Dunedin.
A team of 25 personnel from the Reserve Force 2nd and 4th Battalion in the Royal New Zealand Infantry Regiment is on standby to assist if needed.
They have not been deployed yet.
The Otago Regional Council is closely watching river levels and is reminding people to prepare for high flows and keep away from low-lying flood prone areas, particularly the Leith, Lindsay Creek, Silver Stream and Henley sites.
Up to 130mms of rain is forecast in North Otago and 90mms in Dunedin.
Emergency Management Otago group manager Matt Alley says emergency operations have been activated in Waitaki District and Dunedin City Councils
"We continue to monitor the rainfall across the region and watch for any impacts that this may have. The ground is really saturated following the last few weeks of wet weather and we may see slips, surface flooding by the end of the day."
Further north, torrential rain is falling on the South Island's east coast, with flooding expected across Canterbury and farmers bracing for flooding.
The heavy rain has caused surface flooding and closed roads in Christchurch, where the Avon and Heathcote Rivers have burst their banks in places.
There are also heavy rain watches and warnings in force for the Tasman District and Marlborough, in addition to Canterbury, North Otago and Dunedin.
Waka Kotahi has advised the Lindis Pass is now open, after being shut this morning because of heavy snow.
Main image (Photo: RNZ/Niva Chittock): Council contractors out clearing stormwater drains in Edgeware, Christchurch.


---