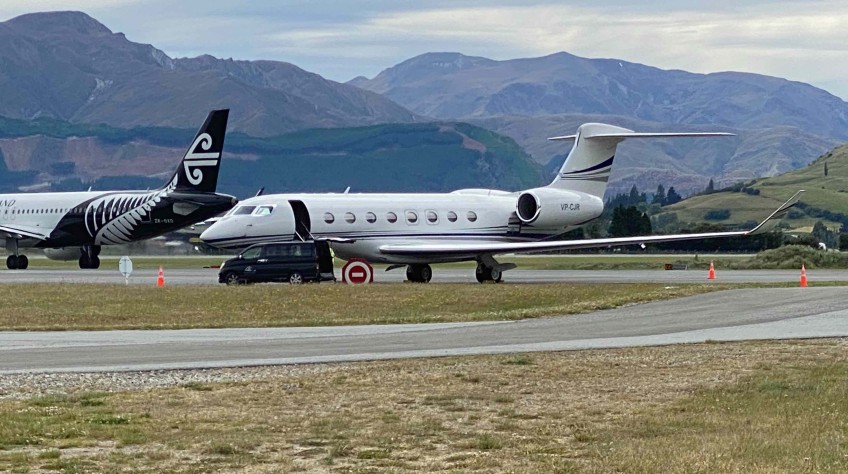 Private jet traffic jam as money flies into Q'town
---
By early afternoon today at least five private jets had flown into and out of Queenstown airport – in spite of our borders being closed due to Covid 19.
The aircraft today were all currently NZ based although a $100 million Gulfstream G650 that arrived this morning had flown from Melbourne to Auckland at a time when Melbourne was in full Covid lockdown – September 16, 2020.
The same aircraft flew from Queenstown to Auckland on October 11th this year.
The aircraft, registration VP CJR, is registered to a Cayman Islands company - Nuoyan Jet - but operated by Execujet Asia. The Cayman Islands is well known as an international tax haven with more registered businesses than people.
The G650 flew an unusually low orbit over Lake Hayes and Dalefield this morning before landing at Queenstown airport. Crux has asked the Queenstown Airport Corporation what the reason for the unusual flight pattern was. A spokesperson replied "We have received an update from Airways and can confirm that the aircraft used an approved approach. We do not have personal information about passengers on the aircraft."
A spokesperson for Queenstown Corporate Jet Services told Crux this afternoon that it was a busy day for private jets, but that there was no known connection between the five aircraft or their passengers.
"Our regular overseas visitors are already calling us wanting to book private jet parking space for when the borders do open. We really need more space here for the private jets, but with the borders closed we still have some spare slots for this Christmas."
Local economist and aviation commentator Benje Patterson told Crux today that Kiwi businesses were using private jets more – partly because of the extra Covid related safety concerns and partly because corporate governance demanded a higher threshold of security as well as being a relatively cost-effective way to get a group of board directors to one place at the same time.
Pre Covid the manifest of private international jets visiting Queenstown was the source of constant speculation with the likes of Tom Cruise and Oprah Winfrey being relatively welcoming of the attention as their private Gulfstreams coasted into town. Sunday afternoons saw Queenstown's skies full of departing private jets as the high rollers left town to head back to their desks, and mansions, in Australia, the US or Asia.
One of the attractions of private jet travel is anonymity although some companies are just so big that they seem happy to declare their identity on the tail of their Gulfstreams – such as China's R and F properties. One of their aircraft was in Queenstown just before Christmas 2019 – on undisclosed business. The group is worth around $US 7 billion with 450 property development projects in 140 cities around the world.
At the start of New Zealand's Level 4 lockdown in March this year, as international commercial flights were shut down, a G650 belonging to Saudi billionaire Nasser Al Rashid landed in Christchurch after a flight from Georgia in the US via Honolulu. The plane arrived empty apart from five crew and left the next day with four unnamed passengers on board.
Another private jet flew into Dunedin airport from Cambodia on April 23rd with three crew on board and left with 10 passengers bound for Hong Kong.
Today's Queenstown visit by Gulfstream 650 VP CJR remains a mystery. The charter rate for a G 650 is around $15,000 an hour or more – depending on the food menu, the number of crew, landing fees and the type of champagne served on board.


---