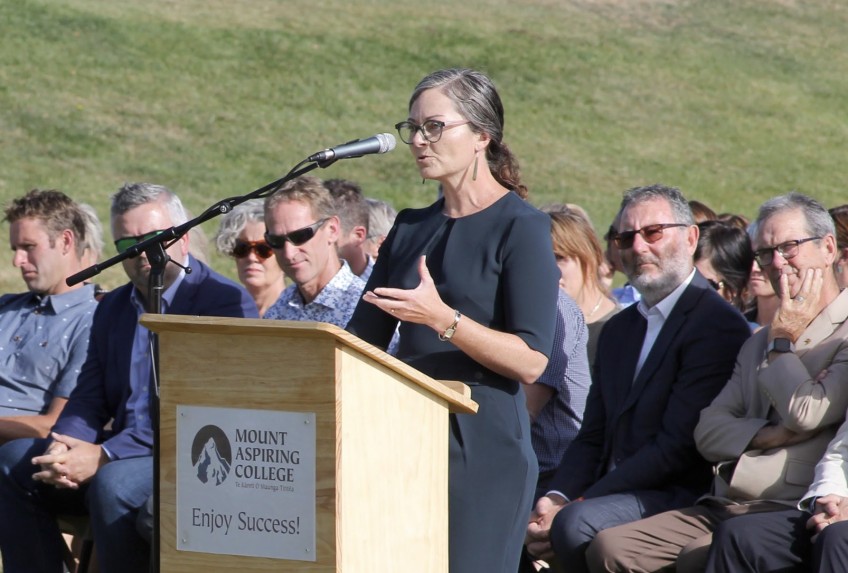 Pōwhiri welcomes new MAC principal Nicola Jacobsen
Feb 02, 2021
---
From Mount Aspiring College:
"New Mount Aspiring College principal, Nicola Jacobsen, was today officially welcomed with a pōwhiri. The former Pakuranga College deputy was recruited at the end of last year and comes with a strong pedagogical background and passion for excellence. Jacobsen says she was honored by the reception. "​Today's powhiri was a humbling experience. I am grateful for the warm welcome from Kai Tahu, the school and the community. The students today showed great passion for their culture and their school," she said.
"I'm excited about the learning journey ahead, about providing excellent learning programmes for all of our students. I know that the partnership between the student, home, and school is crucial for young people to experience success, and today's powhiri showed the strength of that relationship," Jacobsen added.
The traditional ​Māori​ ​welcoming ceremony was attended by members of the Wanaka community, local Ngai Tahu and involved a 'handing over' of care for Jacobsen, lead by Pakuranga principal Mike Williams.
Dr Ian Hall, chairperson for the MAC Board of Trustees, was thrilled with the formalities. "Today was a wonderful way to begin the school year and it was heartening to see the college community come together to welcome Nicola. I would like to extend my sincere thanks to Mike Williams and his team for making the journey down here, to Ngai Tahu for their blessing and involvement, and to the school community for receiving Nicola so warmly," Dr Hall said.
Madeleine Hawkesby, Limited Statutory Manager echoed the sentiment. "As the LSM, I led the recruitment for Nicola so it was great to bear witness to this pōwhiri, the culmination of a thorough process. I am thrilled at the warm welcome Nicola has received and confident in her leadership," Hawkesby said.
The pōwhiri was followed by a blessing of the new school building site, where preliminary construction will begin in the coming weeks."


---